Vindication for Planned Parenthood - Grand Jury Indicts Anti-Choice Zealots Who Produced Phony Planned Parenthood Videos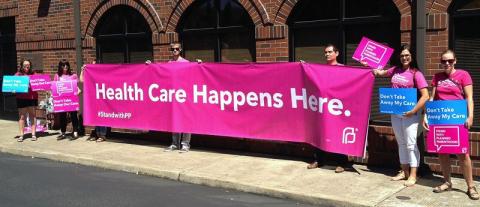 Planned Parenthood supporters unfurled a banner and signs outside of Planned Parenthood's Beaverton (OR) building earlier this summer after first appearance of phony video.,Beaverton (OR) Valley Times
The Editorial Board of The New York Times
January 26, 2016
One after the other, investigations of Planned Parenthood prompted by hidden-camera videos released last summer have found no evidence of wrongdoing. On Monday, a grand jury in Harris County, Tex., went a step further. Though it was convened to investigate Planned Parenthood, it
indicted two members of the group
that made the videos instead.
The Harris County prosecutor, Devon Anderson, a Republican who was asked by the lieutenant governor, a strident opponent of Planned Parenthood, to open the criminal investigation, said on Monday that the grand jurors had cleared Planned Parenthood of any misconduct.
Yet despite all the evidence, Texas' Republican governor, Greg Abbott,
said on Monday
that the state attorney general's office and the State Health and Human Services Commission would continue investigating Planned Parenthood. This is a purely political campaign of intimidation and persecution meant to destroy an organization whose mission to serve women's health care needs the governor abhors.
Fortunately, in the Harris County case, the jurors considered the facts. David Daleiden, the director of the Center for Medical Progress, which released the videos, and Sandra Merritt, an employee, were indicted on felony charges of tampering with governmental records, probably connected to their alleged use of fake driver's licenses to get into a Planned Parenthood office.
Mr. Daleiden was also indicted on a misdemeanor charge of violating a Texas ban on the buying and selling of human organs. A lawyer for Planned Parenthood said Mr. Daleiden sent an email to Planned Parenthood employees last June offering to buy fetal tissue for $1,600 per sample, to which Planned Parenthood never responded. A lawyer for Mr. Daleiden said on Tuesday that his client planned to plead not guilty and would vigorously defend against the charges.
Neither the videos nor the many investigations that followed have found any evidence that Planned Parenthood employees offered to sell fetal tissue for a profit. Texas is the 12th state in which investigations stemming from the videos have found no wrongdoing by Planned Parenthood. In October, Representative Jason Chaffetz, chairman of the House Oversight and Government Reform Committee,
admitted
that the committee's investigation of Planned Parenthood had found no evidence of misconduct.
Nonetheless, the videos have already had a destructive effect. Texas and several
other states
have moved to defund Planned Parenthood; a bill to deny money to the group in Ohio is before the State Senate
this week
. A bill that would pull federal money from Planned Parenthood
has reached the president
, who is sure to veto it.
These efforts threaten to deprive the country's poorest women of health services they need, including cancer screenings, contraceptive care and sexually transmitted infection testing. In many parts of the country, Planned Parenthood is the

only source

of contraceptive services for low-income women.
Several Republican presidential candidates continue to treat the falsehoods presented by the Center for Medical Progress as fact. In response to Monday's indictments, Carly Fiorina, for one,
said
, "Planned Parenthood has been trafficking in body parts," a claim she has made repeatedly on the campaign trail.
The indictments should cause politicians to back away from an anti-abortion group that will stop at nothing to attack Planned Parenthood. Gov. John Kasich of Ohio is running for president on a platform of good governance and common sense. The campaign against Planned Parenthood is anathema to these principles, and if a bill to defund the organization reaches his desk, he should veto it.
If convicted, Mr. Daleiden and Ms. Merritt face up to 20 years in prison on the felony charge; the misdemeanor is punishable by up to a year. These penalties will not undo the damage the videos have already done to Planned Parenthood and women's health and reproductive rights. State and federal officials who care about the truth should work to remedy that damage in any way they can.
January 26, 2016
Talk about blowback. Last Summer, Texas governor Greg Abbott initiated an investigation into Planned Parenthood following the release of a series of deceptively edited videos claiming to have caught the healthcare provider engaging in fetal organ harvesting and selling the parts to biomedical research facilities via some sort of grisly underground marketplace.
But instead of catching Planned Parenthood red-handed, a grand jury has officially indicted the perpetrators of the videos, David Daleiden and Sandra Merritt, while also exonerating Planned Parenthood of any wrongdoing.
David Daleiden, founder of the Center for Medical Progress, was indicted on a felony charge of tampering with a governmental record and a misdemeanor count related to purchasing human organs. Another activist, Sandra Merritt, was also indicted on a charge of tampering with a governmental record. It's the first time anyone in the group has been charged criminally since the videos started surfacing last year.
Texas becomes the eighth state to exonerate Planned Parenthood, while casting serious doubt on the veracity of the obviously deceptive videos. Yet most of the GOP presidential candidates, along with most of the conservative movement, continues to treat the videos as if they represent hard evidence of Planned Parenthood's allegedly evil motives and illegal activities. Congressional Republicans, along with state Republicans, used the videos as convenient excuses to vote in support of crushing the healthcare clinics.
It's entirely likely that Republicans will continue to attach their reputations to the videos in spite of the indictment and the various exonerations.
Adding to the irony of the indictment, Daleiden is being accused of attempting to illegally purchase fetus organs - the very practice he was attempting to expose, even though it didn't exist.
In a statement announcing the indictment, Harris County District Attorney Devon Anderson didn't provide details on the charges, including what record or records were allegedly tampered with and why Daleiden faces a charge related to buying human organs. Anderson's office said it could not provide details until the documents charging Daleiden and Merritt were formally made public, which was expected later Monday.
Get ready for the sound of anti-choice
heads exploding
, as well as the demagoguing of the grand jury itself as somehow an Obama/NARAL/PPFA conspiracy.