labor
Uber Drivers in New York City Protest Fare Cuts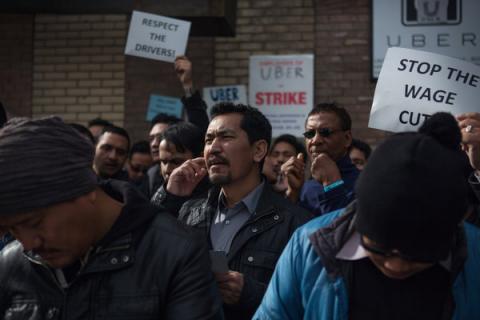 Hundreds of drivers gathered to demand that Uber restore prices, but the company said the rate cuts would ultimately benefit them. Credit, Kevin Hagen for The New York Times
Uber drivers are commonly referred to as workers in the "on-demand" economy.
But on Monday, weeks after Uber announced that it was slashing prices for rides in cities across the country, hundreds of drivers gathered at the New York City headquarters of the ride-hailing service with a demand of their own: restore prices or face a backlash.
Tsering Sherpa, a Queens resident who said he drove for Uber six days a week, eight hours a day, predicted the fare cuts would force him to work 10 to 14 hours a day to make his rent and car payments.
"New York City just keeps getting more and more expensive," Mr. Sherpa said at the rally. "How are we supposed to survive with less money?"
"They call us partners," he added. "But they're treating us like slaves."
It was a sentiment shared by others in the crowd but one that Uber officials called unfair on Monday.
The company has released data that it said proved the rate cuts — 15 percent for an average ride — ultimately benefited drivers.
Hundreds of drivers gathered to demand that Uber restore prices, but the company said the rate cuts would ultimately benefit them. Credit Kevin Hagen for The New York Times "Every city has busy months and slow time," the company said in a statement on Monday. "In New York, things tend to be quieter after the holidays. So we lowered prices to get more people using Uber, which is good for drivers because it means less time waiting around for trips."
Uber said that when it cut prices previously, the amount of time drivers spent waiting for fares fell, meaning drivers did more business and ultimately earned more money.
But outside the Uber headquarters in Long Island City, Queens, Bhairavi Desai, the executive director of the New York Taxi Workers Alliance, a taxi drivers' union, said the unilateral move to cut prices did not take into account the opinions of the drivers on whom the company relied.
"They didn't ask them for input," Ms. Desai said. "It gives the message that those fares are binding, and nonnegotiable. They gag you, and then they starve you."
The fare cut is not exclusive to New York City. In early January, when Uber announced the news, the company said that the move would apply to 100 cities in the United States and Canada.
The mood of the rally was far different from the one at City Hall in July, when Uber drivers gathered to oppose an effort by the administration of Mayor Bill de Blasio to limit the number of Uber vehicles operating in New York.
In that case, Uber rolled out a campaign to marshal political and public opposition to the plan, and the city backed down.
Mohsin Alvi, 28, said he has driven for Uber for three years. He said the fare cuts had come at a particularly inconvenient time: Last month, the city was hit by a huge snowstorm, which meant fewer rides for drivers. "Nobody in America wants to work more and earn less," Mr. Alvi said. "It just doesn't make any sense."
Mr. Alvi said he would turn off his phone for the rest of the day, refusing to drive for Uber.
Other drivers, he added, had pledged to turn their phones off for three days. "That's how we hurt Uber," he said.