New England Fights Fracked Gas Pipeline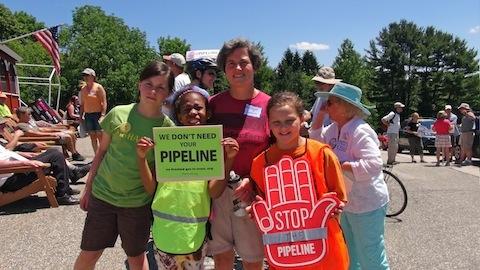 No Fracked Gas in Massachusetts
Deerfield Threatens to Arrest Anyone on Private Property Without Permission in Connection With Gas Pipeline
Daily Hampshire Gazette
Domenic Poli

DEERFIELD, MA — Local police will be used to protect property owners who refuse to allow Kinder Morgan pipeline surveyors or any other agency or individual onto their land with or without an order from the state Department of Public Utilities.
Kinder Morgan, which plans a natural gas pipeline through Plainfield in Hampshire County and eight Franklin County towns, including Deerfield, has asked the DPU to force property owners along the route to allow surveyors on the land.
In a letter submitted into the public record at the DPU, Deerfield states its Board of Health has forbidden within the town all activities of Kinder Morgan and will enforce this order. Anyone entering onto private properties, without permission from the property owners, for activities related to the proposed natural gas pipeline will be arrested for trespassing, the Select Board has warned.
Kinder Morgan wants state authority to enter onto more than 400 private properties to conduct surveys for the Northeast Energy Direct pipeline project.
Deerfield residents who choose to grant Kinder Morgan access to their private property do so at their own risk, according to the Select Board. Cristobal Bonifaz, an attorney working for Deerfield in its opposition to the pipeline, helped draft the nine-page document and said Thursday the risk in this case refers to any consequence of surveyors "fiddling around" on one's land.
Bonifaz said Deerfield is prepared to supersede any state authority and have police officers arrest anyone who enters onto private property as part of the pipeline project.
Deerfield Select Board member Carolyn Shores Ness described her board's comments as a warning, a common courtesy, and a heads-up.
"A lot of times, state agencies don't know what's going on at the local level," she said. "After an exhaustive public-hearings process that started in August of 2014, we determined that Kinder Morgan and their operations are a threat to the residents of Deerfield."
Ness said a cease-and-desist order was established in October 2014.
"The DPU has a job to do and I hope they are really willing to look at the big picture and what is to the benefit of western Mass.," she said.
Kinder Morgan, a Texas-based energy corporation, announced in 2014 it plans to install a pipeline through the county. Numerous landowners who have property in the path of the proposed 30-inch-diameter, 416-mile pipeline have denied Kinder Morgan access to their land.
The other Franklin County towns on the proposed route are Ashfield, Northfield, Erving, Montague, Conway, Shelburne and Warwick.
Kinder Morgan separately filed for permission to conduct civil, archaeological, cultural resources, wetlands and endangered/rare species surveys to support information in its pending application for a certificate of public convenience and necessity before the Federal Energy Regulatory Commission, which regulates the interstate transportation of natural gas. In response to Kinder Morgan's requests, the DPU has scheduled a March 30 public hearing at Greenfield Middle School Auditorium. This is one of six hearings planned throughout the state.
In response to Deerfield's action, Kinder Morgan asserted that the town was overstepping its authority.
"We are respectful of public and private property and landowners' rights and do not conduct surveys or other activities without first obtaining advance permission from landowners or an order from an appropriate authority, including the Massachusetts Department of Public Utilities," said Richard Wheatley, Kinder Morgan's director of corporate communications/public affairs.
Kinder Morgan claims the federal Pipeline Safety Act preempts any state's authority to regulate pipeline safety and that certain state laws trump the town's orders.
According to Katie Gronendyke, a spokeswoman for the Executive Office of Energy and Environmental Affairs in Boston, said it appears no other towns have filed comments in response to Kinder Morgan's request to the DPU.
In is filing with the DPU, the Deerfield Select Board, acting as the Board of Health, cited various violations and incidents involving Kinder Morgan pipelines across the nation over the years as reason for being fearful that the pipeline in Deerfield would be a substantial health hazard to the town's residents.
The health board said in its filing that "a corporation convicted of felonies resulting in the tragic deaths of five people presents an unreasonable risk to the health and lives of residents of Deerfield if such felon were to be allowed to build a massive fracked gas pipeline through the town."
According to the filing, the transportation of fuels via pipeline is dangerous. The town cites 460 recorded accidents related to pipeline discharges of fuels in the United States from 2000 to 2009. The comments also cited seven Kinder Morgan leaks, ruptures or spills dating back to April 2004.
The filing also states that the Federal Energy Regulatory Commission cannot prevent the Deerfield Board of Health from issuing regulations aimed at protecting the health and lives of residents when the issues are not environmental impacts. The Federal Energy Regulatory Commission was created by Congress to enforce the Natural Gas Act.
"(The) purpose of Congress in enacting the Natural Gas Act was to create (a) comprehensive and effective regulatory scheme, and to underwrite just and reasonable rates to consumers of natural gas," the filing states. "(The) primary aim of (the) Natural Gas Act is to protect consumers against exploitation at (the) hands of natural gas companies."
According to the company's November filing with federal regulators for its 416-mile pipeline, from Pennsylvania hydrofracking fields to Dracut, 62 percent of Massachusetts landowners along its path denied permission for access for surveying.
Facts about the Proposed Kinder Morgan / Tennessee Gas Pipeline (TGP) pipeline
 
No Fracked Gas In Massachusetts
The TGP pipeline proposal:
Kinder Morgan / TGP is proposing a new high pressure natural gas transmission pipeline from the Marcellus shale gas fields in Pennsylvania through Berkshire, Hampshire and Franklin counties in western Mass., through southern NH, and into Dracut, MA, to connect there to the Maritimes & Northeast Pipeline to Canada.
Marcellus shale gas is largely produced through hydraulic fracturing ("fracking").
Climate Change:
Dangerous climate change is heavily driven by carbon dioxide (CO2) and other heat-trapping greenhouse gases from fossil fuels: coal, oil and natural gas.
If built, the TGP gas pipeline would likely be in service 50 years or more, helping lock in more fossil fuel burning for over half a century.
Natural gas is mostly methane, a powerful greenhouse gas. Natural gas has climate change impacts both as methane, when it leaks from pipelines and drilling sites, and when it is burned and turns to CO2.
Pound for pound, methane has more than 20 times the greenhouse gas impact of CO2 over a 100-year period.
Numerous studies have shown that gas drilling sites and gas pipelines leak methane.
Health Risk:
Fracking typically injects underground millions of gallons of water for one gas well, to force cracks into the shale rock, to extract the gas. To produce this fracking fluid, the water is mixed with a variety of chemicals, some of them toxic or carcinogenic. These chemicals get into the gas produced.
The Occupational Safety and Health Administration (OSHA) has noted that biocides such as aldehydes, and other frequently used fracking chemicals, are toxic, and issued guidance to employers to help minimize exposures for fracking personnel.
Environmental Impact and Risks Along the Pipeline Route:
The 188-mile long pipeline will require a permanent 50 foot wide right of way with an additional 50-75 ft. width during construction, impacting miles of forest land, farm land, wetlands, and residential communities, and state-protected Article 97 conservation land.
Gas transmission pipelines have had hundreds of releases, ruptures, fires, explosions, and other "incidents," causing fatalities and doing over a billion dollars in property damage.
Need / Alternatives:
A controversial Dept. of Energy Resources / Synapse "Low Gas Demand Analysis" estimated that Massachusetts would be short 0.6 billion to 0.9 billion cubic feet of gas per day (Bcf/d) on peak demand days, unless more pipeline capacity is built. Environmentalists dispute this need.
Also known as the proposed "Northeast Energy Direct" pipeline project.
In looking at possible alternatives to the pipeline, by its own acknowledgement, the Low Gas Demand Analysis did not:
     consider the environmental costs of building the pipeline
     consider the environmental costs of drilling the gas, such as those related to fracking
     consider any alternative energy source it estimated would cost more than piped gas
     consider pipeline investments' potential for slowing of alternative energy growth
     assume that Massachusetts would comply with its own Global Warming Solutions Act (GWSA), nor factor in the avoided carbon cost of GWSA compliance for alternatives
     factor in non-energy benefits for alternative energy, including improved health, reduced healthcare costs and new jobs related to alternative measures
     the pipeline couldn't fill any Massachusetts energy gaps for at least 3 . years. If built, it wouldn't be finished until late 2018.
Gas likely for export:
The TGP pipeline would transport up to 2.2 billion cubic feet of gas per day (Bcf/d), far more than even the 0.6-0.9 Bcf/d of gas Synapse estimated might be needed. It's likely much of that extra 1.3 to 1.6 Bcf/d of TGP pipeline gas would be exported abroad.
The TGP Pipeline would connect the Pennsylvania Marcellus shale-gas fields to the Maritimes & Northeast Pipeline, whose flow direction is being proposed for reversal, to coastal Canada instead of from it, potentially making this gas available for export as liquefied natural gas (LNG) there. The Pittsburgh Post-Gazette reported that five LNG export terminals are being planned for Canada's Atlantic coast, and that it "is likely that all would need natural gas from the Marcellus [fields] . . .
Kinder Morgan told FERC: "Potential Atlantic Canada customers [for the TGP Pipeline project] include . . . liquefied natural gas ('LNG') export projects."
Kinder Morgan told investors: "Kinder Morgan's unparalleled natural gas footprint is . . . [w]ellpositioned relative to major trends (Marcellus [Shale fields], exports to Mexico, LNG exports . . . .)."
Economics:
TGP pipeline cost: $1.75 billion -$6 billion (estimates vary)
New England Governors had proposed a tariff or tax on electricity ratepayers to pay for pipeline construction. Former Governor Patrick backed out, but a leading pro-pipeline energy lobbyist, Anthony Buxton, told the Springfield Republican he hopes new Mass. Governor Charlie Baker and the other Governors will revive talks about the ratepayer tariff proposal. Under such a plan, the New England rate-paying public could be taxed to help build a pipeline privately owned by the subsidiary of a $125-billion company, Kinder Morgan.
The TGP Pipeline would create 3,000 (temporary) construction jobs, says Kinder Morgan.
By contrast, one UMass study estimated that spending $2 billion on energy efficiency and renewable energy projects would create over 22,000 jobs.