food
The FDA Just Banned These Chemicals in Food. Are They the Tip of the Iceberg?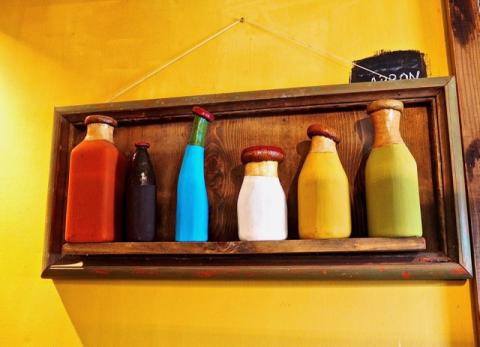 Colors and flavors under scrutiny at FDA,Jeannette Ferrary
On Monday, the U.S. Food and Drug Administration (FDA) announced that it will withdraw its approval for three chemicals used to make grease, stain, and water repelling food packaging and consider banning seven food additives used in both "artificial" and "natural" flavors. While the news may have gotten lost during the first post-holiday weekday, it's worth noting. And it raises much larger questions about one of the agencies with the most control over the safety of what we eat. Here's what you need to know.
A Rare Response

The ban, which goes into effect in February, comes in response to a petition filed with the FDA by a handful of environmental groups, including the Natural Resources Defense Council (NRDC), Environmental Working Group (EWG), and others. What makes it significant, says Erik Olson, health and environment program director at NRDC, is the fact that, "It is the first time the FDA has actually banned a [chemical's] use based on a petition" and done so "based on safety information."
But despite this unusual response on the part of an agency, the ban itself may be too little too late, say some environmental advocates.
No-stick, No Guarantee of Safety
The banned chemicals are all perfluorinated compounds (PFCs), a class of chemicals used to coat things like pizza boxes, pastry wrappers, take-out food containers, paper plates, and non-stick cookware. In other words, they're the kind of chemical most of us might be ingesting without knowing it. PFCs have raised environmental and human health concerns because they last for a very long time in the environment and have been found in wildlife worldwide and in people—including newborns and nearly every American the Centers for Disease Control and Prevention (CDC) has tested.
In lab studies, PFCs have been linked to adverse effects on hormones, reproductive, developmental, neurological and immune systems, and to certain cancers. Last year, a group of more than 200 scientists from 38 countries issued a statement expressing their concern about this type of chemical and calling for policies to limit their production and use.
In its announcement this week, the FDA said the agency is taking this action because it can no longer say there is "a reasonably certainty of no harm" from use of these chemicals in food contact products. The FDA also acknowledged that it lacks adequate information about the chemicals' migration from packaging into food itself as well as information about the chemicals' developmental and reproductive toxicity.
While this candor on the part of the agency might be refreshing to some, Olson says it "highlights concerns we have with the whole system that has approved chemicals for these uses without fundamental data."
And that's not all. As EWG's president Ken Cook said in a statement, "Industrial chemicals that pollute people's blood clearly have no place in food packaging…But it has taken the FDA more than 10 years to figure that out, and it's banning only three chemicals that aren't even made anymore."
Bringing Imported Foods up to the Same Standards
Indeed, the banned chemicals are three of what are known as "C8" or long-chain PFCs that the agency worked with manufacturers to voluntarily discontinue about five years ago. According to the Society of the Plastics Industry­—a major U.S. plastics industry trade group—these substance are no longer manufactured here for food-contact use.
Yet, while U.S. production of these three chemicals has been shut down, they are produced in China and India. As Environmental Defense Fund (EDF) chemicals policy director Tom Neltner explained to Civil Eats, the FDA's action, "prevents these additives from being used in the future," and in packaging on the millions of pounds of food that is imported to the U.S. every year. Without this week's ban, consumers would have to rely entirely on voluntary action to keep these chemicals out of food packaging.
And while the FDA has focused on C8, it's not clear that the shorter-chain chemicals that are being used to replace them are actually safe. The latter are also environmentally persistent and there's a lack of information about their toxicity. "What is obviously worrisome is that there are a lot of other compounds out there and we don't know what's being used," says Olson.
Behind the Flavor
At the same time the FDA announced this ban, it also agreed to review a petition from a similar group of environmental organizations asking that the agency bar the use of seven food flavoring chemicals that are classified as carcinogens. The substance names are mostly obscure: benzophenone, ethyl acrylate, eugenyl methyl ether, myrcene, pulegone, pyridine, and styrene.
These are the compounds you don't see listed in food because they're often classified as "artificial" or "natural" flavors. But all have been found to be carcinogenic—either by the U.S. National Toxicology Program or the World Health Organization's (WHO) International Agency for Research on Cancer (IARC). And all but one are listed as carcinogens under California's Proposition 65.
On paper, carcinogenic food additives are illegal in this country. But, as EDF's Neltner explains, "There is no look back, there is no reassessment." In fact, as an FDA spokesperson said to Civil Eats, "Our subject matter experts monitor scientific literature and take action as needed," but the FDA has no structured program to review previously approved food additive or food contact chemicals.
NRDC's Olson says that "we've been banging on FDA's door about for many years" about the agency's lack of a formal review process for new science. When the FDA does review food additives it is usually in response to a petition from a public interest group, says Neltner. "I think there needs to be a reassessment system," he says.
According to the petition submitted by the environmental groups, these chemicals are used to flavor ice cream, candy, baked goods, jellies, and beverages. Civil Eats reached out to several major food manufacturers that are members of the Flavor & Extract Manufacturers Association (FEMA, not to be confused with the Federal Emergency Management Agency) and did not receive a response about use of these substances.
But FEMA's executive director John Cox said in a statement that, "The substances are permitted for use by the FDA and have not been identified as carcinogens by the FDA," and that these seven chemical are approved by the WHO's food additive committee. Cox also added that these chemicals are "naturally occurring substances" found at higher levels in fruit, vegetables, and spices.
Neltner disputes this assertion saying the chemicals in the petition may occur naturally, but not in the purified and manufactured form that get added to processed foods. "Is the industry actually arguing that styrene, pyridine, and benzophenone are natural flavors? It makes wonder what they call an 'artificial' flavor," he wrote in an email.
Since many of these chemicals are typically used in proprietary flavor blends—secret recipes not unlike perfume formulas—"if you're a consumer, there's no way of avoiding them" says NRDC's Olson. Unless of course you want to spend your time scanning ingredients lists for all "added flavors."
The concerns about all of these chemicals—the flavor additives and the food packaging additives—highlight larger systemic problems at the FDA, say Neltner and Olson. Food companies are free to use a vast number of these chemicals without specific permission from the agency despite huge existing toxicity data gaps on the thousands of food additive and food contact chemicals in use. Take the example of these seven food flavorings. As Neltner explained, the FDA approved these substances in 1964 before it had evidence they were carcinogens, and the agency has not reevaluated its decisions since then.
"FDA has such limited resources that it rarely looks back at old decisions even when its sister agency, the National Toxicology Program, demonstrates that they cause harm," Neltner noted. "When it does look back, it is usually as a result of petitions submitted by the public interest community."
The FDA is accepting public comments on the food flavoring petition until March 4, 2016.