labor
How the Birthplace of the American Labor Movement Just Turned on its Unions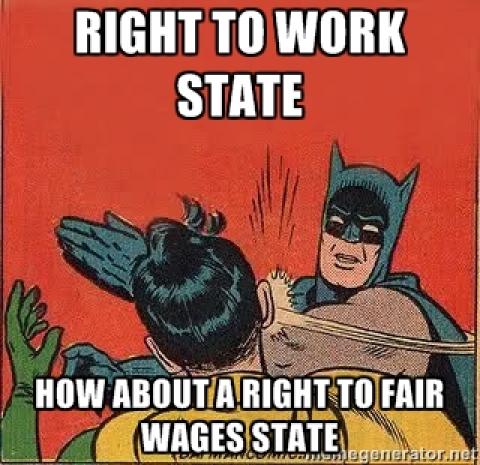 CHARLESTON, W. Va — A dozen or so speeches into the debate over whether to pass a right-to-work law in West Virginia, with union members glaring their reproach from the galleries, Del. Lynwood Ireland stared at the red and the green buttons at the front of his broad, wooden desk.
Ireland had spent the past few days listening intensely to businesses, unions, advocacy groups, and other delegates on the merits of making West Virginia the nation's 26th right-to-work state — a stunning change of fortunes in a state that essentially gave birth to the modern labor movement. By releasing workers from the obligation to pay for the cost of negotiating and administering the union contracts that cover them, such laws have hastened the decline of organized labor elsewhere.
Of the Republican's constituents, about half told him to vote yes, and half to vote no.
A former chemical engineer at Dupont's plants in the Kanawha valley, Ireland had worked with union craftsmen, and knew the value they brought to the job and to their fellow members. But West Virginia's economy wasn't like it was four decades ago, when he started his career — so many mines and factories had shed workers or idled. He thought of his granddaughters, and how likely they would have to leave the state looking for work.
"Quite frankly, this is one of the hardest decisions I've made. I considered taking a walk. and then I thought, that's kind of a cowardly way out," Ireland told the chamber. After a few more minutes of warmup, he announced that he would be punching green — a yes vote.
Later, after the five-hour debate ended, and the bill had passed, Ireland explained why. "If you look at West Virginia, we're 49th in a lot of things," he said. "So we have got to do something different. We can't set back and watch the place decay without trying something."
Indeed, West Virginia's economy had fallen from being relatively healthy in the early part of last century, with jobs for most everyone who wanted one, to having the second lowest per capita income in the country. It's the only state where less than half the population works, and it comes in dead last on Forbes' ranking of business-friendly states.
That's why Ireland's sense the state had nothing to lose, repeated in speech after speech that day, suggests that the debate wasn't just about undermining unions. In the same way the legislature moved to place new limits on the ability of people to sue, passing a right-to-work law had become a symbol of the state's eagerness to reclaim its economic glory.
"You start stacking up a few of these things — legal reform, right to work — and you begin to create an environment where people are saying, 'West Virginia's a place where we should be doing business,' " Ireland explained.
Last week, the legislature overrode a veto by Democratic Gov. Earl Ray Tomblin, making the measure officially law. The story of how West Virginia got to that point is a boiled-down version of the changes America has undergone over the past half-century — the pain of de-industrialization, the shift in political power, the casting about for anything that might create jobs.
De. Lynwood Ireland explains why he voted for the right-to-work bill. (Perry Bennett/West Virginia Legislative Photography) Once a mighty force, unions are a resented minority
Until a few years ago, it appeared that right-to-work laws were mostly regional phenomena.
The South and parts of the Plains embraced the policy a half a century ago, part of a successful campaign to lure manufacturers out of the heavily unionized Northeast to places like Alabama and Georgia, where the labor was cheap and less adversarial.
But few other regions followed until after the Great Recession, when a new wave of new right-to-work campaigns washed over the Midwest, engulfing Indiana, Michigan, Wisconsin. Partly as a result, unions now represent just 12.3 percent of the American workforce, down from 23.3 percent in 1983.
Out of all of those transformations, perhaps none is as striking as West Virginia, where it's hard to underestimate the affinity that people have with the United Mine Workers of America, once 800,000 strong. A series of revolts over organizing and mine conditions in the early 1900s prompted Congress to pass the National Labor Relations Act in 1935, enshrining the right to collectively bargain for workers across the country.
Many in the state can still name the violent confrontations that led to the law: Clashes that killed hundreds of people, with company snipers taking out miners who attempted to organize with the fledgling union, until U.S. bombers literally arrived to back them up.
"We come from the Matewan massacre! We come from the Battle of Blair Mountain, when bloodshed in the mountains of West Virginia led to national change!" said Del. Shawn Fluharty, during the House's floor debate. "Do we stand with coal miners? Or do we stand with coal barons?" he finished, to cheers from the gallery that the speaker had to gavel down.
Despite the invocations of labor's stouthearted past, actual coal miners are pretty hard to find these days in West Virginia. Advanced machines reduced the need for legions of miners, production moved to areas like Wyoming that had less labor militance, and many companies contracted out production to non-union workers, weakening the UMWA's power further.
After peaking in 1998, coal production itself started to taper off — because of competition from cheap natural gas, the depletion of the most easy-to-extract reserves, and new federal mandates that tightened emissions controls.
In 2013, according to the latest numbers available from the Energy Information Administration, there were about 20,000 coal miners left in West Virginia — three quarters of whom were non-union. There have been several sizeable layoffs since. Meanwhile, a trend in manufacturing away from multi-story production made it hard for the mountainous state to attract factories that required miles and miles of flat land to build on.
The decline of heavy industry, and union strength within it, might not have spelled doom for labor power in West Virginia had some of its nascent sectors — like retail, hospitality and recreation — become unionized. But by and large, it hasn't happened in the Mountain State any more than it has in the rest of the country.
"I think there are a lot of people on the left who are nostalgic for that goods-producing unionization, when the people who need unions now are the ones working at Walmart," says Ted Boettner, director of the West Virginia Budget and Policy Center.
Not only that, but West Virginia failed to convert the proceeds from its natural resource bonanza into a world-class education system that could have attracted more science and technology, like North Carolina did.
And when so many people struggle to make money, it can appear as if union members' interests have diverged from those of the average person, who certainly doesn't enjoy their level of wages and benefits. To Republican Del. Lynne Arvon, speaking some time after Ireland took to the House floor, it seemed like a manifestation of inequality.
"While I respect our unions and workers and the jobs that they do, how can I as a representative of this state vote for the 10 percent of our citizens that are members of a union over the 90 percent that are not, many of which in my district have no job?" she asked. "It's my job to represent all citizens, not a small minority."
Republicans rise to power
The decline of unions has made Rupie Phillips, a mustachioed delegate with a growling voice and a "Friend of Coal" pin on his lapel, an endangered species.
"I'm an old-school JFK Democrat. We love our guns, we love our coal," said Phillips, in the back of the room during floor debate on the right-to-work bill. He voted against the measure, but finds little in common with the national Democratic party — a sentiment shared by many union members here. "I guarantee you, three quarters of them didn't vote for Obama," Phillips said, glancing up at the galleries.
For decades, unions had kept an otherwise right-leaning population in the Democratic column. But in 2012 and 2014, West Virginia underwent the same sort of political transition that the American South experienced, only much more suddenly. Socially conservative voters who had historically identified themselves as Democrats switched allegiances, handing the statehouse to Republicans.
Many blamed an environmental agenda supported by Democrats. Environmentalists and unions, who in other places are key lynchpins of the progressive coalition, squared off over the ecologically devastating practice of mountaintop mining.
It wasn't long before the United Mine Workers lost credibility with coal communities, after the candidate the union backed in 2008 — Barack Obama — started passing emissions standards that added to the pile of factors driving coal plants out of business.
"The EPA has basically painted all Democrats with the same brush," said Democratic delegate Mike Caputo. "During the last campaign, if you were running for dog catcher, they would associate you with the president."
"OUR MEMBERS WERE OUR OWN WORST ENEMY."
— West Virginia AFL-CIO president Kenny Perdue
That was especially hard to swallow for Caputo, who in his day job is an international vice president with the United Mine Workers. "It was hurtful, because it worked," he said. "You can talk to Democrats in West Virginia, none of them are opposed to coal. They want to keep the coal miners working. But on election day, it became all about the D's and the R's to flip the House and the Senate."
Meanwhile, coal and other business interests were pushing hard to help Republicans exploit the Democrats' weakness. Millions of dollars from the state's industries and outside conservative groups poured into the 2014 race: $500,000 from the U.S. Chamber of Commerce's Institute for Legal Reform, for example, and $250,000 from the coal company Murray Energy. Some of the cash financed a broadcast and direct mail campaign making the case that Democrats had just been in charge for too long.
"I think we finally were at a point where with the right campaign, you were going to be able to get people to think about who actually shares their values," says Ray Zaborney, a Republican political strategist who ran an independent expenditure campaign for a large business coalition called Grow WV. "It was driven by that question of, 'is the state going in the right direction after 80 years of one-party rule?'"
If the people of West Virginia wanted a change, they got it. In an election with near-record-low turnout of 37 percent, Republicans picked up 11 out of 17 Senate seats to split that chamber down the middle, and flipped the House of Delegates by an overwhelming majority. And they did it with the help of union votes.
"Our members were our own worst enemy," says Kenny Perdue, the head of the state's AFL-CIO.
"This is our number one priority"
Even after the Republicans took over the statehouse, unions and Democrats didn't think right-to-work was inevitable. Similar bills had come up before, and never made it to the governor's desk. Talk about the legislation had even died down in the last few years, recalls Democratic State Sen. Ronald F. Miller.
"Those of us who oppose that change, we thought we were right, and that right always wins," says Miller, of right-to-work legislation. "I think we got complacent also. I think we lulled ourselves to sleep thinking it wasn't there anymore."
That logic seemed to hold through the 2014 election, which focused little on the question of passing a right-to-work law, preoccupied as it was with the policies of President Obama. And while a right-to-work bill was proposed in 2015, it didn't make it through a crowded, two-month session, as Republicans ticked off a long to-do list that had accumulated over decades of being in the minority.
But this year, right-to-work wasn't going away.
Americans for Prosperity — a national libertarian group backed by the foundation of conservative mega-donors David and Charles Koch — had spotted an opportunity. In 2014, it opened an office in Charleston to go after Democratic congressman Nick Rahall. After the election, the organization began running television ads, sending out paper mailers, facilitating calls and emails to legislators through a website at JobsforWV.com, and sending paid canvassers to knock on doors.
"This is our number one priority," said Jason Huffman, Americans for Prosperity's West Virginia state director, days before the final House vote on the bill in January. "It's an economically essential first step."
In 2016, the Workplace Freedom Act was introduced right out of the gate. A bill to repeal the prevailing wage law — which requires the state to set wages for workers on publicly-funded construction projects — landed in the House at the same time, so that after approval the two bills could quickly considered by the other chamber, leaving ample time for an override vote after Gov. Tomblin's anticipated veto.
To bolster its case, the GOP-led legislature ordered up a study from a professor at West Virginia University to forecast how a right-to-work bill would affect the state's economy, based on the experience of other states. The headline numbers, although disputed, made powerful talking points: Going right-to-work, the study found, could boost West Virginia's rate of job growth by 0.4 percent, even as it cut the ranks of unions by one fifth.
"THOSE OF US WHO OPPOSE THAT CHANGE, WE THOUGHT WE WERE RIGHT, AND THAT RIGHT ALWAYS WINS. I THINK WE LULLED OURSELVES TO SLEEP THINKING IT WASN'T THERE ANYMORE."
— Democratic Sen. Ronald Miller
The ensuing committee proceedings, floor debates, and public hearings brought in not just the state's most interested parties — unions and business associations, like the Chamber of Commerce and the Business and Industry Council — but also a traveling team of people who testify in favor of right-to-work laws when they pop up around the country. The Heritage Foundation, the National Right to Work Committee, and the anti-union Mackinac Center all sent emissaries to make the economic case for freeing workers from the obligation of contributing to their unions.
Largely absent from the debate, however, was the companies that might herald an economic revival. Although legislators suggested they had been told by businesses that passage might influence whether businesses chose to expand or locate in the state, few stepped forward to put their names on the record. "Businesses for a number of reasons are not forthcoming about the reasons for going to one state or another," explained Bryan Hoylman, the director of West Virginia's chapter of the Associated Builders and Contractors. "They don't want to appear to be on one side or another."
Similarly, although the West Virginia Business and Industry chairman Chris Hamilton testified that the right-to-work law was a top priority for every economic development agency he'd visited across the state, the umbrella organization representing those agencies voted not to take a position on the bill. While staying away from the statehouse debate, some of them thought targeting unions could hurt, rather than help.
"I don't think that's what's holding back our economic development," said Larry Stutler, director of the Lincoln County Economic Development Agency, explaining his board's opposition in an interview. "Two of the problems that we have in West Virginia is available sites and infrastructure. Those two situations would be far more important in attracting a company than whether we're a right-to-work state or not."
Right-to-work opponents argued that for all of the state's problems, kneecapping unions and depressing wages in the construction industry was not the place to start. Del. Bill Hamilton, one of the few Republicans to vote against the prevailing wage repeal and the right-to-work bill, tried to persuade his colleagues that they needed to focus on improving the state's education system and tackling its substance abuse epidemic first.
"We have an aging population people on Social Security, close to probably 20 percent of our population is on disability," said Hamilton, in his office between floor sessions. "So your workforce isn't there to meet the demand. And I think that's what we need to work on."
But it was hard for those arguments to counter the case for right-to-work, delivered in 30-second soundbites. As the debate raged, union members watched the proceedings from the galleries with consternation. Jonathan Casto, a construction laborer who has been able to raise his family on the healthy wages paid by public construction work, felt a growing sense of uncertainty as he faced a future in which they would be substantially reduced.
"To be honest with you, I don't understand what they're doing, and I don't understand why," Casto said, gazing down at the legislators on the floor below. "It's just a mess down here. After this, we don't know what's going to happen."
Is it game over for unions?
Recognizing the affection many West Virginians still have for organized labor, right-to-work proponents insisted their measure wasn't necessarily "anti-union." Instead, they argued that it could improve unions by forcing them to be more accountable to their members, pointing out that strong unions still exist in some right-to-work states — and there are some within the labor movement who agree.
West Virginia's unions aren't ready to accept that reality. In the weeks preceding what already appeared to be a foregone conclusion, right-to-work opponents walked from the chamber galleries to the Secretary of State's offices, resolving to support candidates to run against legislators who hadn't voted their way. Such a strategy is not easy to pull off: Despite union fury in the wake of right-to-work and anti-collective bargaining votes across the country, in recent memory, only in Ohio have they been reversed.
Kenneth Fones-Wolf, a professor of labor history at West Virginia University who opposes right-to-work, says such campaigns can be hobbled by the fact that labor has had a difficult time articulating alternative vision for economic progress. "Their major goal is to help maintain the unions that exist, and the wages and the working conditions of the workers that they represent," Fones-Wolf says.
Some union leaders suspect they will get their opening when Republicans push too far. That's how labor has sought to regain its footing nationally after being backed into a corner: Allying with other social movements, like women's economic empowerment and Black Lives Matter, on issues of mutual concern.
"People are catching on that the changes they're talking about is killing unions, cutting pay, cutting back on regulation," says Dave Efaw, secretary-treasurer of the West Virginia's Building Trades Council.
With only 1.5 million people in the state, Efaw figures it's still possible to reach them with the kind of on-the-ground outreach that organizers should have been doing all along. The kind of outreach that President Obama did, when he brought people into the political process by speaking to a greater idea of hope.
"We see that the old ways of elections are no longer," Efaw says. "Obama proved that you have to change with the times."