labor
Graduate Workers at Mizzou Stage Work-In for Union Recognition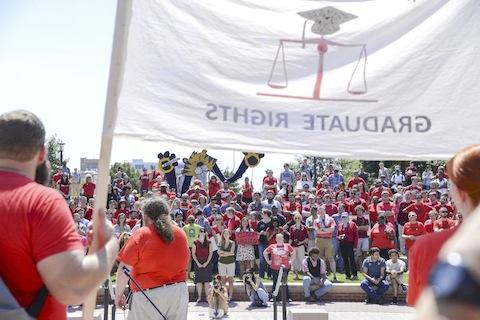 Eric Scott, the co-chairman of the Coalition of Graduate Workers, speaks at a rally Aug. 26, 2015, at Traditions Plaza. MU graduate student employees gathered to protest against the university's decision to stop paying for their health care.,Zach Baker/Senior Staff Photographer
Graduate workers at the Missouri University (MU) on February 24 occupied the university's administration building to press their demand that they be recognized as university employees with collective bargaining rights.
Dozens of graduate workers, who belong to the Coalition of Graduate Workers (CGW), filed into MU's Jesse Hall, occupied public space in the building, and began performing the duties that MU pays them to do.
They called their action a work-in.
"The work of graduate employees tends to happen out of the public eye," said CGW co-chair Eric Scott to the Kansas City Star. "Today, we are bringing our labor out into the open."
CGW has been trying to organize a union for MU's 2700 graduate students, who teach classes, conduct research, and assist tenured faculty.
The union drive recently ran into an obstacle. The University of Missouri System's vice president for human resources said that graduate workers would not be recognized as university employees without legal action requiring MU to do so.
During the work-in graduate workers taught classes, graded papers, tutored students, and performed other tasks that are part of their daily routine.
"We want to make our labor visible and to remind the (MU System's governing board) that we aren't going anywhere, and certainly not silently," reads a posting announcing the work-in on CGW's Facebook page.
The union organizing began when the school's fall semester began. In August MU's administration announced that graduate workers would no longer receive a stipend for health care coverage.
The news came as a shock to graduate workers as they prepared for the start of the new school year.
The shock turned to anger, and some graduate workers formed a group called the Forum for Graduate Rights (FGR), which began organizing to fight back against the health care cut.
FGR also developed a list of demands to address other problems that graduate workers were facing.
Graduate workers wanted a living wage, not the poverty wage that most are receiving, full health care coverage paid by MU, on-campus child care, affordable housing, a supplemental fees waiver, and immediate action to relieve the burden on international graduate students caused by the decision to eliminate the health care benefit.
When the administration did not respond to the demands, graduate workers staged a one-day walk out to protest the universities inaction.
Over the course of time, FGR's advocacy resulted in some victories. For one thing, MU backed down on its decision to eliminate health care stipends. It has also been looking for ways to address other graduate worker demands.
But, it became clear to some members of FGR that it wouldn't be enough only to advocate for progress; they needed power to get the university to work with them as equal partners to address the problems that graduate workers had identified-they needed a union.
Without an enforceable collective bargaining agreement there is no guarantee that the administration will carry through with its promise, said Connor Lewis, co-chair of CGW to the Maneater, MU's student newspaper.
In October, CGW, a committee of FGR, began holding information sessions on union organizing and collecting signatures on union representation cards.
Despite the System's decision not to recognize graduate workers as university employees, CGW has continued its union organizing drive.
Sarah Senff, who coordinated the work-in for CGW, told the student newspaper that CGW had begun legal proceedings seeking to get graduate workers recognized as employees.
"The University of Missouri System has chosen to take the hard route, and we are willing to do it that way," said Senff to the Maneater. "We want to be able to enact our constitutional rights. A collectively bargained contract is the only thing that will make us feel secure in our position at the university."
Lewis told the Kansas City Star that whether MU or the System recognize graduate workers, CGW plans to conduct a union recognition election by the end of the school year.
"We are going to continue trying to organize," said Lewis. "We are going to take a vote to form a union regardless of whether the university agrees to participate in the process or not."