labor
Airbnb Negotiations with Powerful US Labor Union Facing Backlash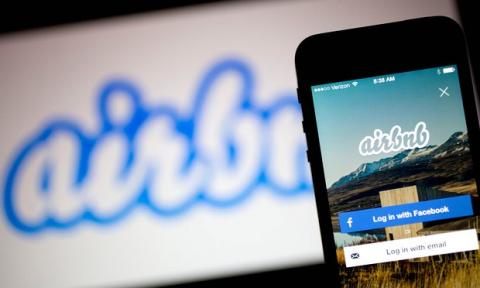 Airbnb has been in discussions with the SEIU to reach a deal under which the home-sharing service would promote unionized housekeepers.,Bloomberg via Getty Images
Airbnb's attempt to negotiate a deal with one of the most powerful unions in the US is being undermined after intense backlash in the labor movement, the Guardian has learned.
The home-sharing startup has been in discussions with the Service Employees International Union (SEIU) to reach a deal under which the home-sharing service would promote unionized housekeepers.
Airbnb has long been in conflict with workers' rights groups but is discussing a deal with the unions under which it would promote unionized housekeepers in short-term rentals.
The potential partnership with SEIU, which represents 2 million workers in the service sector, is the closest Airbnb has come to a formal agreement with a labor group after years of unsuccessful attempts to partner with unions across the US, according to sources familiar with the discussions.
If the SEIU deal is successful, it would mark the first-ever formal partnership between a major company in the "gig economy" and a labor union.
Yet sources say that negotiations have been delayed by internal union dissent over the ethics of the home-sharing startup with some labor activists, including some SEIU members, concerned that Airbnb has exacerbated housing crises in cities across the US, including in San Francisco, where Airbnb is headquartered.
The Guardian contacted Airbnb and SEIU with detailed queries about the negotiations on Monday morning. Hours later, the Washington Post published a story on the still-to-be-completed negotiations, citing documents that laid out the terms of a possible agreement.
The potential deal, it reported, would include Airbnb's endorsing a $15-an-hour minimum wage and direct hosts to cleaners who are paid at least $15 an hour and are trained and certified in providing "green home cleaning services".
The report said the partnership, if implemented, would be modeled on a pilot program, announced last year, between Airbnb and Cooperative Cleaning, a Brooklyn-based worker-owned cleaning agency. The Washington Post described the deal as one that "allows the company [Airbnb] to make the claim that it is creating good jobs for local residents".
However, the proposed agreement has been fomenting a quiet backlash from some figures in the labor movement in recent weeks.
"We are appalled by reports that SEIU is partnering with Airbnb, a company that has destroyed communities by driving up housing costs and killing good hotel jobs in urban markets across North America," said Annemarie Strassel, a spokeswoman for a rival union, Unite Here.
"Airbnb has shown a blatant disregard for city and state laws, has refused to cooperate with government agencies, and turns a blind eye to the fact that its business model exacerbates the affordable housing crisis." She added: "A partnership with SEIU does little more than give political cover to Airbnb."
Airbnb spokesman Christopher Nulty did not respond to a request for comment about the backlash to the potential deal.
"We have been engaged in conversations with organizations and community leaders about how to best help working families find solutions to economic inequality, including creating specific ways we could leverage the Airbnb platform to help create quality union jobs that pay a livable wage," he said.
SEIU International's president, Mary Kay Henry, declined to discuss details of the collaboration with Airbnb. "We don't have a partnership that's been finalized – that conversation is under way," she said on Thursday, after the Guardian first contacted the union about its controversial negotiations with Airbnb.
Pressed for specifics on the timing and details of the pilot, she said the deal "hasn't been finished" and declined to comment further.
In a statement on Monday, an SEIU spokeswoman said: "We actively and regularly engage in conversations with companies who are committed to doing right by their workforce by paying better wages and giving them a voice at work through their union. Airbnb is one such company, however, there is no formal relationship or agreement between SEIU and Airbnb."
New York politicians express concern with the deal
Advertisement
The potential partnership is also raising eyebrows among New York politicians. On Friday, the Manhattan borough president, Gale Brewer, 18 members of the New York state senate and assembly, three New York City council members and 20 local housing organizations sent a letter to the SEIU president expressing concern with the deal and requesting a meeting.
"We find it troubling that SEIU is exploring entering into an agreement with Airbnb – a company whose business model displaces the very people you are seeking to represent and protect from their homes and communities," the letter states. "Such a partnership would lend credence to Airbnb's illegal manipulation of the housing market, and give the worst actors … a legitimate platform to conduct their illegitimate and harmful business activities."
The partnership is unexpected given that labor unions across the country, including SEIU, have long been vocal opponents of Airbnb among other "sharing economy" startups. Ride-hailing apps Uber and Lyft, for example, consider their drivers independent contractors and have vigorously opposed efforts by their for-hire drivers to be recognized as employees and form a union. Delivery startups including DoorDash and Postmates typically classify their workers as contractors, meaning they have few rights or protections and cannot engage in collective bargaining.
In May 2014, Airbnb first approached the New York chapter of Unite Here, a separate union that represents hotel workers, to try to orchestrate a similar deal, according to the New York local president, Peter Ward. Airbnb's CEO, Brian Chesky, met Ward at the union's New York offices, Ward claims, where he told the startup boss that his union would refuse to work with a company that advertises illegal hotels.
Ward said he and other union leaders have refused to work with Airbnb because the company enables people to illegally turn their homes into hotels, which takes permanent housing off the market and worsens affordable housing shortages.
Ward said Chesky described his union as one of his biggest obstacles in New York City, saying: "The reason we're not winning here is because of you and your union. I'm here to see what I can do to remove you from the field." An Airbnb spokesman denied that Chesky said these words.
'It goes against all the principles of the labor movement'
Unionizing Airbnb cleaners could legitimize the startup while providing minimal benefits to a small group of workers, Ward said. If SEIU signs a contract with Airbnb, "They are essentially selling cheap cover to an American corporation for union dues from a few members," he said. "It goes against all the principles of the labor movement."
It's political cover for this corporation that's doing all this damage in the community.
Jennifer Fieber, San Francisco Tenants Union
Unions have played a big role protesting against Airbnb and pushing for stricter regulations in cities across the country.
Opponents also argue that users of Airbnb, which is worth an estimated $25.5bn, don't pay their fair share of taxes. Community and labor groups in San Francisco pushed unsuccessfully for a 2015 ballot measure that would have dramatically increased restrictions on Airbnb users in the company's home city.
One union that backed the anti-Airbnb measure was SEIU Local 1021 in northern California, another subsidiary of the international organization which spent more than $78,000 to support the campaign and has repeatedly criticized the company for its role in the housing crisis.
Advertisement
In another twist, SEIU International's former president Andy Stern, now a consultant and Henry's predecessor, is representing Airbnb in the negotiations with his former employer.
California housing groups that have previously protested against Airbnb and recently learned of the potential SEIU collaboration said they were outraged about a potential partnership.
"It's a complete betrayal to housing groups who have been working on this problem of Airbnb gobbling up the rental stock," said Jennifer Fieber, of the San Francisco Tenants Union. "It's embarrassing to put union labor into illegal hotels that we are trying to shut down."
"It's political cover for this corporation that's doing all this damage in the community."
Judy Goldman, who co-founded a Los Angeles-based group called Keep Neighborhoods First, which is critical of Airbnb, said the company's partnership with a union appeared to be little more than a PR stunt. "I think it's really unfortunate that SEIU would send union labor into these thousands of illegal, rogue hotels when so many tenants have lost their homes," she said.
"So many people involved in these unions are the ones that are being evicted."
Julia Carrie Wong previously worked as a researcher for Unite Here Local 2.