film
Dheepan Review - Tamil Tiger Lose in the Urban Jungle Makes Powerful thriller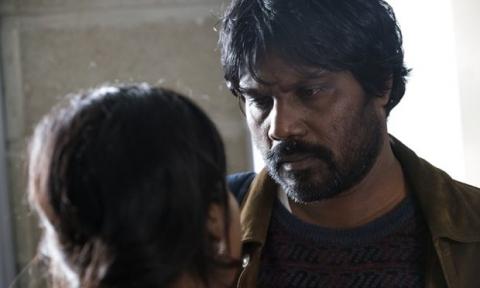 Antonythasan Jesuthasan as Dheepan.,
Jacques Audiard has made his name, in films such as A Prophet, Rust & Boneand The Beat That My Heart Skipped, for a kind of ecstatic violence of the soul. Dheepan, his new film about a former Tamil Tiger fighter looking for a new life in France, certainly has some of the director's trademark ferocity, especially in its final minutes, but it displays what I can only describe as dialled-down Audiard. Indeed, much of the time it even ambles, peacefully, with nothing much happening.
It begins with a short sequence in Sri Lanka: the civil war is over, the Liberation Tigers are burning their dead comrades' bodies and swapping fatigues for civilian clothes to try and melt into the general population. In a refugee camp, a young woman is looking for unaccompanied children: not for anything as gruesome as sex-trafficking or slavery, we discover, but to be part of a hastily thrown together fake family, to help one such fighter get clear of the battle zone and into Europe. The three of them, strangers to each other, eventually find themselves in France, and we watch them attempting to adapt to the precarious new reality: negotiating their way through an immigration hearing, peddling tat on the pavements, scattering at the inevitable shout of "les flics!"

The man, going by the name Dheepan (Antonythasan Jesuthasan), eventually gets a job as a caretaker, and the trio make their way to a rundown housing estate; a recently abandoned flat is opened up and given to them to make their home. New codes must again be learned, and new negotiations made – particularly with the twitchy-looking gang who control the local drugs trade, and who take over one of the nearby blocks each morning. Dheepan's role as a caretaker gives him a pass, and he and his compatriots settle cautiously into their new life, at the roughest end of France's social scale. The kid, Illayaal (Claudine Vinasithamby), starts school, and Dheepan's "wife" Yalini (Kalieaswari Srinivasan) gets a job too, cooking and cleaning for a man called Habib, evidently suffering from dementia. (Even here, though, the paranormality is in evidence: the senior figures in the downstairs drug gang have taken over Habib's sitting room as a sort of office-cum-R&R space.) Through the mundane business of living, the three edge towards intimacy, even approximating in actuality the family they are pretending to be.
The arrival of a recently released prisoner, Brahim (Vincent Rottiers) about halfway into the film, triggers a dramatic change. Reclaiming leadership of the gang, his presence infuses events with a sort of trigger-happy nervousness. Yalini conceives a wordless, terrified infatuation for him; but more dramatically is the subliminal effect on Dheepan. Increased tension with the gang results in a fight, and a stand-off; Dheepan reacts to the threat by returning to guerrilla mode, the psychological faultlines of PTSD clearly visible.
In some ways, this material is not unfamiliar: British audiences may be reminded of the likes of Dead Man's Shoes, or Harry Brown, both of which feature former military types using their skills in an urban conflict zone. But Audiard possesses a lyricism that makes his film stand out, even in the final bloody confrontation. Dheepan is as interested in the accretion of detail, and thereby understanding what makes a family unit work, as in the rituals of street combat – though, as he's shown in the past, Audiard is very good at that too. This may not be the director's most immediately electrifying film, but in its understated way, it's an immensely powerful work.
Dheepan is currently screening at select theaters around the country including the Lincoln Plaza Cinema in NYC.