Love, Justice and Dignity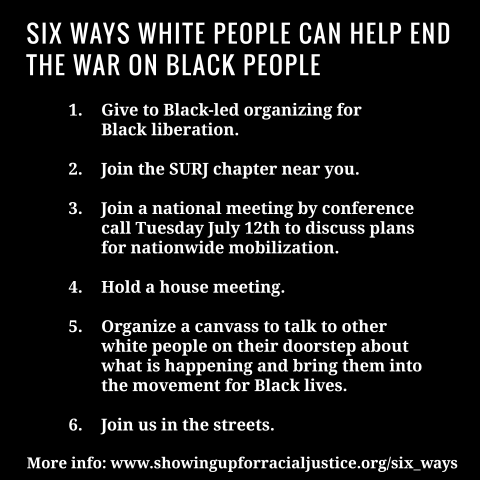 ,
SURJ condemns loss of life, no matter who is dead. As an organization committed to organizing white people to dismantle a criminal justice system brutalizing communities of color across the nation, SURJ condemns violence against the police and mourns the injuries and deaths of police officers killed in Dallas.  
A system that brutalizes people of color communities and destroys the lives even of those who are enforcing it, is not a sustainable system, a moral system, nor a system that can serve the kind of world in which ALL people are valued and cherished.
Across this country, Black communities live in terror that someone among them, a father, a sister, a child, could be next in the rising death toll of their lives.

The silence of a majority of white people in the face of this daily horror sets up the atmosphere and the on-the-ground reality in which more Black and Brown bodies will be cut down by police, and drive the possibility that more officers will be vulnerable to individual acts of rage.
Many white people will see the deaths of police officers as an opportunity to turn away from racial justice and police violence, and focus on better policing, guns or interracial healing. While all of this is part of the conversation, only by directly challenging the ongoing violence and devastation in communities of color caused by the policies & practices of racism and white supremacy can we move forward. This is a moment where we must keep our eye on the prize: racial justice and the systemic oppression and silence of white people that keeps it in place.
Read the full statement and a statement from Black Lives Matter here.
7/12 National Call- Join a national meeting by conference call Tuesday July 12th to connect with others, hear from local organizers in Louisiana and the Twin Cities, and discuss plans for nationwide mobilization. Register here even if you can't make the live call. We'll send you the notes afterwards.
Thanks to each of you for committing to break white silence,
Dara, Carla, Jess, Jeff, Zoë, Andrew, Erin, Kristen and all of us at SURJ