Classical Music Steps In for BlackLivesMatter - Classical Notes Add to Voices of Protest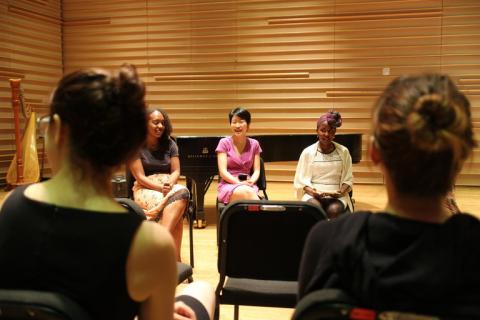 Eun Lee, center, of The Dream Unfinished, has organized an orchestral concert at Cooper Union to benefit the Black Lives Matter movement.,Credit via The Dream Unfinished // New York Times
By William Robin
July 10, 2016
After last week's shootings, an orchestral concert to benefit the Black Lives Matter movement, scheduled for Wednesday night at Cooper Union, has become tragically timely.
"We need that right now," she added, "rather than us all isolated, looking at our phone screens or computer screens and feeling these feelings all by ourselves."
After a series of Google searches along the lines of "classical music black lives matter," it became clear to her that no such project existed. "It just hit me," Ms. Lee said, "that, as much as we were seeing a response from rap musicians and folk musicians and now more and more pop musicians, there was no such response from the classical music community."
"The leadership and the personnel rosters of a lot of these major orchestras and institutions are so white. I think some of it is also just their own personal discomfort," Ms. Lee said, adding, "There's a fear of having something to lose, alienating donors or sponsors who are a little more conservative."
But she argued that her project was essentially uncontroversial: "The Dream Unfinished is not really politically motivated, because I feel strongly that the issue of systemic racism and police brutality is something that should be bipartisan."
"As I was working on the piece, Mike Brown was killed, and I was following what was happening in Ferguson," she said. "All these different things started becoming part of it, and at some point I had to shut off everything, because it wasn't like the events were slowing down."
Written for chorus, orchestra and the vocalist Helga Davis, "Yet Unheard" also is a call for action. Early in the piece, the choir sings "Break through fear, push back hatred's stone/ It's an honor to protest for her." In an interview, Ms. Davis described the need for artists to participate in social movements. "We're all saying: `What can we do? I don't do anything. I'm not a politician, I don't have a lot of money, I'm not connected,'" she said. "We keep talking about all the things we're not, instead of saying, `But I play piano, or I sing, or I dance.'"
At a workshop rehearsal in May, Ms. Bryan and Ms. Davis sat together at a piano and read through the latest version of the score. At one point, Ms. Davis suggested that a passage in which she sings "Didn't he kill me that day?" be moved an octave lower.
"It's really the last of my breath," she said, noting that the phrase now sat at the bottom of her vocal range. Over a wash of harmony and intoned in Ms. Davis's powerful voice, the line became a haunting accusation. When she repeated the phrase later in the rehearsal, Ms. Davis paused and said, "It asks the question in the way it needs to be asked."
The performance, set to take place on the year anniversary of Sandra Bland's death, is as important now as ever.
By Priscilla Frank, Arts Writer, The Huffington Post
July 12, 2016