Celtic Soccer Solidarity with Palestine - Match the Fine For Palestine: The Higher You Build Your Barriers, the Taller We Become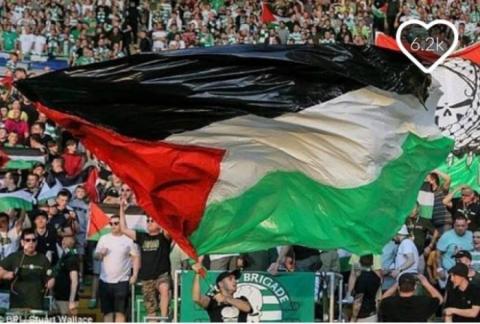 Activist fans of Scotland's Celtics soccer team, flying the Palestinian flag during recent match between the Scottish team and an Israeli team. The Celtics now face high fines for the actions of their fans.,Image credit: Common Dreams
By Abby Zimet
August 25, 2016
In what  admirer calls "a brilliant generous gesture... telling Palestinians they have not been forgotten," activist fans of Scotland's Celtics soccer team - the working-class, historically progressive community already facing punishment for 
flying 
Palestinian flags at a recent game against Israel to protest the Occupation - have 
launched 
a defiant fundraiser to match their likely upcoming fine, thus "hugging tighter" an oppressed population with which they've long felt a 
kinship. 
The Celtics plan to give the proceeds - their original goal of $20,000 quickly grew to a flood of about $200,000 - to two Palestinian charitable groups.
Europe's ruling soccer body UEFA has already announced disciplinary proceedings against Celtic for its display of an "illicit banner" at a game against Israel's Hapoel Be'er Sheva team a couple of weeks ago. The act of solidarity was one of many over the years by a largely Irish Catholic community with a strong sense of affinity for the Palestinian struggle against colonization. With over 1,200 Scots of Palestinian origin, their own history of occupation and an ongoing sense of being underdogs in Scotland, says historian Tom Devine, "Part of their sense of communal identity is that sense of grievance about what was done in the past. People who are Irish nationalists will always tend to support independence movements they believe to be based on historical justice."
To further protest what they charge is UEFA's "petty and politically partisan" stance, Celtic fans known as the Green Brigade launched #MatchTheFineforPalestine, with their initial goal of £15,000 (about $20,000) the rough equivalent of their last fine for Palestinian solidarity. In a few days they'd raised over three times that, from fans of Celtic and teams around the world to non-soccer fans who care about Palestine. The money will be split between Medical Aid for Palestine (MAP), a UK-based group working with local health providers to care for Palestinians worst affected by the conflict, and the Lajee Center, a Palestinian cultural center in Aida Refugee Camp that seeks to offer young people "hope and an escape from the realities of life under Israeli occupation." Last year, Aida's only soccer field was severely damaged by Israeli tear gas canisters; the Celtic money will be used to expand arts programs, support soccer leagues and tournaments from refugee camps across the West Bank, and create Aida's first team - Aida Celtic.

This week, despite a playoff loss, Celtic advanced to Champions League group stages with an aggregate 5-4 win over Hapoel Be'er Sheva; they were put in the "Group of Death," which they may or may not survive. But for large numbers of Palestinians, Celtic are already big winners. Many have praised their actions "in the true spirit of the game...They have transformed their passion into a genuine force for good." There have been hashtags, videosand projections of the Celtic crest in Ramallah. Lajee workers say the birth of a shiny new Aida Celtic might be the best gift of all. "It will mean so much to our young people to be part of an official team," he says, "to have boots and strips and represent the camp wearing the colors of our friends." And - unspoken but vital - to know they have friends, period, in a world where they too often feel forsaken. Because, just sometimes, it doesn't take much.
Thank you Green Brigade and Celtic Fans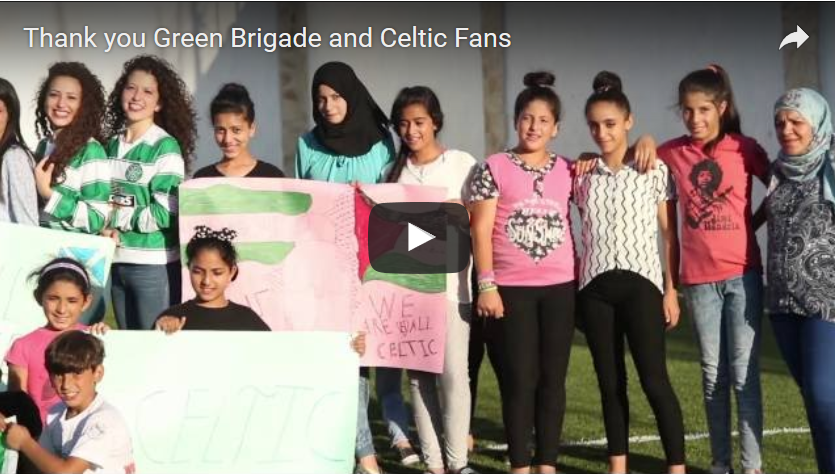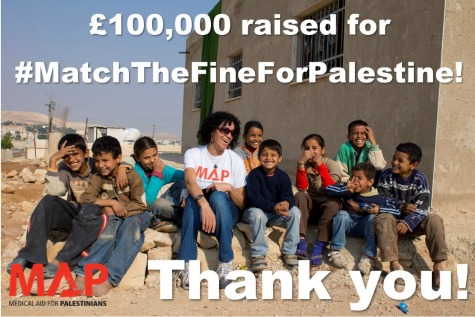 [
Abby Zimet has edited
Common Dreams
's Further column since 2008. A longtime, award-winning journalist, she moved to the Maine woods in the early 70s, where she spent a dozen years building a house, thinning the carrots, hauling too much water, experiencing true if ragged community, and writing. She has lived and worked in Portland since 1983. Having come of political age during the Vietnam War, she has long been involved in women's, labor, anti-war, social justice and refugee rights issues.  Email to abby@commondreams.org
]
By Wilson Dizard 
August 23, 2016
Screenshot from a Lajee Center video thanking Celtic fans. The center is a Palestinian cultural organization in the Aida Refugee Camp.
Photocredit: Mondoweiss
The defiant display of Palestinian flags in Glasgow last week by Scottish fans of the Celtic soccer team roused over £100,000 (just over $130,000) in donations online, all marked for helping Palestinians.
The news comes as Celtic gear up to play in Israel on Tuesday night against Hapoel Be'er Sheva. Israeli authorities have promised to arrest and prosecute any actions involving Palestine solidarity. And in Scotland, the Union of European Football Associations (UEFA) is mulling what consequences Celtic fans should face for showing solidarity with the "illicit" Palestinian emblem. The Green Brigade, the hardcore cadre of Celtic fans who raised the Palestinian flag, responded to the threat of sanctions with a call for donations for Palestinian medical aid and a refugee camp.
"In response to this petty and politically partisan act by European football's governing body, we are determined to make a positive contribution to the game and today launch a campaign to #matchthefineforpalestine. We aim to raise £75,000 which will be split equally between Medical Aid Palestine (MAP) and the Lajee Centre, a Palestinian cultural centre in Aida Refugee Camp on the outskirts of Bethlehem. From our members' experiences as volunteers in Palestine we know the huge importance of both organisations' work and have developed close contacts with them," the group writes on its GoFundMe page, MatchTheFineforPalestine. The total the group is seeking to receive has since been raised to £110,000.
The Lajee Center, which provides extracurricular art activities for youth, posted a YouTube clip on Sunday thanking the Scots for their help.
"Celtic!" the children and young adults, some wearing Celtic jerseys, chant in unison in the video. "We all love Celtic!"
"Thank you Celtic, we appreciate all that you have done. Thank very much," one woman, wrapped in an Irish flag, tells the camera.
A Scottish-Palestinian activist group, Palestine Alliance, was behind the distribution of the flags, which flouted both Champions league regulations and Scottish law.
The head of Palestine Alliance, a Palestinian Scot named Dr. Issam Hijjawi, spoke with Mondoweiss about what the Celtic act of solidarity means to him. He said it was evidence of the deep solidarity between every level of Scottish society, from unions, to churches, to the Scottish National Party, and the cause of Palestinian rights. There are about 1,200 Scots of Palestinian origin, Hijjawi said.
It also shows a common determination to oppose the British brand of white supremacy, which Hijjawi said expresses itself in Israel as administrative detention of Palestinians like Bilal Kayed, as well as the British Empire's Balfour Declaration that promised to create a Zionist state in Palestine.
"The Balfour Declaration was issued by the British Empire, giving land which didn't belong to them, which they don't have any authority over, to a foreign people," Hijjawi said, referring to the 1917 agreement. "In this sense we share with the Scots and Irish the feeling of being betrayed by the British empire, and we have both been subject to British white supremacy."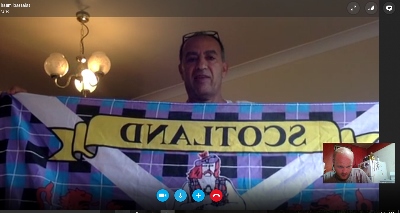 Dr. Issam Hijjawi of Palestine Alliance holds up a Scottish banner during a Skype interview with Mondoweiss.
Millions of Scots, like Palestinians, resent the colonial imprimatur that lets the Crown have final say over Scottish affairs, despite the semi-independent Scottish legislature at Holyrood. One major issue for Independence-backers is London's stowing in Scotland of submarines armed with nuclear warheads.
Hijjawi said that the link between Scottish and Palestinian groups has grown stronger in the wake of Brexit earlier this year and the close vote over Scotland leaving the UK in 2014 (Scotland voted to stay). He praised Scottish First Minister Nicola Sturgeon for telling minority groups, like Palestinians and Poles, in Scotland that they would be safe despite simmering nationalist, anti-immigrant sentiment in England.
Hijjawi said that Celtic solidarity with Palestine isn't just a gimmick, but rather deep rooted in Scottish society, part of the "common cause" of standing up to the withered Empire emeritus.
"The Scots are much friendlier than the English. They are more social. We feel at home here because of the pro-Palestinian atmosphere," he said, remarking that Scots also flew the Palestinian flag during Israel's 2014 assault on Gaza, which claimed over 2,000 lives, including at least 500 children.
Support for Palestine is strong among fans of the Celtic team in heavily Catholic Glasgow, and that sentiment has long had an corollary in Irish Republicanism across the Irish sea in Belfast and Derry. But similar sympathies exist among progressive Protestant Scots as well. The Church of Scotland has championed cause of Palestinian rights and has supported the Boycott Divestment and Sanctions movement. An American branch of the church, the Presbyterian Church USA, also in 2014 moved to divest from companies that aid in Israel's military occupation.
But the Church of Scotland has made an even stronger stance against Zionism itself, especially Christian justifications for Zionism. A 2013 document entitled "The Inheritance of Abraham? A report on the 'promised land'" shows how the Scottish Church interprets the Holy Land as a matter of analogy, not an ironclad justification for inhumanity.
"Christians should not be supporting any claims by Jewish or any other people, to an exclusive or even privileged divine right to possess particular territory. It is a misuse of the Bible to use it as a topographic guide to settle contemporary conflicts over land. In the Bible, God's promises extend in hope to all land and people. Focussed as they are on the life, death and resurrection of Jesus Christ, these promises call for a commitment in every place to justice in a spirit of reconciliation," the text reads.
Another Church of Scotland pamphlet describes the denomination's involvement in Palestinian affairs as a Christian imperative to promote the dignity of human beings. The pamphlet, called "Peace and Justice in Israel and the Occupied Palestinian Territory," also mentioning Kairos Palestine, a 2009 declaration by Palestinian Christian groups to end the occupation.
"Christians have a calling to stand on the side of the poor, the vulnerable and the marginalised, and to warn against oppression," the pamphlet reads. "In Israel and the occupied Palestinian territory, we are asked to stand in solidarity with our fellow Christians and all those who are oppressed. The presence and experience of the Church of Scotland in Israel and the occupied Palestinian territories, added to the call of the rest of the Christian community, has made this international issue a major focus for the Church's General Assembly in recent years. Kairos Palestine says: 'The mission of the Church is prophetic, to speak the Word of God courageously, honestly and lovingly in the local context…Our vocation as a living Church is to bear witness to the goodness of God and the dignity of human beings.'"
While Scots seem to have no trouble using the word "occupation" in their description of the plight of Palestinians, the term is toxic to some Americans, especially politicians who'd rather not pop their heads up on the issue.
Hijjawi hopes that Americans will learn to mimic the Scottish spirit of courage on behalf of justice for Palestine. At the very least, Hijjawi hopes Americans, billions of whose tax dollars go to aiding the Israeli military, will learn more about the subject and come to their own conclusions.
"We hope that the American public will start to check the facts of what is happening in Palestine, and take the Scottish attitude, as some sort of inspiration and to learn from it and to not be afraid of the terrorists. That's what I call them, the terrorist campaign against people voicing their opinion against what's happening to the Palestinians," Hijjawi told Mondoweiss. "My appeal to the American people is to be brave as the Scots have proved to be brave."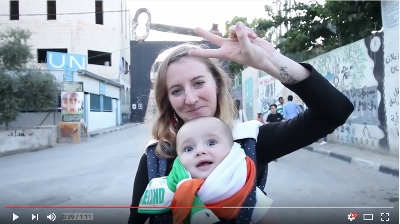 Screenshot from Lajee Center video thanking Celtic fans. 
Credit: Mondoweiss
[Wilson Dizard is a freelance reporter and photojournalist covering politics, civil rights, drug policy and everything else. He lives in Brooklyn with his bicycle, camera and drum set.]