The Secret History of Colombia's Paramilitaries and the U.S. War on Drugs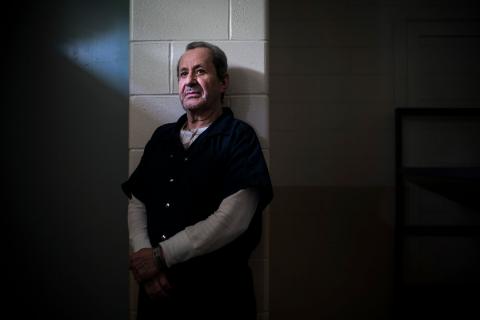 Hernán Giraldo Serna has gone from being a fearsome paramilitary commander in Colombia to a docile prisoner in the United States.,Todd Heisler/The New York Times.
CALABAZO, Colombia — Skinny but imposing with aviator glasses, a bushy mustache and a toothy smile, Julio Henríquez Santamaría was leading a community meeting in this sylvan hamlet when he was abducted by paramilitary thugs, thrown into the back of a Toyota pickup and disappeared forever on Feb. 4, 2001.
Ahead of his time, Mr. Henríquez had been organizing farmers to substitute legal crops like cacao for coca, which the current Colombian government, on the verge of ending a civil war fueled by the narcotics trade, is promoting as an antidrug strategy.
But Hernán Giraldo Serna, or his men, didn't like it, or him.

From his early days as a small-time marijuana farmer, Mr. Giraldo had grown into El Patrón, a narcotics kingpin and paramilitary commander whose anti-insurgent mission had devolved into a murderous criminal enterprise controlling much of Colombia's mountain-draped northern coast.
Mr. Henríquez was hardly his only victim; Mr. Giraldo, whose secondary alias was the Drill because of his rapacious appetite for underage girls, had all kinds. But Mr. Henríquez became the emblematic one, with a family tenacious enough to pursue Mr. Giraldo even after he, along with 13 other paramilitary leaders, was whisked out of Colombia and into the United States on May 13, 2008, to face drug charges.
It happened in a dead-of-night extradition that stunned Colombia, where the men stood accused of atrocities in a transitional justice process that was abruptly interrupted. In the whoosh of a jet, and at the behest of the Colombian president, Álvaro Uribe, the United States-led war on drugs seized priority over Colombia's efforts to confront crimes against humanity that had scarred a generation.
Victims' advocates howled that it was like exporting "14 Pinochets." Mr. Henríquez's family, meanwhile, quietly vowed to hold at least one of them accountable for the Colombian blood that stained the cocaine shipped to American shores.
"We hope that the effort we have made over all these years means that things won't end with impunity," said his daughter Bela Henríquez Chacín, 32, who was 16 when her father was murdered and hopes to speak at Mr. Giraldo's sentencing in Washington next month. The Henríquezes will be the first foreign victims ever given a voice in an international drug smuggling case in the United States, experts believe.
Whether this recognition is more than symbolic remains to be seen. Mr. Giraldo's fellow extraditees have received relatively lenient treatment for major drug traffickers who were also designated terrorists responsible for massacres, forced disappearances and the displacement of entire villages, an investigation by The New York Times found.
Once the paramilitary Colombians — several dozen, all told — have completed their American prison terms, they will have served on average seven and a half years, The Times found. The leaders extradited en masse will have served an average of 10 years, at most, for drug conspiracies that involved tons of cocaine.
By comparison, federal inmates convicted of crack cocaine trafficking — mostly street-level dealers who sold less than an ounce — serve on average just over 12 years in prison.
What's more, for some, there is a special dividend at the end of their incarceration. Though wanted by the Colombian authorities, two have won permission to stay in the United States, and their families have joined them. Three more are seeking the same haven, and still others are expected to follow suit.
"In the days of Pablo Escobar, they used to say they preferred a tomb in Colombia to a prison in the United States," said Alirio Uribe Muñoz, a member of the Colombian Congress. "But maybe now extradition is a good deal."
For 52 years, with abundant American support, the Colombian government has been locked in a ferocious armed conflict with leftist insurgents. Though it initially empowered paramilitary forces as military proxies, the government withdrew official sanction decades later, long after landowners and cartels had co-opted them. Before their demobilization in the mid-2000s, the militiamen came to rival the guerrillas as drug traffickers and outdo them as human rights abusers.
Now, eight years after the paramilitaries were extradited, Colombia has reached a peace deal with their mortal enemies, the Revolutionary Armed Forces of Colombia (the FARC). Facing an Oct. 2 vote on the accord, the country is in the midst of a polarizing debate about crime and punishment for the FARC, informed by what went wrong during the paramilitary peace process. Nobody is advocating that justice be abdicated to the United States this time.
But the paramilitary chapter of the country's history is not closed, and remains "totally full of blanks," said María Teresa Ronderos, the author of "Recycled Wars," a Spanish-language history of Colombian paramilitarism. "Nobody knows what happened to those guys."
For years, the Justice Department shrouded the militiamen's cases in secrecy, not only sealing sensitive documents but also hiding basic information and sometimes even erasing defendants like Mr. Giraldo from the public docket.
Using interviews, recently unsealed legal briefs, transcripts of hearings, internal government documents, and information obtained from Colombia and the United States, The Times examined the cases of 40 extradited paramilitary members and associates.
Most were handsomely rewarded for pleading guilty and cooperating with the American authorities; they were treated as first-time offenders despite extensive criminal histories in Colombia; and they received credit for time served there, even though the official rationale for their extradition was that they were committing crimes in Colombian jails.