Millennials Arrested at Paul Ryan's Office Denouncing GOP's Politics of Hate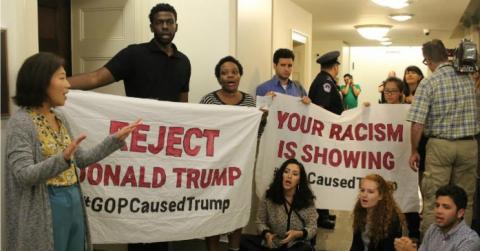 "In nominating Donald Trump, the GOP has found a candidate consistent with its long history of racism," said Ashley Williams, a racial justice organizer.,All Of Us 2016
Decrying the GOP's "dog-whistle racism," which they say has contributed to the rise of Republican presidential nominee Donald Trump, a group of young people risked arrest during a surprise sit-in at the office of House Speaker Paul Ryan on Tuesday morning. 
"Paul Ryan has a choice," the millennial-led campaign All Of Us 2016 said ahead of the action, which saw 11 arrests. "Will [he] reject dog-whistle racism or, like Trump, will he keep encouraging Americans to hate each other?"
Over the last five decades, 25-year-old Waleed Shahid told Common Dreams in an interview, the GOP has employed a "divisive, cynical strategy to make Americans hate and fear each other" while simultaneously allowing the uber-wealthy and corporate entities to "horde more and more power."

"I'm 25, I'm Muslim-American, and I'm pretty sick and tired of seeing the normalization of racism that the Republican Party has brought to the United States," said Shahid, who was taking part in his first-ever civil disobedience action. 
Trump, Shahid added, is less of an outlier than an outgrowth of such divisive politics—"he's taken the dog-whistle politics and turned it into a bullhorn"—and in turn, as a senior party leader and Trump supporter, Ryan bears some responsibility for the real estate mogul's continued success.
All Of Us 2016 notes that since Trump received the GOP nomination, only 11 of Ryan's Republican colleagues in the House have voiced opposition to Trump, while 184 Republican Representatives either endorse or support Trump's "hate-fueled campaign."
As Greg Sargent wrote Monday for the Washington Post:  It is likely that many Republicans and conservatives -- such as Paul Ryan and Marco Rubio -- see it as a blot ont the history of the modern GOP that the party nominated someone who launched a years-long racist campaign to delegitimize the first African American president in the explicit belief that it would appeal to the racist tendencies of many GOP primary voters. Those Republicans might even say so right now if asked. But Trump has compelled the RNC not merely to participate in helping him push lies designed to muddy the waters around his birther history, but also—and this is the really important part—to institutionally defend that history. Indeed, while many Republicans previously repudiated this history, the RNC is now helping Trump validate it.
But, seasoned activist Ashley Williams, another participant in the sit-in, noted that the time for playing politics is over. "I really don't buy that [Ryan] believes in Donald Trump—I believe he's just going with the party," Williams told Common Dreams. "But this is bigger than party politics, this is about people's lives."
And that's why the black, transgender 23-year-old—a descendant of slaves and sharecroppers who has fought racial injustice, voter suppression, and LGBTQ discrimination in their home state of North Carolina—took part on Tuesday. "I'm here putting a body, putting a life up against the words of these folks, up against the words of Paul Ryan and Donald Trump," Williams said. "Trump isn't an aberration, he's a consequence of the system."
Tuesday's occupation, which launches a "bold millennial-run campaign to demand racist Republicans and Wall Street Democrats disown the politics of racism and greed," comes one day after Democratic presidential nominee Hillary Clinton extolled the "millennial generation" as "the most open, diverse, and entrepreneurial generation in our country's history."
And while Williams does not support Clinton, she agrees that "millennials have the power to disrupt the narrative."
As 27-year-old Darius Gordon, who also risked arrest Tuesday, put it before going into Ryan's Capitol Hill office: "We are the future," he said. "The torch has been passed to us and we have to make sure we don't drop it."
The sit-in also follows the Trump campaign's doubling-down on anti-refugee rhetoric, as well as circulation of the latest video showing police, this time in Oklahoma, shooting to death an unarmed black man. 
None of this was lost on Gordon, who told those assembled moments before being arrested: "When there are black and brown bodies that are being laid in the ground...and no justice is given to those families, no justice is given to those victims, it's because of this hate rhetoric, it's because of Donald Trump, it's because of Paul Ryan, it's because of the GOP—which has normalized this type of violence not just against people like myself, but against Muslims, against immigrants, against LGBTQ [people]."
As such, "on November 8th, we have to send a clear and unequivocal message that America rejects Trump's reckless politics of hate," Shahid said in a press statement. "But it's not enough to defeat Trump. We need to confront the injustices and the gross inequality that has made Trump's rise possible."