ALBA's Vitality Versus the Neoliberal Living Dead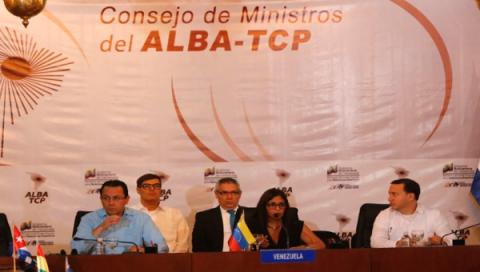 Meeting of the ALBA Bloc in 2016, AVN
Continuing their ancient war on the world's impoverished majority, Western elites, having bled dry their own countries' economies, are now fighting once more to entrench their local allies in power across Latin America and the Caribbean.
In under a year, Argentina under its right-wing regime has lost over 130,000 jobs and inflation-adjusted wages have dropped by 10 percent. Very soon Brazil will certainly be reporting even worse relative numbers. The same criminal Brazilian elite that overthrew President Dilma Rousseff have now got their corrupt proxies in the country's legislature to make any increase in social spending, health or education impossible for 20 years.
This is a sentence of hardship and death for millions of impoverished people in Brazil. In both Brazil and Argentina, illegitimate neoliberal regimes have decided to follow the example of the U.S. and the European Union, rendering their countries' economies easier prey for global vampire elites.

But across Latin America and the Caribbean, people are fighting to stop foreign elites and their local clients from reinstating and deepening neocolonialism to compensate for falling profits in the West. The latest wave of conquistadors fly in business class, wear debonair suits and blather finance-speak while wielding smart phones and devices instead of swords and pistols.
But the nitty gritty of conquest remains the same—extortion from the nation-victims; a small cut for the local oligarchy; and repression for the impoverished majority. That is why Western politicians and media outlets support right-wing regimes in the region while attacking the governments of the main ALBA countries—Bolivia, Cuba, Ecuador, Nicaragua, Venezuela.
Those countries' governments have reduced poverty and inequality massively, putting to shame much wealthier countries under neoliberal regimes. The ALBA countries have demonstrated the superiority and resilience of their socialist-inspired social and economic models, despite every assault from the West and its corrupt local proxies.
Special circumstances may or may not apply to Guyana, Peru, Panama and Suriname, but the underperformance of the wealthiest countries in the region is clear. The ALBA countries outperformed them during the world's most serious economic crisis in nearly a century.
One completely damning statistic is that in the Human Development Index, Cuba ranks above Colombia, Mexico and Peru, level with Brazil and Costa Rica. Another striking feature of the statistics for the ALBA countries is the clear trend towards greater equality, with Cuba again leading the way.
All these numbers are worth noting at a time when ALBA members Ecuador and Bolivia are recovering from the negative effects of volatile global prices for their oil and gas. Ecuador's case is compounded by the dollarization of the economy inherited from earlier right-wing governments.
But despite those difficulties and this year's devastating earthquake, Ecuador's smart policies of economic resistance will enable the government to defeat future political challenges from the country's right wing. In Venezuela, the government has just presented a budget for 2017 far less dependent on oil revenues. This means the right wing's economic sabotage, supported by the United States, has failed to destroy President Nicolas Maduro's social spending and investment plans.
The U.N. Economic Commission for Latin America and the Caribbean predicts higher growth for Bolivia relative to the rest of the region and also Nicaragua, as well as the Dominican Republic and Panama. The Dominican Republic has reduced poverty with socially inclusive policies and help from Venezuela's Petrocaribe program.
Panama, a notorious tax haven and financial enclave, is enjoying the benefits of the recent enlargement of its canal, but the socially constructive benefits of that are far from clear. In Bolivia's case, a big problem is that it may lose as much as US$2 billion from a probable drop in exports to Argentina and Brazil. Even so, Bolivia's model of community-based social and economic production is much better able to defend the country from potential shocks than the right-wing zombie policies applied in Argentina and Brazil.
 Like Bolivia, Nicaragua's economy has grown at about 4.5 percent a year since 2010, markedly and consistently more than its neighbors. Its economic model stresses economic democratization across all sectors the of country's economy, again like Bolivia, including the so-called informal sector.
Seventy percent of Nicaragua's labor force either work independently, in small businesses or on small farms. The country is virtually self-sufficient in food production. At the same time, President Daniel Ortega, a leader of the Sandinistas, has greatly diversified the country's trade and investment partners cutting across ideological differences in a way similar to the win-win style promoted by China.
Reflecting on all of this information makes it clear that under current conditions governments have little choice but to respect macroeconomic equilibrium. Bolivia and Nicaragua have reactivated their domestic markets by deliberately increasing consumption by the impoverished majority, promoting social stability which in turn has encouraged investment.
All the ALBA countries prioritize economic democratization as decisively important, through measures like nationalizing natural resources and land; programs of preferential credit, especially for low-income women; defense of food sovereignty; and recognition of the informal economy.
Obviously, progressive political forces have to promote a socially constructive society for the majority, abandoning economic structures and practices designed and managed to enrich brutally ruthless elites.
A focus on economic growth is practically meaningless without redistributive policies to reduce inequality. It can hide an appropriate perception of specific national needs and opportunities; the correct appraisal of timing; and also the likely local risks in social and environmental contexts. The ALBA countries have demonstrated convincingly that equitable, rational development of productive forces is both a precondition and a result in the process of a social and economic order capable of superseding capitalism.
Tortilla con Sal is an anti-imperialist collective based in Nicaragua producing information in various media on national, regional and international affairs. In Nicaragua, we work closely with grassroots community organizations and cooperatives. We strongly support the policies of sovereign national development and regional integration based on peace and solidarity promoted by the member countries of ALBA.
Moderator's NOTE:  Go to original source for table to illustrate the performance of the ALBA countries relative to other countries in the region which highlights the countries that increased their per capita Gross Domestic Product by 75 percent or more between 2006 and 2014.