Tidbits - Apr. 22, 2021 - Reader Comments: Earth Day; Chauvin conviction, Black Lives Matter; Exterminate All the Brutes; Afghanistan troop withdrawal; Teaching Climate Justice; May Day; zoom events; Job Opening; Call for Creative Activists!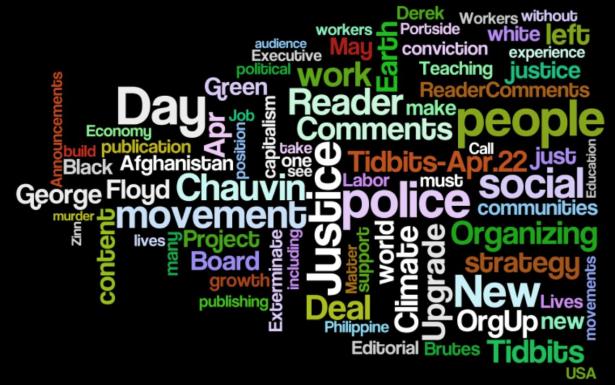 Tidbits - Reader Comments, Resources, Announcements, AND cartoons - Apr. 22, 2021,Portside
Resources:
Announcements: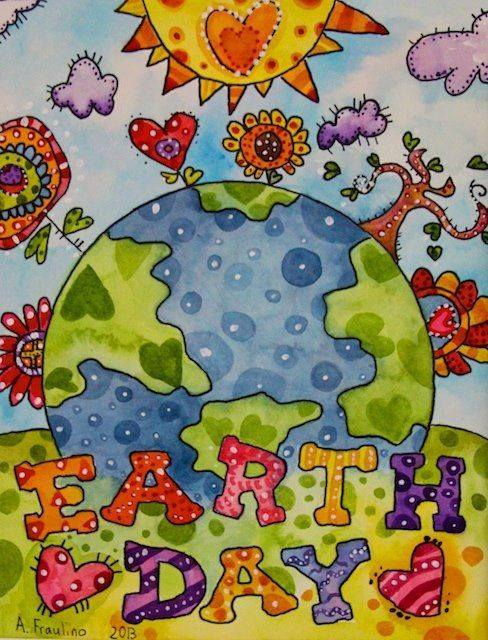 Chanda Fraulino
Poster originally created for Earth Day 2017
Labor Responds to Conviction of Derek Chauvin
 
April 20, 2021
Metro Washington Council AFL-CIO
"The work of dismantling systemic racism and white supremacy is just beginning," said AFL-CIO president Richard Trumka in response to Derek Chauvin's conviction of murder in the death of George Floyd. "As members of our communities and representatives of union public safety professionals, the labor movement has a unique role to play in changing this culture of policing," Trumka said. Calling the conviction "a step in the right direction," 32BJ SEIU Vice President Jaime Contreras said that "we are far from where our nation needs to be in order to live up to our own ideals." National Nurses United president Jean Ross, RN said that "this decision would not have been possible without the outpouring of millions of Americans demanding justice following the murder of George Floyd." "It's gratifying to see today that a central principle of American justice has been upheld," said AFGE National President Everett Kelley. "No one is above the law."
As a union representing mostly Black and Brown workers, Contreras added. "our members cannot escape a dangerous reality that they too could become a victim of police brutality, even as they risk their own lives keeping us safe on the frontlines as essential workers who clean and secure buildings." Contreras, who also serves on the Metro Washington Council Executive Board, said that he hopes the ruling "signals an end to the cycle of violence against our Black and Brown communities, and the beginning of long overdue reform of our broken policing and criminal justice systems.
I Matter...It Matters...Black Lives Matter
 
Finally  --  cartoon by Mike Luckovich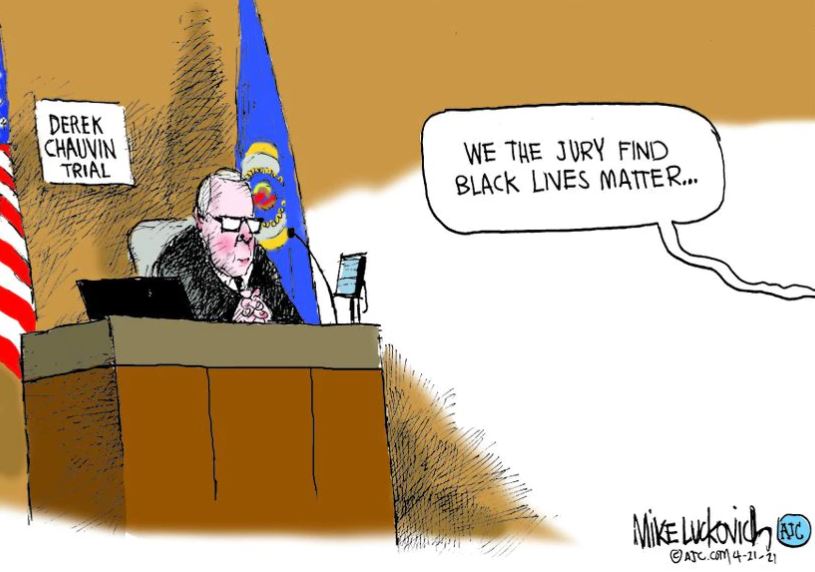 Mike Luckovich
April 21, 2021
Atlanta Journal-Constitution
Re: 'Let This Be a Turning Point': Chauvin Conviction Sparks Calls for 'True Justice'
 
"Blue lives matter!!!" they chant after they kill the latest child. Did they actually believe that sixteen-year-old girl with her knife was a significant threat to their lives?  When they not only threatened but took her life?!  Of course she shouldn't have been wielding a knife against someone she was arguing with, but what kind of people, with what kind of "training", would put four bullets into her as their immediate reaction?  I will say without hesitation that this is not right, it is against God's will, and we should not be doing it.
We have a very serious problem with our police and it isn't going away just because we finally convicted one of the many murdering police with murder.  Sure, there are good cops, lots of them; truly heroic people who genuinely protect and serve.  But for many years I've asked why they don't get rid of the bad ones, of whom there are obviously far too many.  But this isn't surprising when you consider the fact that just as with our military, we blithely and ignorantly assume that our police forces are protecting us, properly fulfilling their duty.  Of course, "us" generally means "us white folks"; without realizing it we tend to assume that people of color are a threat, lesser creatures either working to take our jobs or threatening to change the character of our nation for the worse, or both so you know, if they get killed they probably deserve it.  
Our police, not surprisingly, are largely made up of military personnel, who have not been trained to see "the other" as a fellow human being but as an enemy, and to deal with them with maximum violence.  Add to that the innate racism that is all too likely to exist in the psyche of the average American, add to that the "we've got your back, no matter what" attitude of police unions and so many politicians (and so many "right wing" crazies; look how they're bleating away about how awful it was to convict a cop), then add to that our constant encouragement, flooding them with military-grade weapons that should never appear in our streets under any circumstances and making it clear that they can abuse their power up to and including murder, with impunity.  Hopefully this conviction will help back this evil off, but meaningful success will only be possible if we dig deep and address the problem of the mentality that commits these crimes, together with the mentality that ignores them.  We turn our heads away from the reality here just as we do with the military, flooding them with resources, simply assuming (and it is an assumption) that they're heroes defending us, all the while turning a blind eye to the dreadful things that they actually do.  With our money and our blessing.  When will we ever learn?
Peter Childs
Re: George Floyd Trial Verdict: Derek Chauvin Found Guilty on All Counts
 
What must be done is to round up the other police who killed and got off scott free and have Nuremberg style trials for each of them. Then we should screen perspective newcomers into the police force, psychological testing to check for racism against people of color. They should have social work backgrounds rather than military.
Judith Ackerman
Re: 'Exterminate All the Brutes,' Reviewed
 
This four part series by Raul Peck is a powerful and devastating documentary history of genocide, and chattel slavery, and shows that all cases are linked by the common thread of white supremacy. It opens with a warning that it may be upsetting to watch. Well, it should be. 
But there was an elephant in the room that was never mentioned: capitalism. It was European capitalism that invented white supremacy and on that basis plundered the world leaving dead bodies everywhere. It was genocide in Africa and the Americas that was the foundation for chattel slavery of Africans, which made industrial capitalism possible and wildly profitable. To not name the system leaves the blame on the actors personally, all of them, and offers no way out. 
I think that if we are ever to come to grips with the legacy of these crimes and make any progress toward restoring the surviving descendants  of the peoples who were murdered, enslaved, and exploited we must recognize that it was this system that spawned, nurtured and continues to commit such crimes. And it will be the people united with this understanding that will ultimately be able to cast it off and build a true solidarity-based global community. Without this understanding, however, we are individuals left screaming into the wind storm.
Ted Pearson
Re: Study Indicates the Jan. 6 Riots were Motivated by Racism and White Resentment, not 'Election Theft'
 
Jan. 6 insurrection at the U.S. Capitol strongly indicates that the true motivation of these rioters was not some quasi-patriotic reaction.
Kentucky Alliance Against Racist and Political Repression
Posted on Portside's Facebook page
Re: No, Biden Ending the War in Afghanistan Isn't a Disaster
 
I have believed that for the past forty years or more, U.S. foreign policy has been run by morons.  To take one case:
I have in my library "The Great Game: The Struggle for Empire in Central Asia" by Peter Hokirk, published in 1992.  It details the rivalry between the British Empire and the Russian  Empire to control Afghanistan in the eighteenth and nineteen centuries.  Long story short:  the Afghans chewed up both and spit them out.  It is impossible to read this book without concluding that you should never attempt to invade Afghanistan.  For any reason.
I bought the book in a used bookstore for two dollars.  It somehow eluded all of our foreign policy experts.
Robert Supansic
Re: F.D.R. Didn't Just Fix the Economy
Some on the left believe the New Deal saved capitalism from a workers' revolution. But the mass sentiment for revolution was nowhere near strong enough to make it possible. Some liberals think FDR saved capitalism from fascism. No doubt Keynesianism stabilized the system, but what would save the economy was the war, and FDR knew that going in. Capitalism remains the only game in town until there is a real breakthrough in mass democratic political action. A Green New Deal would be a giant step but it ain't the red horizon - see Lenin's 'revolutionary situation', one of his lasting propositions.
see: Lenin on  Revolutionary Situations
by Lloyd  Churchward
Ethan Young
Posted on Portside's Facebook page
Minimum_Wage_Heroes  --  cartoon by Gretchen Koch
 
Dr. Gretchen Koch
April 10, 2020
Re: Meaningful Change to the Supreme Court? Check with the Senate
 
The conclusion this article leads to is that revision of the role of the Senate, that potential and now actual block to measures sought by a national majority, is what needs basic restructuring.  Let's ask media to announce Senate votes not just by the names and states of Senators but by the total populations represented by each vote and by the outcomes, with each Senator representing half the total population of their state.
Joe Maizlish, Los Angeles
Re: 'Exterminate All the Brutes,' Reviewed
 
"Raphael Lemkin, the historian" Just as a matter of fact, my cousin Raphael Lemkin was a lawyer, not a historian.
Stan Nadel
Re: A Brief Anatomy of Outdoor Dining
(posting on Portside Culture)
 
I thought this was beautiful until I got to the ridiculous misogyny of the
condom comment.  WHICH HE REPEATS!?!?
Joy Ann Grune
Philippine news from another source for a fairer post on your website
 
The Philippines Manila Times is the oldest newspaper in the country. Its articles and columnists represent both sides of the news, so readers can use their better judgement to make an enlightened opinion or position.  Much of the Philippine media is controlled by the oligarchs in opposition to the current Duterte administration. Your website seems to post only a one sided source and view on the Philippine situation - I urge you to please consider other sources which will be educational for all. See below for your consideration.
An example - Anti-China news orchestrated to impose US policy on the Philippines, addressed by a Manila Times columnist on April 18, 2021:
Will be most appreciative of your consideration.
Thank you,
Marcosa J Santiago MD
George Floyd, Police Killings - The Struggle Continues — Poster of the Week (Center for the Study of Political Graphics)
Resource:  
Center for the Study of Political Graphics
3916 Sepulveda Blvd, Suite 103
Culver City, CA 90230
Teaching Climate Justice and Celebrating Earth Day in a Pandemic (Zinn Education Project)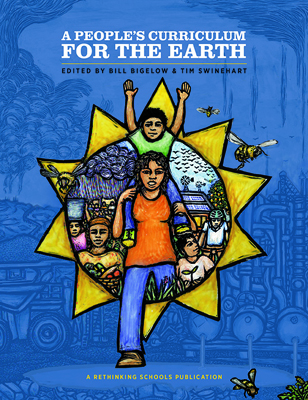 For the second year in a row, this Earth Day arrives at a moment when one global crisis — the COVID-19 pandemic — is layered over another: the climate crisis.
Both highlight vast inequality — based on race, class, and nationality —and both require that educators of conscience do everything we can to help students make sense of these crises, and give students opportunities to take action.
And at the Zinn Education Project Teach Climate Justice campaign, you'll find an extensive collection of lessons, poetry, articles, film clips, and book recommendations.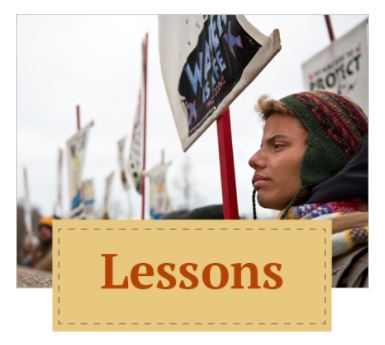 Climate Justice, Teaching Activities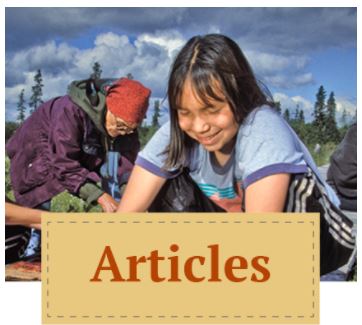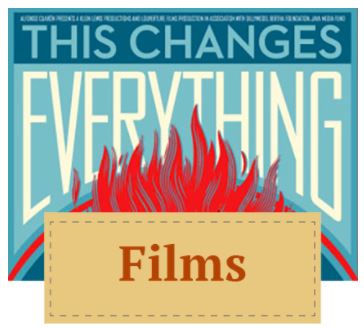 Climate Justice, FilmsClimate Justice, Films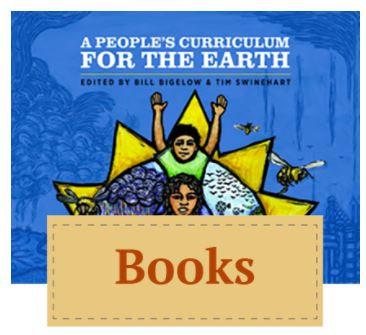 Books for Teaching Climate Justice
New Lesson
From the New Deal to the Green New Deal: Stories of Crisis and Possibility
By Suzanna Kassouf, Matt Reed, Tim Swinehart, Ursula Wolfe-Rocca, and Bill Bigelow
As K–12 educators already trying to tackle climate justice in our classrooms, we need no convincing about the wisdom of teaching the Green New Deal (GND).
But given that the GND is not a single policy or even platform, but a still-developing vision of transformation, what should that teaching look like?
In developing this lesson for Rethinking Schools, we were clear that we wanted to invite students to be engaged as architects of that vision, not just observers. We wanted students to be able to make judgments about and share opinions on the policies needed to prevent climate disaster and secure a more just future.
Zinn Education Project
PO BOX 73038
Washington, D.C. 20056 
202-588-7205
Alternatives to a Failed Economy - April 23 (The Next System Project)
 


As people look to displace our current system of extractive, racial capitalism, a new level of thinking and practice has emerged about what a just, equitable and sustainable economy can look like. "The New Systems Reader: Alternatives to a Failed Economy," is one of the newest efforts to collect this analysis and activity into a volume that can drive debate and discovery in our schools and communities. This panel features contributors to The New Systems Reader who are wrestling with the serious questions of how to turn our hopes for a post-capitalist world into a practical reality.
On April 23 at 1 p.m. Eastern/10 a.m. Pacific, New Systems Reader contributors Nia Evans (Ujima Boston), Emily Kawano (Wellspring Cooperative) and David Korten (author) will discuss "Alternatives to a Failed Economy" and their ideas for how we can emerge a better society and world from the COVID-19 pandemic. The panel will be a plenary session of the Post-Capitalism Conference co-organized by Cooperation Humboldt and hosted by Humboldt State University. The panelists will bring diverse perspectives to the singular challenge of how to usher in a post-capitalist economy. 
Register for "Alternatives to a Failed Economy"
Democracy Collaborative
1200 18th Street NW
Suite 1225
Washington, DC 20036
The Next System Project info@democracycollaborative.org
Green New Deal Teach-In - April 25 (Sunrise Movement)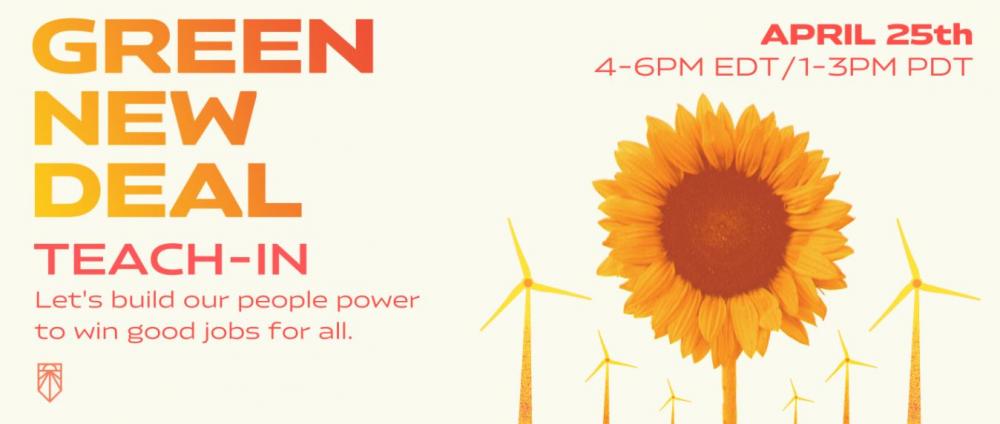 In order to build a movement for the Green New Deal that has the power to win, we need to be ready to talk with our communities about how it would improve our lives and build a more just world. This teach-in will help prepare you to communicate powerfully about why the Green New Deal is the solution to the historic crises we are facing as a country. 
It's intended to be accessible for anyone who wants to learn about the GND's bold, intersectional plan and why it's the only plan that meets the scale of the crisis. So invite your friends, community, and local movement peers - anyone who wants to learn about the substance of the Green New Deal!
And, if you're inspired by this teach-in, we want to support you to hold your own! On the 25th you can sign up to get support to host a teach-in or town halls in your community as part of a campaign for Good Jobs For All or other hub campaign.
When: Sunday, April 25th from 4-6pm ET (1-3pm PT)
Accessibility info: This training will take place on Zoom. Automated closed captions will be provided. If you have any additional accessibility needs to take part in this training, please let us know in the form
Webinar - White People and Defunding the Police - April 27 (Showing Up for Racial Justice - SURJ)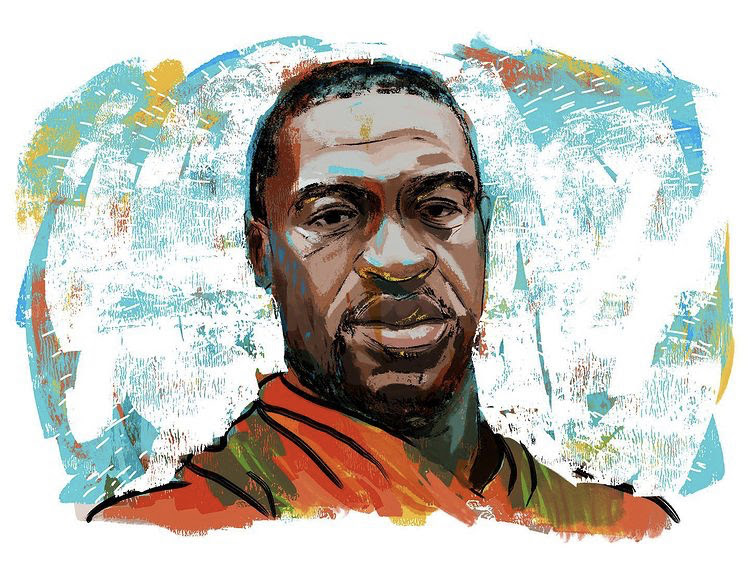 Yesterday, a Minneapolis jury decided what we knew to be true all along: that Derek Chauvin was responsible for the death of George Floyd.
We hope the decision brings some relief to George Floyd's family and are sending our solidarity to the people of Minneapolis who have acted tirelessly for accountability.
But I want to live in a world where George Floyd's death was not possible- and the jury's conviction of a single officer still leaves the larger system of policing and prisons untouched.
In the midst of the Chauvin trial, police across the country murdered more young people of color-- 13-year-old Adam Toledo in Chicago, 20-year-old Daunte Wright in Brooklyn Center, and 16-year-old Ma'Khia Bryant last night in Columbus. We are sending love to their families and communities. Their murders make it clear that we need more than individual accountability. Justice will require deep, systemic transformation.
If we want to build a world where the police cannot murder and harm people, we must fight for a world without police and prisons and for investment in institutions that actually keep communities safe— housing, healthcare and so much more.
For many of us, defunding the police is a new idea. Most white people in our lives have beliefs about policing that are shaped by our racist culture, not reality or history. How do we help more people in our lives understand what defund means and move them to a place of supporting this powerful demand? How can those of us who are new to this demand deepen our understanding of what frontline organizers are calling for?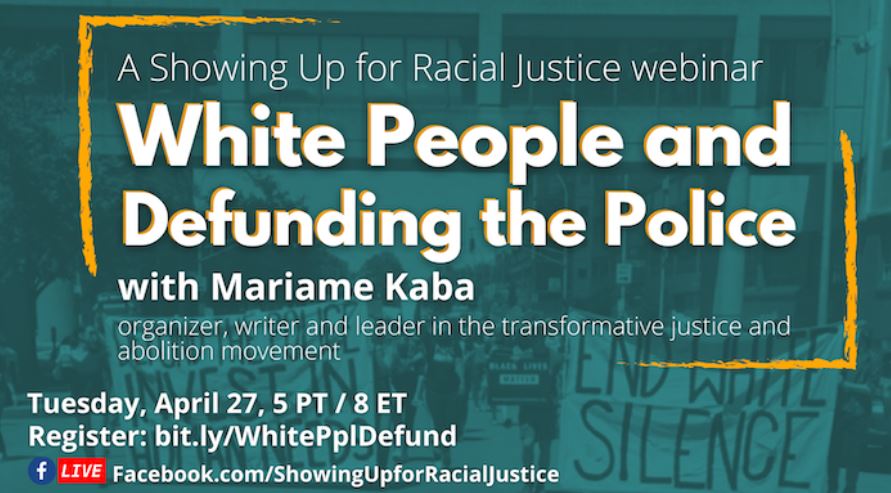 Join SURJ next Tuesday, April 27 at 5 PT / 8 ET for a webinar for white people who want to learn more about the movement to defund police. We are thrilled that Mariame Kaba, an organizer, writer and leader in the transformative justice and abolition movement, will be joining us! We'll hear from Mariame about envisioning and working towards a world without police, we'll tell stories about white people's mutual interest in defunding and dismantling police, and we'll give folks concrete ways to plug into the work ahead.
Here's what else you can do this week:
As white folks, our work is to keep bringing more and more of our people into struggles to defund and dismantle policing and to reinvest in the structures, organizations, and institutions that will actually make our communities safe. Will you join us?
With you in the struggle,
Erin Heaney
National Director
Showing Up for Racial Justice - SURJ
PO Box 1376
Buffalo, NY 14205
Virtual MayDay 2021 (Illinois Labor History Society)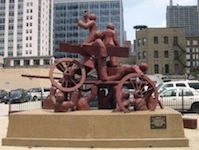 Virtual MayDay 2021
Saturday, May 1, 2021
11 AM CDT – 1:30 PM CDT
    
Join the Illinois Labor History Society and the Chicago Federation of Labor on Saturday, May 1st, to celebrate the 135th anniversary of the historic walkout for the eight-hour day that became the holiday for working people around the world!
This year's Mayday celebration will be virtual, with two separate plaque dedications. The first will be with the Italian Metallurgical Federation, FiOM at 11 a.m. The second will be with Coalition of Black Trade Unionists (CBTU) at 12:30 p.m. Both will be streamed on FaceBook and on YouTube.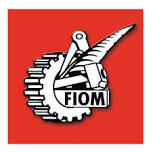 FIOM at 11 a.m.:
Facebook: https://fb.me/e/1gIkDB20z
YouTube: https://youtu.be/YF_LAZuRYqg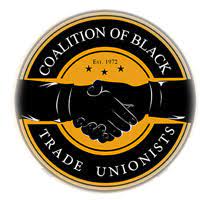 CBTU at 12:30 p.m.:
Facebook: https://fb.me/e/28snvXJ92
YouTube:  https://youtu.be/gVyNidq2Hxs
Illinois Labor History Society
430 S. Michigan AveAUD 540
Chicago, Illinois 60605
Workers Rise Up! May Day Forum on the Role of the Filipino Workers' Movement (BAYAN USA, Migrante USA and Kilusang Mayo Uno for Bangon Manggagawa!)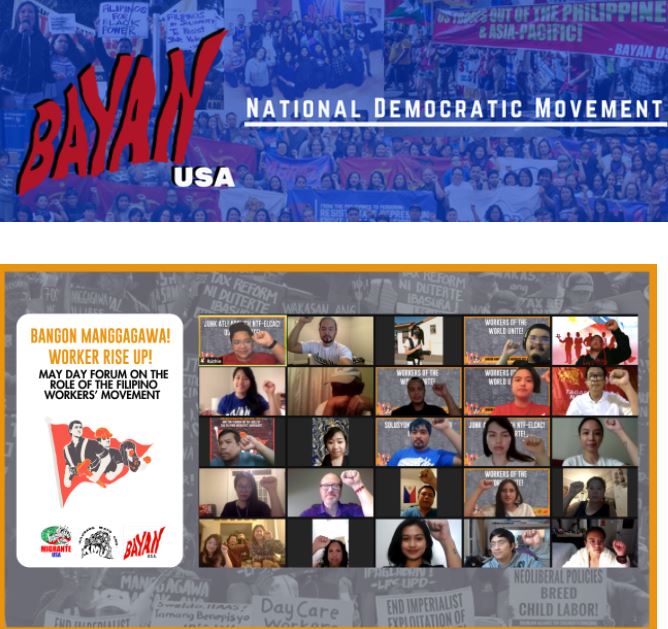 Feel free to watch, re-watch and share the Facebook livestream. 
Please join us in taking the next steps: 
Hold watch parties and discuss this webinar within your organizations and communities. 

Organize and join worker campaigns, May Day actions and events in your area.

Sign the petition to free Pol Viuya and Joseph Canlas, worker and peasant leaders in Central Luzon: bit.ly/freejosephpol

Sign the petition calling for Duterte to resign for his failure to protect the health, livelihood, and rights of Filipino workers and migrant workers around the world: bit.ly/savethenation2021

Donate to BAYAN USA's fund to support the Filipino workers movement (note "Bangon" in the donation description): bit.ly/BAYANUSA

Endorse the Philippine Human Rights Act to end US aid to the Philippine military and police, who harass, detain, and kill worker leaders. Call your legislator to support the reintroduction of the PHRA in Congress: humanrightsph.org/take-action

Learn more about May Day in the Philippines through these videos: Proletaryado (The Proletariat) | Bakit Kailangang Gunitain ang Araw ng Paggawa Kahit sa Gitna ng Pandemyang Corona? (Why Must We Commemorate International Workers' Day Even During the Pandemic?)

If you are not yet connected or affiliated but would like to be, kindly fill out this interest form.

We hope that you have a militant and powerful International Workers' Day and beyond! For any questions, please direct them to info@bayanusa.org. 
BAYAN USA
2510 Magnolia Ave
Long Beach, CA 90806
ALBA's Live Online Gala! - May 2 - (Abraham Lincoln Brigade Archives - ALBA)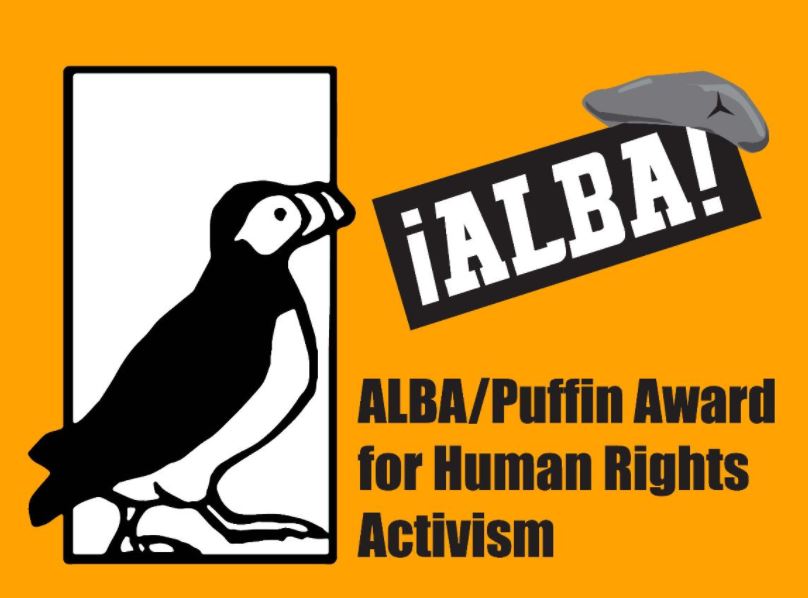 Sunday, May 2 at 5 PM EDT/2PM PDT
The Abraham Lincoln Brigade Archives Invites you to A Live Online Gala! 
Honoring the Abraham Lincoln Brigade & My Brother's Keeper
Broadcast Live from ALBA's Facebook Page
No Facebook Account Required For Access
 
The event lineup will include Billy Bragg, Miriam Elhajli, and more! 
Stay tuned for further details!
Abraham Lincoln Brigade Archives (ALBA)
P.O. Box 1245
New York, NY 10113
Job Opening - Organizing Upgrade
 
Organizing Upgrade
 is expanding and we will be hiring our first 
Executive Editor to lead the publication! OrgUp is
becoming an indispensable voice for US social movements and we are building a new social consensus for radical democracy, racial justice and working class power. We seek a visionary institution builder to take a hands-on role in expanding our publication, currently read by thousands of dedicated organizers, to a much larger audience by executing an ambitious growth strategy. This is a first of its kind position, in which an experienced and highly motivated individual will have the opportunity to lead a major expansion of our long-standing journal, produced by and for organizers, into an intellectual center of gravity and  strategy hub for a new generation of people joining and leading social movements capable of radical social transformation.
Position Announcement: Executive Editor
About Organizing Upgrade
Organizing Upgrade is an online strategy magazine and digital content producer rooted in social movements and the US Left. For more than a decade, we have produced movement journalism and strategy debates grounded in the reflections and insights of left community and labor organizers. Expanded and relaunched to focus on the particular challenges that have emerged following Trump's 2016 election, OrgUp is focused on popularizing a dynamic political trend that is rooted in concrete social movement experience, that centers racial justice in the struggle against capitalism, and emphasizes the necessity of progressive governing power. OrgUp produces a range of content including regular streaming video, podcasts, and strategy and analysis articles. Our Editorial Board promotes broad left politics that is clear-eyed about the danger posed by today's extreme rightwing and White authoritarian forces; emphasizes the interrelationships of deep organizing, mass protest, and electoral strategy for governing power; and underscores the necessity of building a new majoritarian movement. 
Job Summary
The Organizing Upgrade Executive Editor will lead and manage all aspects of driving forward our  ambitious growth plan. This position is responsible for leading and implementing our fundraising and development efforts. They will develop, oversee, and implement both the long-term and day-to-day content and editorial direction of OrgUp in collaboration with the Editorial Board. And the Executive Editor will cultivate and secure the social movement organizational partnerships that will allow OrgUp to execute its strategic intervention among US left and social movements.
The person in this position must have deep and long-running experience in US social movements, community and/or labor organizing, and the US left. They must be highly motivated by the need to build a publication and media platform that can deepen and popularize left social movement strategy. The ideal candidate not only has substantial experience in left publishing, but understands the interrelationship between content production, audience engagement, revenue, web development, and our strategy of building broad political alignment. The Executive Editor must be adept at managing many remote team members, including paid staff as they come on board. And they must be able to thoughtfully transition OrgUp into a fully staffed outlet while keeping the existing volunteer-run governing and content-production bodies deeply engaged.
Essential Duties and Responsibilities
Strategy
Develop Organizing Upgrade's growth strategy in consultation with the Editorial Board. Ensure consistent application of the growth strategy across all areas of the publication, including content streams, audience engagement and acquisition, and web development.
Work with staff, board, and content producers to review overall efficacy, political alignment, and strategic relevance of all content.
Working with the Editorial Board, track the journal's audience engagement, sustainer/subscriber growth, web development and branding needs, and other measures of our priority work areas. Implement changes when necessary.
Participate in and lead regular Editorial Board discussions about current political and economic developments, including mapping of the social movement landscape.
Fundraising
Lead the organization's fundraising and development efforts. Meet established fundraising targets. Cultivate fundraising prospects, and pursue all institutional and individual revenue opportunities. Meet with potential donors, write grant proposals, and manage external grant-writers.
Expand revenue strategies, including growing our sustainer program and developing our subscriber program.
Partnerships 
Meet with targeted movement partners, identify opportunities for OrgUp to support partners' strategically, and pursue partner support for OrgUp's institution-building work.
Represent the organization externally in social movement settings and occasional public appearances.
Institution-Building
Develop new structures and systems required to meet our growth goals and transition from fully volunteer-run publication to a leading left publication with full staffing.
Stay up to date with the latest developments in web publishing, ensure OrgUp's publishing is using the best structures, technology, and practices available.
Staff & Board
Convene and help to build the OrgUp Advisory Board. 
Serve as a member of the Editorial Board.
Hire and onboard new staff as needed. 
Supervise consultants. 
Publishing
Occasionally write editorial columns and commentary advancing our editorial position and appear on our channel's video and audio content streams.
Desired Skills and Qualifications
At least 10 years of experience in left and progressive organizing and social movements.
Proven track record of successful institutional and individual donor fundraising.
At least 3 years in leadership and management roles.
At least 2 years experience in publishing, or using a publication as a key component of organizing work.
Clear understanding of the landscape of left and progressive online publishing.
Full alignment with the founding principles of the OrgUp Editorial Board (see here).
Experience using online project management tools to organize teams, workflow, and supervision. Ideal candidates will be highly proficient in the use of such tools and be able to onboard team members where needed. At minimum, they would be eager to learn these tools.
Familiar, at minimum, with the multiple content streams and media types operating across Organizing Upgrade, and capable of discerning the interrelationship between content, audience engagement, revenue, web publishing, and our strategy of political trend-building.
Ability to effectively work remotely and manage others remotely.
Outstanding communication and organization skills.
Salary and Work Environment
$85,000-$110,000/year, depending on experience
We also offer excellent benefits, paid holidays, vacation and sick time.
Can work from anywhere in the continental US.
Start Date
Flexible, but July 1, 2021 preferred.
To Apply
Submit a resume, cover letter, and 3 references (name and contact information) here: http://bit.ly/OUExecEditor
Cover letter should address your preparedness to step into a newly created leadership position and the opportunities you see for Organizing Upgrade in this growth phase.
Organizing Upgrade is an equal opportunity employer with a commitment to economic and social justice. Women, people of color, LGBTQ people, and people with disabilities are strongly encouraged to apply.
Call for CREATIVE ACTIVISTS! Now Accepting Applications (Cultures of Resistance Films)

We are pleased to announce an open call for applications for the Creative Activism Awards (CAA), a cash encouragement award created by iara lee for filmmakers, photographers, artists, organizers, farmer, musicians and any creative activists who address issues of social, economic justice and cultural resistance in their work. 
In spring 2021, our committee will be selecting a new round of CAA recipients to join the 50+ awardees who have been named so far. The application is open to the public.
To apply, please fill out the this form. As part of this application, you will need to send us samples of your work. Applications are due by May 31, 2021.
Make sure to follow us on Instagram where we will make all future announcements.
Until next time,
the Cultures of Resistance team
Meet the Awardees
Our newest round of awardees includes cartoonists, digital artists, calligraphers, photographers, and hip-hop MCs from more than a half dozen different countries!!
Cultures of Resistance Films
72 Bedford St.
New York, NY 10014