Trump Campaign and GOP Allies in Full Legal Panic as Recounts Could Create Electoral College Crisis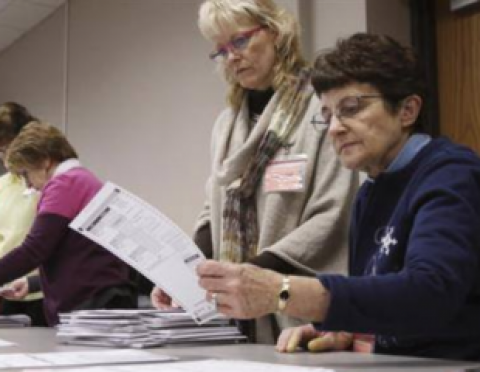 , https://facebook.com/recountnow
Republicans are panicking because the Green Party's presidential recounts in Wisconsin, Michigan and Pennsylvania could prevent Donald Trump from receiving 270 Electoral College votes—the final hurdle to the presidency—on December 19.
In the past 24 hours, the Trump campaign and its GOP allies in the three states that gave him an apparent Electoral College victory after on November 8 have filed lawsuits and legal motions to block, delay and freeze the recounts. In the case of Michigan, where Trump's lead is smallest, 10,704 votes, the state's Republican attorney general is arguing the recount's results should be ignored.
"If a recount cannot be accomplished by the 'safe harbor' date [a week before the Electoral College meets], or if it is started but not finished by that date, then the State Defendants must, on or before December 13, 2016, certify to the federal government the initial elector results announced on November 28, 2016," Michigan Attorney General Bill Schuette said in his lawsuit filed against the Michigan board overseeing the recount and its state election director.    
The Trump campaign filed a similar complaint Thursday against Michigan's Board of State Canvassers, saying Stein has no basis for the recount because she has no grievance and no chance of winning—ignoring that presidential candidates, even in minor parties, have standing under state and federal law.
By midday Friday, the canvassers board had met to consider the Trump campaign's motion and deadlocked along partisan lines. That means the recount will resume next week, barring other appeals and court orders. Thus, the Trump campaign's first legal move in Michigan has delayed the start, and therefore the finish of the recount, increasing the likelihood of an upcoming legal fight over whether the state's Electoral College members can vote by December 19.
But Trump allies have filed even more eyebrow-raising lawsuits in the other states. 
In Wisconsin, where counties started recounting ballots Thursday, two super PACs supporting Trump, Great America PAC and Stop Hillary PAC, sued in federal district court to stop the recount, citing the U.S. Supreme Court's intervention in Florida in 2000 where they stopped a recount and awarded the presidency to George W. Bush. That decision followed the twisted logic that since Florida counties weren't following identical procedures, Bush did not receive equal treatment under the law. (In Wisconsin, counties have differing voting machinery and local officials have discretion to decide if they want to recount votes by hand or electronically.)  
"The recount will be conducted in a manner that violates the requirements set forth by the U.S. Supreme Court in Bush v. Gore for recounts in presidential elections," the pro-Trump super PACs argued. "Because Wisconsin law lacks adequate protections to ensure that similarly completely ballots will be afforded similar treatment, both within the same county and across different counties, the recount should be enjoined to prevent further Equal Protection violations from tainting the outcome of the election."
Besides harshly dismissing the recount, the super PACS, like the Michigan attorney general, are only seeing what they want to see in the legal precedents cited. In Bush v. Gore, the Supreme Court said its equal protection ruling was not to be applied to another case. Moreover, the Greens last week sued Wisconsin's election oversight board seeking a uniform statewide standard, hand-counting of ballots. A judge agreed that was a good idea, but said she could not order it under state law.
The pro-Trump super PACs also said that should a recount continue past December 13, when the state is supposed to certify the winner, the recount should be stopped and Trump should be declared the winner for Electoral College purposes. "Because there is no reasonable assurance the recount can accurately and carefully be conducted within that timeframe, this Court should enjoin the recount to prevent careless mistakes from tainting the results of the election, or incomplete or partial results to cast a pall over President-Elect Trump's victory."
Later Friday, U.S. District Court Judge James Peterson denied the super PACs' motion to halt the recount, saying there was no harm in letting the process continue. He scheduled a hearing for next Friday on the underlying lawsuit.
However, it is the Pennsylvania lawsuit, filed by that state's Republican Party and the Trump campaign, which shows the most hypocrisy. The Greens' recount has faced the roughest going in that state. The Secretary of the Commonwealth, Democrat Pedro Cortes, and other top elected Democrats are not on board. That's prompted the Greens to file petitions signed by voters representing hundreds of the state's 9,163 precincts, for a citizen-initiated recount. The Green Party also filed a lawsuit seeking to preserve the right to argue for a state-ordered recount once the results of its smaller effort are known.
Since filing last week, county election offices have been turning in official results and Trump's lead has been cut by a third from more than 70,000 to 46,435 votes. It is now within 0.2% of triggering an automatic statewide recount.
Trump's lawyers and Pennsylvania Republicans filed a motion to dismiss the Greens' lawsuit, citing much the same arguments as those made by recount opponents in Wisconsin and Michigan. But shamelessly, their legal brief quotes Cortes speaking in mid-October about the integrity of the state's election systems. That was Cortes' response to Trump's campaign trail rant that the election was going to be "rigged" against him.
"Before the election, Secretary of State Pedro Cortes assured Pennsylvania voters that Pennsylvania's voting systems are 'secure,' and criticized contrary suggestions as 'not only wrong and uninformed,' but 'dangerous,' Trump's legal team argued with a straight face. "He [Cortes] also explained that all voting systems in Pennsylvania were 'examined and certified to federal and state standards,' and that voting machines were 'not connected to the Internet,' or 'to one another,' thus reducing the risk of compromise."
 
The Green Party would disagree with that last statement, because it knows Pennsylvania has some of the oldest entirely paperless voting systems in the nation, including countywide tabulators that have been shown by computer scientists to be vulnerable to hacking. But the bigger point, echoed by David Cobb, campaign manager for the recount, is that Trump and the GOP do not want to examine the ballots and verify his apparent presidential election victory.
 
"Why is he so worried about letting this recount move forward?" Cobb said Friday. "We will continue to help Pennsylvania voters make sure that the election in Pennsylvania had integrity and that their votes counted."
Other Recount Developments
The Greens issued an update on Friday listing the vote count anomalies they are hoping a recount will clarify. In Wisconsin, they noted that two-thirds of the counties are doing hand-counts of paper ballots, which is this only way to check against machine-induced errors. One of those counties, Ottagamie, where observers noticed that an early tabulation counted 1,500 more votes than actual ballots cast, will not be doing a hand count, which is very frustrating to election integrity activists.  
Their update said "there are a number of statistical irregularities in voting data, which merit heightened scrutiny given the historic level of concern over hacking during this election:
"Wisconsin: Three counties saw large discrepancies in votes between 2012 and 2016, with the margin of victory for Donald Trump in some cases being ten-fold higher than the GOP's average in the last four presidential elections.

"Wisconsin: Another statistical analysis, done by Stanford PhD candidate Rodolfo Barragan and Axel Geijsel of Tilburg University, finds that even when taking into account factors like ethnicity and education, there is significant evidence that counties with electronic voting showed higher support for Trump than counties using only paper ballots.

"Michigan: More than 75,000 Michiganders cast no vote for president in the 2016 election—almost twice as many 'under-votes' than were cast in the 2012 election (49,840). The high number is a red flag, especially when considering that these 'under-votes' were concentrated in the heavily Democratic precincts of Detroit."
The Greens also said the touchscreen voting systems in Pennsylvania and Wisconsin were especially vulnerable to hacking, and even cited a tweet by Edward Snowden affirming that point. "Hacking voting machines: not that difficult. Hiding a secret deviation in votes from after-the-fact statistical analysis: nearly impossible."
"In Pennsylvania and Wisconsin, approximately two-thirds and one-tenth of voting, respectively, is done through touchscreen machines (DREs) that are susceptible to manipulation and hacking (and which many states have banned or are phasing out)," their summary said. "In Pennsylvania, whose voting system has been called a 'nightmare scenario' by one leading expert, the machines do not even dispense a paper ballot or receipt. As a result, the only way to conduct a full, foolproof audit is through a 'forensic analysis' —opening each machine to look for evidence of tampering or voter manipulation."
"Optical scan voting—the method for all voting in Michigan, 85 percent in Wisconsin and one-third in Pennsylvania—is considered an improvement over DREs, but can still be breached without detection," they continued. "The machines suffer from glitches and are prone to mistakes, including misreading voters' markings. For example, in a recount of Ohio votes initiated by then Green Party presidential candidate David Cobb in 2004, almost 90,000 votes were left uncounted due to a machine calibration error. As such, manual hand recounts—as opposed to simply running ballots back through the machine—are essential, and considered the gold standard of recounts by election integrity experts."
Steven Rosenfeld covers national political issues for AlterNet, including America's democracy and voting rights, campaigns and elections, and many social justice issues. He is the author of "Count My Vote: A Citizen's Guide to Voting" (AlterNet Books, 2008).
This article was made possible by the readers and supporters of AlterNet.