Stein Files Recount Petition in Wisconsin, Hillary to Help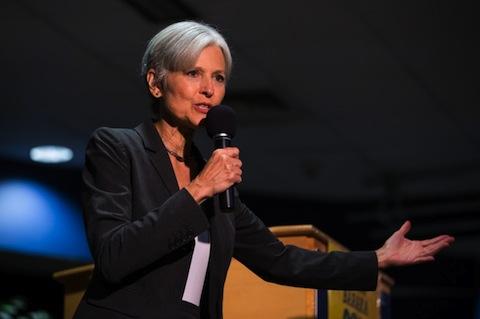 Former Green Party presidential candidate Jill Stein filed a petition Friday for a recount of election results in Wisconsin., Christopher Dolan/Citizens' Voice via AP
An election recount will take place soon in Wisconsin, after former Green Party presidential candidate Jill Stein filed a petition Friday with the state's Election Commission, the first of three states where she has promised to contest the election result.
The move from Stein, who raised millions since her Wednesday announcement that she would seek recounts of Donald Trump's apparent election victories in Wisconsin, Pennsylvania and Michigan, came just 90 minutes before Wisconsin's 5 p.m. Friday deadline to file a petition. Now it will keep some hope alive for many Hillary Clinton supporters for another few weeks while Wisconsin recounts ballots before a Dec. 13 deadline.
Trump scored upset victories in Wisconsin and Pennsylvania, and seems on the path to declare a victory in Michigan as well, though the result of the election in that state will not be certified officially until Monday. Had Clinton won those three states, previously seen as part of the Democrats' "firewall," she would have secured enough electoral votes to win the election.
Stein announced her intention to file the petition following reports that a group of data experts and election lawyers were urging Clinton to demand a recount in those three states, on suspicion that a cyberattack could have manipulated the results of the election in those states. While the group had no specific proof of hacking, they noted anomalies suggesting Clinton routinely did more poorly in Wisconsin counties that used voting machines, as opposed to those that relied on paper ballots.
Trump secured a total of 1,404,000 votes in Wisconsin, according to the commission; Clinton had 1,381,823.
In the end, Stein, who secured 31,006 votes in Wisconsin, was not the only presidential candidate to demand a recount. Roque "Rocky" De La Fuente, the Reform Party nominee who got 1,514 Wisconsin votes, also filed a recount petition, according to the state's Election Commission.
To be on the safe side, the group of experts urged a recount — but it was Stein's campaign that ended up demanding one, soliciting at first $2.5 million and later up to $7 million to fund the recounts. As of Friday evening, Stein's campaign reported taking in over $5.25 million in recount-related donations — the most by a third-party candidate in history.
Wisconsin has the first deadline of the three states in question. If Stein's campaign wishes to file recount petitions in the other states as promised, she must do so by Monday to meet Pennsylvania's deadline, and Wednesday to meet the Nov. 30 deadline in Michigan.
In a statement, Wisconsin Elections Commission Administrator Michael Haas guessed that the cost and complexity of the recount would be in excess of the state's last recount in 2011, which carried a price tag of more than $520,000. In that recount over a state Supreme Court seat, the commission had to recount 1.5 million votes — about half the 2.975 million ballot votes that were cast during the 2016 presidential election.
Stein put a note on her Facebook page on Friday, asking supporters "to consider volunteering to help in the recount process."
The county boards of canvassers will conduct the recount, according to the commission's statement, and will have the authority "to decide which ballots should and should not be counted," Haas said.
If the candidates disagree with the results of the Wisconsin recount, they will have five business days to contest the outcome in court.
Karoun Demirjian covers defense and foreign policy and was previously a correspondent based in the Post's bureau in Moscow, Russia.
Clinton Campaign Agrees to Back Jill Stein's Election Recount Effort: Lawyer
CNBC News  November 26, 2016
Adam Howard and Alexandra Jaffe
Hillary Clinton's campaign said Saturday it intends to back the statewide election recount effort in the battleground state of Wisconsin spearheaded by third-party candidate Jill Stein.
The Clinton team had been quiet about Stein's crusade, but campaign lawyer Marc Elias said that because a recount was set into motion Friday -- and could begin as soon as next week -- they want to see a "fair" process for all involved.
"Because we had not uncovered any actionable evidence of hacking or outside attempts to alter the voting technology, we had not planned to exercise this option ourselves," Elias wrote in a Medium post explaining the decision, "but now that a recount has been initiated in Wisconsin, we intend to participate in order to ensure the process proceeds in a manner that is fair to all sides."
Wisconsin election officials said they received Stein's paperwork and that they were still waiting to obtain a cost estimate from county clerks to calculate a fee that her campaign must pay before the recount can start.
Her campaign is trying to fundraise online as much as $7 million for the effort -- and had garnered more than $5.7 million as of Saturday morning.
The Green Party's presidential nominee also has plans to file a recount effort in Michigan, where NBC News has yet to officially call a winner, and Pennsylvania.
President-elect Donald Trump still holds narrow leads in all three states against his Democratic rival, and his victories in Pennsylvania and Wisconsin provided him with the Electoral College advantage he needed to win the presidency.
Elias acknowledged that the "the number of votes separating Donald Trump and Hillary Clinton in the closest of these states -- Michigan --\0x200Awell exceeds the largest margin ever overcome in a recount," but said they felt it was "important, on principle" to partake in and monitor the process.
Former Trump campaign manager Corey Lewandowski tweeted, "Where is the media outcry?" after news broke that Clinton would back the recount. Trump had no immediate response.
If Stein follows through with her promise to pay for recounts in Michigan and Pennsylvania, Elias wrote, the campaign will "take the same approach" with additional states and participate in any verification efforts there.
Until now, the Clinton campaign declined to comment on the potential re-tallying. After what aides called a crushing and unanimously stunning loss, most went silent as they came to grips with the outcome.
Over the last few weeks, lawyers and data scientists urged the campaign to consider a recount, according to Elias' post. He also said a deciding factor for the campaign was Russia's reported interference in the U.S. election process.
Besides "quietly" taking steps to "rule in or out any possibility of outside interference," the campaign also dispatched resources to critical battleground states.
"We have monitored and staffed the post-election canvasses -- where voting machine tapes are compared to poll-books, provisional ballots are resolved, and all of the math is double checked from election night," he wrote.
Elias also acknowledged the anguish that many of Clinton's supporters and staffers felt after the shocking upset.
"We certainly understand the heartbreak felt by so many who worked so hard to elect Hillary Clinton, and it is a fundamental principle of our democracy to ensure that every vote is properly counted," he wrote.