Tidbits - October 13, 2016 - Reader Comments: Sexual Harassment' 2016 Election, Readers on Jill Stein; Spain; Anti-Apartheid Struggle; Rosenberg Sons on 60 Minutes; Announcements; and more....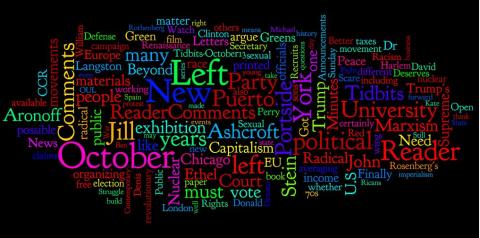 Tidbits - Reader Comments and Announcements - October 13,2016,Portside
Announcements:
"We must understand the harm that sexual harassment and sexual violence causes. Missing from the conversation this weekend, which focused almost exclusively on the character of the offender, was concern about the victims of sexual violence. At virtually every dinner table this weekend, people talked about what should happen to Donald Trump's political ambitions. But little consideration was given to what impact the brutish behavior he claimed to have had on the women he victimized. How many of them talked about Arianne Zucker, the young woman in the leaked video who Bush cajoled into hugging the same two men who had just joked about forcibly kissing her? Did she know she was the butt of a sexual gag? Or did we wonder what happened to Nancy O'Dell, the woman who rejected Trump's advances?"
Kathe Karlson
"If the history of transformative change in this country offers any lessons, from the New Deal to the Civil Rights Movement, it's that electoral campaigns will never be the be-all and end-all of politics-just one field of struggle among many.
Demonstrations, strikes and civil disobedience have always been effective outlets for working-class political power, staking out key victories on everything from women's suffrage to immigration reform-in some cases by putting the issues themselves on the ballot." 
Sheila Parks
A lot of Blah from Aronoff. This is a protest against two warmongers; not the second coming of Marx and Lenin. Save your energy to argue against the victims of the lesser evil virus.
Michael Munk
Maybe, but Bernie caved in. You think the Democratic Party is, or has a chance to grow into, a left party or left alternative? I don't.
Stump Trump!
Pillory Hillary!
Vote Jill Stein!
Vote Green Party.
Power to the people.
Jesse Crawford
I'm in MD so I'll probably make a protest vote for every GP candidate available to me, tho it seems like a pretty feeble protest at this point.
Nevertheless, I'm in broad agreement with this piece on the GP. I don't have time to go into all the relatively minor qualifications and adjustments I would make to Aronoff, but suffice to say for now that she cuts to the crux of the matter for me:
"[The problem is] that the Green Party's stumble toward the presidency falls into the same traps that plague conventional Democratic Party politics: putting too much emphasis on the presidency and the electoral process itself, while declining to undertake the kind of deep organizing necessary to alter the state of play in these arenas."
I accompanied another Green Party volunteer to what I believe was the first public presentation in Baltimore on behalf of the Nader 2000 campaign, a community group meeting. The first question was "What do you guys do between elections?" That remains THE question for the Greens around here. If I lived elsewhere I might be persuaded that working with them could be a worthwhile project.
Bill Harvey
The Stein/Baraka campaign is being attacked from all sides, including the left in this example. Has Kate Aronoff been active in any state Green Party activity, e.g., in New York State where the Howie Hawkins campaign in 2014 made a major breakthrough, leading the anti-fracking movement and beating out the Working Families ticket ?  Aronoff claims the Jill Stein/Green Party has no plan to build power. 
For starters, gaining 5% on election day will boost the Green Party capacity to organize by roughly $8 million in federal funding. Instead of telling us a vote for Greens is a wasted vote as Aronoff implies in sync with Joshua Holland's of The Nation explicit advice (October 10, 2016), rather recognize that voting for Clinton in safe states is the real throwaway vote for a neoliberal militarist. Kshama Sawant in rebuttal to Holland makes it clear that the Greens are the best path to radical change we now have, but the deep organizing Aronoff advocates must mainly come post election. How about boosting Jill's vote to reach the 5% to magnify that possibility, instead of this non-constructive bashing?
David Schwartzman
Why must she be so negative in her criticism? This election, with its difficult debates on to stop one perhaps even more dangerous one, or not to support her, is no easy matter; even if we feel positive that our answer alone is correct, we must admit that there are also undoubtedly good people on the other side, with whom we may have joined in the nomination fights. The biggest danger, I think, is that the supporters of Bernie, no matter how they have since decided, do not split so sharply that they fight each other instead of uniting after November 8th no matter who wins. 
And whether or not you are critical of Jill Stein and her party's plans, methods or theories, they certainly are basically on our side. That means that we can certainly disagree about our vote in a few weeks, and argue about the best plans for the future, we can also worry openly about possibly mistaken tactics, but we must not attack each other as undeserving or some such unhappy word because we disagree. Above all we must try to include as many as possible in a movement which will be so bitterly necessary with either Trump orClinton, and that means Our  Revolution, Workers'Families Party, BLM, Moral Mondays, Dreamers,  peace groups, $15 fighters, as many unions as possible, national or local, North Dakota tribes people, students - all we can. And it certainly means Jill and the Greens, right in there!
Victor Grossman, 
Berlin
Oh, no, criticism of Saint Jill! The Greens have run presidential candidates since the 1996 race. Here are their national popular vote percentages, race by race: 1996 0.71%, 2000 2.74%, 2004 0.10%, 2008 0.12%, 2012 0.36%. They either don't really want to build a party, or they have no idea how to do it. Their problem goes well beyond Stein.
Norm Littlejohn
Important history for environmentalists & anti-racist activists to know!
Lydia Howell
The focus on Trump's taxes is small potatoes, in my opinion.  A rich man paying no taxes looks like easy propaganda for Clinton.
Ben and Jerry's excellent ice cream may have been in high enough demand to avoid bankruptcies or business losses.
But anyone with a lean year, whether on top of the food chain (a few like Trump) or an unemployed worker (like many others), is advised to use income averaging to reduce or even eliminate federal income taxes when business improves or employment returns.
Would Ben and Jerry eliminate income averaging, intended to help those with lean years recover from losses?
Real estate development is a notoriously risky business, with extreme profits punctuated by extreme losses.  Whatever else Donald Trump has done with his taxes, income averaging is an obvious choice, if not "brilliant" as Trump claims.  Certainly it is not a "legal loophole" needed to be closed.  It is not tax evasion, as implied by Ben and Jerry - and the rest of the Clinton campaign.
"If you - you have no reason to remember, but we came out of the White House not only dead broke but in debt," Hillary told ABC after being confronted with the fact that she makes huge money on the speaking circuit.I wonder if the Clintons used income averaging - if not, they (or whoever prepares their tax returns) are not as "brilliant" as Trump and millions of others who have.
David Ecklein
Trailer for the film, says they risked their lives, would you? It was a different time, a different period, but it so represents the hope and idealism of the 60s and 70s, when so many of us around the world believed that revolutionary change was on the agenda of the day. Now, we have to find ways of continuing the struggle, of struggling smart in new conditions, of building alliances and finding allies. For those of us in the United States, the election of Hillary Clinton will require this type of broad unity and smartness. Heaven forbid, the alternative - this will definitely require great unity, skill in developing coalitions, and real smarts.
Jay Schaffner
This is fascinating. And the film sounds great.
Stephanie Allan
If it was up to Republicans, there would still be a Rhodesia and apartheid in South Africa. The Democrats only want it in Israel/Palestine.
Edgar Aracena
Daniel Millstone
Alert Long Beach, Wilmington, San Pedro!
Leanna Noble
Unless we talk about socialism, we'll stay stuck in capitalism.
Matthew Borenstein
In listing the ills of Europe, you left out the main one:  neoliberalism, of which the EU is the embodiment, the institutionalization.  Like others on the Left, you continue to try to square the circle -- seek to turn the EU into a project of a "Social Europe."  The EU is a cartel of the banks and transnationals, and there is no progressive path forward for any EU nation that does not begin with an EU exit.
Joseph Kaye
Disappointing (as a Scot) to find "England" referred to on three occasions in this piece alongside sovereign states such as France, Spain, Germany, etc . Would it be captious of me to point out that an English sovereign state does not exist... can it be that Conn meant to refer to The United Kingdom or perhaps Britain?
Fraternally
Gordon McCulloch
You all are so noble, doing great work, I think you should get an enormous raise.
Paul Leavin
In the days after the attacks of September 11, 2001, hundreds of Muslim, Arab, and South Asian men were swept up by the INS and the FBI based on nothing more than their race, religion, ethnicity, and immigration status. They were held in solitary confinement, in a specially created Supermax housing unit, and physically and psychologically abused.
The questions before the Supreme Court include whether John Ashcroft and other top officials responsible for the round ups can be sued for breaking the law, as well as whether the Constitution prohibits placing people in ultra-restrictive conditions of confinement based only on their race and religion.
CCR's dogged pursuit of this case, filed in 2002, has been possible only because of the loyal support of CCR donors. If it were not for your commitment to righting the wrongs suffered by those rounded up after 9/11, we would not today be on our way to argue before the Supreme Court and indeed the entire nation that John Ashcroft must be held accountable for his actions.
Thank you for making this day possible.
Sincerely,
Vince Warren
Executive Director
Filmed in the wake of groundbreaking new evidence indicating Ethel was not a spy and her execution was wrongful, the report features interviews with Rosenberg sons Robert and Michael Meeropol and others. It explores Ethel and Julius Rosenberg's controversial trial and execution for the so-called "crime of the century."
Please tune in, and invite your friends to do so as well! An email you can share is below.
Jennifer Meeropol
Executive Director
116 Pleasant St., Ste. 348
Easthampton, MA 01027
==========
free parking, wheelchair accessible, (Red Line: Fullerton).
Dr. Melvin Rothenberg is a Professor Emeritus of Mathematics from the University of Chicago. He is an author of books and articles on economics and political topics of interest to the left. He has been a political activist for 60 years. Dr. Bruce Parry is a retired Economics Professor from the University of Baltimore and writes on Marxist political economy. He has been a political activist for 40 years. Both are members of the Chicago Political Economy Group (CPEG).
All OUL events are free of charge and open to the public.
and
2017 marks the 100th anniversary of Puerto Ricans as citizens of the US. Denis examines the political and economic relationship between Puerto Rico and the US for the past 118 years, since the invasion of 1898. In particular, Denis uses his book War Against All Puerto Ricans to analyze the Nationalist Revolt of 1950...in which the US mobilized 5,000 soldiers, arrested 3,000 Puerto Ricans, and bombarded the towns of Jayuya and Utuado. The 2016 Financial Control Board, the "public debt" of Puerto Rico, the Jones Act, Law 53 (the Gag Law), the FBI carpetas program, and other issues are also examined.
Join Peace Action New York State for this Very Special Event: 
He believes that the dangers posed by nuclear arms are now greater than ever, and that action is urgently needed to reduce those dangers, and that nuclear weapons should be abolished as soon as possible.
MaryLouise Patterson will discuss her new book Letters from Langston: From the Harlem Renaissance to the Red Scare and Beyond (University of California Press, 2016) on Tuesday, October 25 (6:00 PM) at the Tamiment Library. A reception with wine and cheese will follow the lecture. This event is sponsored by the Frederic Ewen Center.
MaryLouise Patterson is a pediatrician on clinical staff at Weill-Cornell Medical College. She earned her medical degree at Patrice Lumumba Friendship University in Moscow, and a Masters of Public Health at the University of California - Berkeley. In addition to practicing medicine, she promotes the practice of medicine in underserved and minority schools, and participates in numerous Civil Rights, Social Justice and Peace movements. Letters from Langston: From the Harlem Renaissance to the Red Scare and Beyond is her first literary endeavor. It is a collaboration with her co-editor and childhood friend, Evelyn Louise Crawford.
Copies of Letters from Langston will be available for purchase.
70 Washington Square South, 10th Floor
New York, NY 10012
Finally Got the News raises many essential questions that are still contemporary: from community responses to police brutality, to battles for better wages and working conditions, to opposition to U.S. imperialism in the Middle East. Radical movements of the `70s attempted to confront issues that are still with us.
131 8th Street - #4
Brooklyn, NY 11215
(2 blocks from F/G/R trains at 4th ave./9th street)