film
Review: Fences Is an Acting and Directorial Feast Fit for August Wilson's Words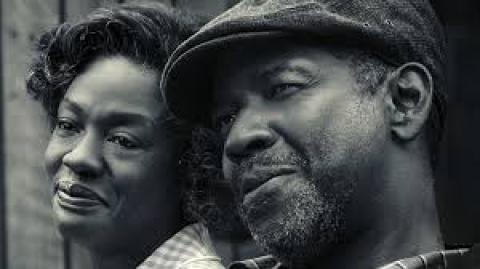 Denzel Washington and Viola Davis in Fences.,comingsoon.com
August Wilson's Pulitzer Prize-winning play Fences has finally made it to the big screen, directed by Academy Award-winning actor Denzel Washington. Wilson's masterful storytelling about a working-class family living in a historic Pittsburgh neighborhood and fighting for survival, personally and professionally, jumps off the screen under Washington's brilliant direction. Wilson's splendid storytelling blends perfectly with Washington's keen ability to capture the aesthetic and dramatic elements of the play while creating a visual representation of black life that is thoughtful, intense and cinematic.
Washington has proved his directing chops before at the helm of films like Antwone Fisher, The Great Debaters and, now, Fences. Like Wilson, Washington has a profound ability to explore African-American life on-screen, including heavy topics like racism, economic disenfranchisement, sexism and familial dysfunction, in a way that is accessible to broad audiences while managing to privilege and preserve black culture and expression.

Set in the 1950s, the film has Washington playing the lead character of Troy Maxson, a former Negro League baseball star who now works as a trash collector. The story opens up with Maxson, who has filed a complaint with the union because there are no black garbage truck drivers. Maxson explains that the job of the lifter is much more physically demanding than that of the driver, who checks off addresses, reads the paper, navigates through neighborhoods and is ostensibly paid more.
Viola Davis' performance as Rose, Maxson's doting wife, is staggering. Rose gives Troy as good as she gets through intense yet loving banter, hard work and commitment. The love the two share is on full display as they vacillate between serious and comical interactions while supporting each other in their day-to-day lives, however mundane or complicated they may be.
In an understated performance that steals the spotlight from Washington and Davis at times, Stephen Henderson plays Jim Bono, Troy's best friend, who serves as a sort of chorus figure, watching from the outside, weighing in with pearls of wisdom, yet still being very much an essential part of the narrative. Bono (as he is referred to in the play and film), who met Troy as a young man in prison, is as much a part of the family as Gabriel (referred to as Gabe in the film), Troy's brother, played splendidly by Mykelti Williamson, and Cory (Jovan Adepo), Rose and Troy's son, who's chasing a dream of playing football and learning that his main obstacle is not society or the low odds of success but his father, Troy.
Troy is haunted by his mistreatment as a Negro League player by Major League Baseball and does not want his youngest son to suffer the same fate. Cory, who wants to be an athlete like his father more than anything, quickly learns that Troy is flawed and unforgiving, despite expecting forgiveness for the continued mistreatment of the family, which includes Lyons (Russell Hornsby), Troy's oldest son by another woman, who is a slick, aspiring musician. Lyons shows up on every payday with his hand out and arms swinging. Lyons' sly grin belies the anger he has for Troy, who missed his childhood while serving 15 years in prison for an unintended crime.
Williamson offers an endearing performance as Gabe, who is childlike because of a traumatic brain injury suffered in World War II. Gabe serves as the conscience of the family, living and loving on his own terms despite his injury. Even in his childlike mind, Gabe understands that there is something greater for us all and wants to make sure the Maxsons and the city of Pittsburgh know it. As Troy's son Cory finds his confidence and strength as a man, so does Adepo, whose acting stands up to Washington's performance in the second act.
Fences is rampant with symbolism, as Troy works on building a fence for Rose, first with Cory and then Bono. The home serves as a metaphor for the family, and the fence as a metaphor for decisions that affect the family. It becomes abundantly clear to audiences that you can have all the pieces needed for completing the fence, but if there isn't a real purpose or true commitment to the task at hand, then all of the bad things you're trying to keep out come right in and take a seat at your dining room table—or, in this case, in Cory's bedroom.
Watching the Maxson family unravel and attempt to rebuild after Troy does the unthinkable is hard to watch, but it's impossible to look away because of the complicated characters, magnetic performances, heart-stopping dialogue and truly splendid writing and direction. Cinematographer Charlotte Bruus Christensen captures the Maxsons' move from hope to helplessness through vibrant imagery followed by muted tones reminiscent of character-driven films like A Raisin in the Sun (1961) and The Pawnbroker (1964).
Washington's, Davis' and Henderson's reprisals of their superb 2010 Broadway performances, which earned Washington and Davis Tony Awards for best lead actor and actress, do not disappoint. Washington takes us on an episodic journey through love, pain, betrayal and redemption, and with such heavy topics, the audience will struggle through it. With performances that will literally take your breath away, Fences is a must-see film offering a timeless critique of a family trying to determine who should be on each side of the fence, one fence post at a time.
Fences is screening in theaters around the country.  Running time is 2 hours, 19 minutes.
[Nsenga K. Burton, Ph.D., a media scholar, is digital editor in chief at Grady Newsourceand a faculty member of the Cox Institute of Journalism, Innovation, Management & Leadership at the Grady College of Journalism and Mass Communication at the University of Georgia. She is founder and editor in chief of the award-winning news blog the Burton Wire. Follow her on Twitter here or here].