labor
WorkZone: Right-to-Work Laws Gain Momentum Following Election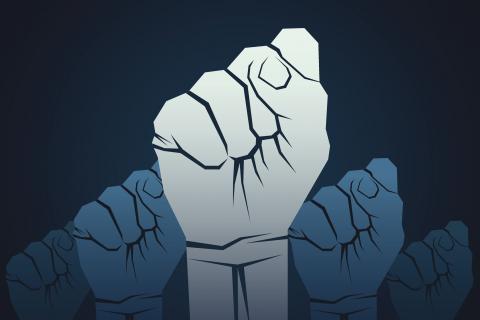 , Getty Images/iStockphoto
Pennsylvania, with its deep history of organized labor and unionization efforts in the health care and service industries, has long resisted laws that would undermine union membership.
So the Keystone State is not one of the more than two dozen states have passed so-called "right-to-work" laws, which prohibit employers from requiring workers — if represented by a labor union — to become members of that union and pay dues.
But the November election, in which Republican Donald J. Trump sailed to the presidency with support from normally Democratic rank-and-file union members, has altered certain assumptions.
Now with strong Republican majorities, some states that have high rates of unionization, in Appalachia and the Midwest, have taken up right-to-work laws. This month, Kentucky became the 27th state to pass such a law, among the first to be brought up for a vote after Democrats lost their majority in that state's House of Representatives.
West Virginia passed its version last year, becoming a major prize for right-to-work advocates. About 14 percent of West Virginia workers were represented by labor unions in 2015, the third-highest rate of unionization of any right-to-work state behind Michigan and Nevada, according to the U.S. Bureau of Labor Statistics.
Missouri and New Hampshire could be next to join the movement, with lawmakers in each state passing proposals last week.
Pennsylvania, also with about 14 percent of its workforce represented by unions, could be in the offing. Republicans hold majorities in the state House and Senate, the latter of which has a veto-proof majority. As lawmakers begin a new session this week, conservative groups and business-friendly politicians are pressing the issue.
Rep. Daryl Metcalfe, R-Cranberry, said he will work with his colleagues to roll out a right-to-work proposal early this year.
"I think our support is growing, based on the members who have been elected recently," Mr. Metcalfe said last week. Mandatory union dues "stifle economic growth because they're able to use the government to enforce their unionism," he said.
That states can pass laws banning mandatory union dues is not new. Congress amended labor law in 1947 to allow individual states to pass right-to-work laws.
Supporters argue for individual freedom: Workers should not be forced to pay money to unions if they disagree with union actions and political stances.
"It's really a question of whether the employee and employer have a right to negotiate between the two of them," said Jake Haulk, president of the Allegheny Institute for Public Policy, a right-leaning group based in Mt. Lebanon.
"The point is, if I want to work for a company and I don't want to be a member of the union and the company won't hire me, that's an interference with my individual rights," Mr. Haulk said.
The Allegheny Institute released a white paper last month highlighting a "significant change in attitudes" toward right-to-work following the presidential election. The recent wave of such laws is a "sign that voters have become weary of public sector unions driving government costs and taxes higher than they need to be."
Labor unions and worker advocates dub such legislation "right-to-work-for-less" laws. They exist only to weaken unions and give more negotiating power to business interests, said David Jury, associate general counsel for the United Steelworkers.
Private sector workers already can resign their union membership if they object to how the union spends its money, following a 1988 Supreme Court ruling.
But right-to-work goes further, banning "union security clauses," or agreements between employers and labor unions that compel employees to join unions as a condition of employment, Mr. Jury said.
Plus, unions in most cases must represent all employees, such as taking up their grievances, regardless of whether the employees are required to pay dues.
"It creates what most observers would call a problem of free riders," Mr. Jury said. "And it becomes an ongoing effort in every local union to keep people."
According to the U.S. Bureau of Labor Statistics, the 2015 median weekly earnings for union workers were 26 percent higher than non-union workers — $980 compared with $776.
The BLS data also show right-to-work states do have a significantly higher amount of "free riders," posing a financial challenge to unions. Excluding the recent additions of Kentucky and West Virginia, more than 17 percent of workers — 790,000 people — in right-to-work states are represented by unions but are not members. In all other states, the portion of represented nonmembers stands at about 9 percent.
"How it affects the workforce is really simple: It lowers wages," said Stephen Herzenberg, executive director of the Keystone Research Center. "If you strip it to its core, this is about reducing the power of workers to bargain for a decent living."
Once right-to-work legislation is passed, it can be far from settled. The United Steelworkers union has joined in a legal challenge in Wisconsin, arguing under the state's "takings clause" that the state had illegally grabbed "property" — union membership and dues — without just compensation.
Hearing a similar legal argument, a judge last year halted the law from taking effect in West Virginia, pending the outcome of the court case.
Mr. Haulk acknowledged a push in Pennsylvania could fall flat this year with Democratic Gov. Tom Wolf unlikely to sign such a bill.
Opponents have promised a fight.
Mr. Herzenberg said, "It's really important that Pennsylvania workers and voters need to understand a law that weakens their voice with respect to the employer does not improve their standard of living."