The President's House Is Empty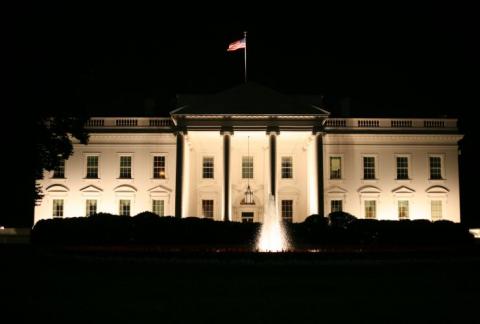 In November Donald Trump announced that his family will not live in the White House when he is inaugurated. His wife and son prefer to live in New York for now. They may move after the end of the school year. We will see. Perhaps they do not want to disrupt the boy's life. That is understandable. Normally candidates discuss these things with their families before deciding to run and families understand that an electoral win will upend their lives too. But here we are.
Trump's announcement has implications for all of us. Who will pay for the security required for Trump's New York–based family? And who will bear the costs of the disruptions caused by frequent presidential flights to and from New York–area airports, not to mention the motorcades in and out of midtown Manhattan? The answer is: taxpayers or, as we used to be called, the public. That some of those costs will be paid right into Trump's own pockets is only one of the unseemly aspects of the situation. According to the New York Post, in addition to "the cost of agents, staff and equipment and barriers that are normal in such cases," security services will also rent space in Trump Tower, which means "taxpayers would be paying the president-elect's own corporation" at a cost of "more than $3 million a year."
Taxpayers already pay for a secure home and office for the president. It is called the White House.
There has been some debate, initiated by New York City mayor Bill de Blasio, as to which taxpayers should foot the bill. Are the public costs of Trump's security the responsibility of the city, state, or federal government? But the basic premise—that these costs should be shouldered by the public—has not itself been questioned. Why not? It should be.
Taxpayers already pay for a secure home and office for the president of the United States and his family. It is called the White House. The White House is a public thing to be used by the president while in public office. What Trump's family members are doing is opting out of that public thing. They are choosing to go private. Yet Trump and his family's "free choice" is being subsidized by the public. If a president, or his family, opts out of using the White House, then the costs of security and administration increase. A mobile security apparatus and governance infrastructure are required by a president who lives at his private home(s). The public thing, the White House, enables certain efficiencies in the provision of security and administrative support but these are lost when the private option is preferred. It seems obvious that, if those efficiencies are foregone, the resulting costs should be borne by the one who opts out and not by the very public whose public thing has been spurned. That is, Trump's family members are free to not use the residence provided by the public, but they are personally responsible for assuming the costs of that choice. They should not be passing them on to us.
For neoliberals, choice is synonymous with freedom. But it always imposes hidden costs on others.
Beyond the monetary costs of the Trump opt-out there are symbolic costs, as well. Here there may even be a lesson for Trump. Not that anyone expects him to learn it. Faced with the refusal of Mexico to pay for the much-promised border wall, Trump now expects U.S. taxpayers to pay for it. But taxpayers have lost the habit of happily paying for public things and Trump, who stands for opting out, is in no position to revivify the habit. After years of neoliberalization, there is no reservoir of love for public things on which to draw, no exemplary public sacrifice to inspire. Recall when Khizr Khan, the Gold Star father, asked if Trump had ever sacrificed anything for his country. Trump's answer—given to a man whose son died fighting in Iraq—was that yes, he had sacrificed: to build a business.
Neoliberalism means many things to many people but the one trait by which it is always distinguished is its approval of the opt-out and a willingness to turn a blind eye to the hidden costs of such a choice. Everything is optional for the neoliberal; this is how neoliberalism defines freedom. Neoliberals opt out of any collective thing they can afford to opt out of. They believe everyone should be free to send their children to private or charter schools, to live in private gated communities, to hire private transport rather than take the school bus, and so on. "Choice" is their watchword (except when it comes to pregnancy) and choice is synonymous with freedom.
The hidden costs of opting out are not their problem. But they are ours. If the well-to-do do not use the public school system, the community is deprived of their energies and contributions. If they do not use city roads and sewage, they come to resent having to pay for the upkeep of infrastructure that others rely on. If fewer and fewer children take the school bus, it soon becomes an added expense to the public purse that cannot be justified, and suddenly there is no bus service, even if some need it, or else only its users are asked to pay for it, which raises costs and singles some people out. These are inefficiencies, as the economists might say.
But there is a still worse cost. The democratic experiment involves living cheek by jowl with others, sharing classrooms, roads, and buses, paying for them together, complaining about them together, and sometimes even praising and enjoying them together, as picnickers will do on a sunny afternoon in Central Park. But the neoliberal corrective absolves us of this necessity and responsibility. That Central Park—landscape architecture's ode to the power of democratic beauty—is just a stone's throw away from the barricaded Trump Tower is only one of the many sad ironies of the story to be told here.
The democratic experiment involves living cheek by jowl with others. But the neoliberal corrective absolves us of this necessity and responsibility.
All too often opting out depends on the public purse it pretends to circumvent. Charter schools and voucher programs invite locals to opt out of public schools while drawing on public funds that might have improved the public education system rather than provide an alternative to it. Someone is making money on charter schools and vouchers and it is not the community. Also, and more importantly—as Senator Maggie Hassan pointed out to Betsy DeVos at her confirmation hearing to become secretary of education—charter schools and voucher programs are not governed by public education's mandate to educate all students. Students with disabilities, Hassan noted, who want to use publicly funded vouchers to attend private school "often don't receive adequate resources, and in some cases have to sign over their legal rights" to a full and equal education. Like the Affordable Care Act, which mandates providing health care coverage to those with preexisting conditions, a properly democratic education system mandates providing education to those with preexisting conditions, too, such as poverty, recent immigration, physical and learning disabilities, as well as other challenges that may make learning difficult. This democratic mandate to educate everyone is what charters and voucher systems opt out of. Such mandates are the last, dying breath of the public thing.
Why review the vexations of the neoliberal opt-out now? Because we will all feel the impact—both financial and symbolic—of the latest and most public one. Regardless of who absorbs the costs, it seems clear the White House will stand mostly empty for a while, a stark reminder of the emptiness of this presidency and its disdain for public things.
[Bonnie Honig is 2016-17 Chesler-Mallow Senior Research Fellow at the Pembroke Center and Nancy Duke Lewis Professor of Modern Culture and Media and Political Science at Brown University. Her book Public Things: Democracy in Disrepair is forthcoming from Fordham University Press.]