tv
The Wistful, Sharp Return of Girls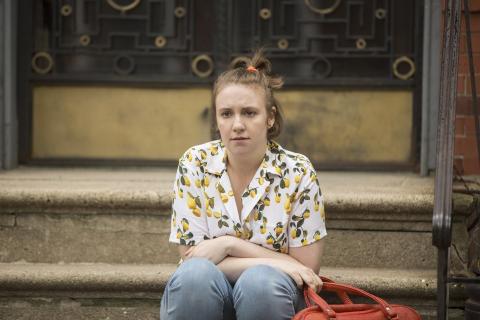 In "American Bitch," the remarkable third episode of the sixth and final season of HBO's Girls, Hannah (Lena Dunham) has a confrontation with a writer (Matthew Rhys) who's been outed online as a sexual predator by several female college students. He insists that the women all pursued him, followed him to his hotel room, saw a sexual encounter with him as something they could bank internally as life experience. "What do writers need?" he says. "Money," Hannah replies. "Stories," he counters. But Hannah disagrees. The woman who published the most scathing takedown didn't sleep with him "so she has a story," she argues. "It's so she feels like she exists."
Throughout its five years on television, Girls has shown Hannah pursuing degrading life experiences while telling herself it's in the service of art. Like doing cocaine and having sex with her ex-junkie downstairs neighbor Laird so she can write about it for a $200 assignment from a website called JazzHate, or following a buff, manic yoga instructor into a sauna at a women's consciousness-raising weekend. But in its last season, in an episode that deliberately echoes a number of the show's finer moments, she seems to have finally achieved an amount of self-realization. While Hannah still doesn't reliably feel or act like a grownup—and who among us ever really does?—her mission has evolved, from living out bizarre experiences so other people can read about them to writing "stories that make people feel less alone than I did."
The first three episodes provided for critics diverge wildly in terms of topic and tone, with the first acting as a swift re-immersion in the lives of people who appear largely unchanged since last season. Hannah's reached a professional milestone by selling a Modern Love column to The New York Times about Jessa and Adam; Marnie (Allison Williams) reads it on the toilet, pumping her fist triumphantly for her friend; Adam (Adam Driver) reads it while gnawing his fingers; Jessa (Jemima Kirke) doesn't read it at all. Jessa and Adam are still living together in an environment Ray (Alex Karpovsky) describes poetically as "a boundary-less hinterland of sexuality and emotion, it's disturbing, and they're always somehow reheating fish." Hannah meets an editor who tells her, "You're just perfect for the aesthetic of Slag Mag," and gives her an assignment—to attend a yuppie female surf camp in the Hamptons that's "super chill but disgusting."
The 42-minute episode is an extended showcase for Hannah at her worst: lazy (she won't even try to surf), slovenly (she spills drinks everywhere and barfs all over someone else's bedroom), and manipulative. But then she forms an unlikely bond with a surf instructor (Riz Ahmed, trying manfully to play a spacey, dumb beach god) and starts to wonder why her immediate instinct is to try to hate things. "All my friends in New York define themselves by what they hate," she explains. "It's like everyone's so busy chasing success and defining themselves they can't experience pleasure." More than once, her face forms itself into a smile before relaxing into something more like wistfulness.
There are other lightbulb moments like this that seem to point to Hannah's future being outside New York, like an encounter with a woman in an antique shop who left her stressed-out life in Queens after she fainted on a subway platform and was pulled from the tracks by Chris Noth. And if the first three episodes of the new season have anything in common, it's that they benefit hugely from leaving Brooklyn, even if it's only for locales as perilous and unfamiliar as Montauk, upstate, and the Upper East Side. When Hannah, Marnie, and Desi (Ebon Moss-Bachrach) end up on a trip to Poughkeepsie in the second episode, the show flirts with the conventions of horror, although it's laced throughout with Girls's more typical bravado. (Infuriated with Desi, Hannah at one point says, "He looks like someone in the Pacific Northwest knit a man.")
But it's the third episode that stands out, and that seems most poised to provoke a maelstrom of responses. Like the second-season episode "One Man's Trash," set almost entirely in a Brooklyn townhouse owned by a divorced doctor (Patrick Wilson), it takes place in a vast, gorgeous apartment owned by Chuck Palmer (Rhys), a Serious American Novelist whose more dubious sexual exploits have been recounted all over the internet in first-person form. Hannah, who's written about the furor, is summoned as a kind of representative of young female writerhood, although exactly why is unclear. The two engage in a thoughtful, nuanced debate about reputation, art, and consent that seems like an effort to engage with the potential and the limitations of online discourse—something Dunham herself has frequently experienced. "People don't talk about this shit for fun—it ruins their lives!" Hannah says. Palmer is more concerned with his own pain, and how "a website called The Awl called me 'Throatpiercer.'"
Like "One Man's Trash," the episode functions as a kind of one-act play, removed from the typical context of the show but informed by it (it also shares the same director, Richard Shepard). But it displays, too, some of Hannah's more intriguing contradictions: her rudeness coupled with her odd sense of propriety, her surprising strength with her terrible decision-making. And it's enormously striking from a visual perspective, setting up shots of Palmer's apartment that look almost like optical illusions and lingering on the art on his walls. In its final stretch of episodes, Girls still contains all the perfect details that have defined its world in the past—Shoshanna (Zosia Mamet) expounding on the limitations of Paul Krugman, Ray reading Hanya Yanagihara's A Little Life. But its ambitions, like Hannah's, seem to have benefited from realizing that the best stories have a deeper purpose than simple entertainment.