film
'The Salesman': Will Academy Members Give it an Oscar To Protest Trump?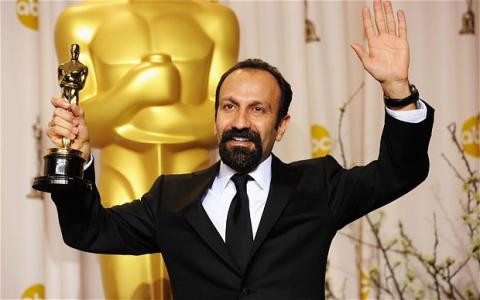 Asghar Farhadi at the Academy Awards in 2012., Indiewire.com
As voters hover over their ballots, which are due February 21, the Best Foreign-Language Feature category presents a dilemma that's unique to this year. Traditionally, many don't vote in this category unless they've seen all the films. While the Academy sends links as well as screeners for all five nominees, it's an honor system.
No one's asking them to do anything differently now, but this year they may have a different reason to vote. Three out of the five documentary short Oscars focus on fallout from the Syrian conflict, as does documentary feature"Fire at Sea."
Iranian director Asghar Farhadi, who won an Oscar in 2012 for "A Separation" and whose second Oscar-nominated film, "The Salesman" (Cohen Media), is playing on more than 65 screens and could pass the $1 million mark this weekend, grabbed a lot of press when he canceled his plans to attend the February 26th Oscars ceremony following President Donald Trump's 90-day visa ban for citizens from seven Muslim countries, including Iran. (Farhadi's full statement is below.)
I regret to announce via this statement that I have decided to not attend the Academy Awards Ceremony alongside my fellow members of the cinematic community.
Over the course of the past few days and despite the unjust circumstances which have risen for the immigrants and travelers of several countries to the United States, my decision had remained the same: to attend this ceremony and to express my opinions about these circumstances in the press surrounding the event. I neither had the intention to not attend nor did I want to boycott the event as a show of objection, for I know that many in the American film industry and the Academy of Motion Picture Arts and Sciences are opposed to the fanaticism and extremism which are today taking place more than ever. Just as I had stated to my distributor in the United States on the day the nominees were announced, that I would be attending this ceremony along with my cinematographer, I continued to believe that I would be present at this great cultural event.
However, it now seems that the possibility of this presence is being accompanied by ifs and buts which are in no way acceptable to me even if exceptions were to be made for my trip. I would therefore like to convey via this statement what I would have expressed to the press were I to travel to the United States. Hard-liners, despite their nationalities, political arguments and wars, regard and understand the world in very much the same way. In order to understand the world, they have no choice but to regard it via an "us and them" mentality, which they use to create a fearful image of "them" and inflict fear in the people of their own countries.
This is not just limited to the United States; in my country hardliners are the same. For years on both sides of the ocean, groups of hardliners have tried to present to their people unrealistic and fearful images of various nations and cultures in order to turn their differences into disagreements, their disagreements into enmities and their enmities into fears. Instilling fear in the people is an important tool used to justify extremist and fanatic behavior by narrow-minded individuals.
However, I believe that the similarities among the human beings on this earth and its various lands, and among its cultures and its faiths, far outweigh their differences. I believe that the root cause of many of the hostilities among nations in the world today must be searched for in their reciprocal humiliation carried out in its past and no doubt the current humiliation of other nations are the seeds of tomorrow's hostilities. To humiliate one nation with the pretext of guarding the security of another is not a new phenomenon in history and has always laid the groundwork for the creation of future divide and enmity. I hereby express my condemnation of the unjust conditions forced upon some of my compatriots and the citizens of the other six countries trying to legally enter the United States of America and hope that the current situation will not give rise to further divide between nations.
Asghar Farhadi, Iran
Trump's order has since been blocked by the courts, although Trump has said he will issue a new one. In the meantime, this mess has disrupted Oscar travel for many people. Taraneh Alidoosti, Iranian star of the "The Salesman," tweeted in protest of the new policy, writing that "Trump's visa ban for Iranians is racist" and that she would not be attending the Oscars.
Now that the travel ban is blocked, many Muslim attendees are now getting visas to attend the Oscars after all. Flying to Los Angeles are Raed Saleh and Khaled Katib, members of the Syrian rescue squad featured in Netflix's documentary short "The White Helmets," as well as Iranian-born Bahar Pars, who stars in Swedish nominee "A Man Called Ove," and Syrian Hala Kamil from documentary short "Watani: My Homeland," among others.
This week, London's mayor announced a free Oscar-night screening of "The Salesman" in Trafalgar Square in protest of the travel ban. "The gathering of audiences around 'The Salesman' in this famous London square," Farhadi responded, "is a symbol of unity against the division and separation of people."
Farhadi is still not attending the Oscars, although he communicated with his four fellow foreign directors — Maren Ade of "Toni Erdmann," Hannes Holm of "A Man Called Ove," Martin Zandvliet of "Land of Mine" and Bentley Dean and Martin Butler of "Tanna" — before and after the Academy nominee lunch. They talked about how to make some kind of united statement on Oscar night.
One precedent is what Michael Moore did when he won the Oscar for "Bowling for Columbine" in 2003. He brought his fellow documentary nominees up on stage to cheers, followed by jeers when he stated, "We like nonfiction, and we live in fictitious times. We live in the time where we have fictitious election results that elects a fictitious president. We live in a time with a man who sends us to war with fictitious reasons."
By staying away from the Oscar campaign trail, Farhardi's political stance has yielded significant media coverage for "The Salesman," and what some consider to be an unfair advantage: His film is the one everyone's talking about. Director Rod Lurie tweeted:
"It seems unfair for someone to write that a vote for Asghar is a vote against Trump," Sony Pictures Classics' Tom Bernard told Deadline. Needless to say, Bernard is concerned about getting votes for his two contenders, "Toni Erdmann" and "Land of Mine."
Politics aside, "The Salesman" has done well in its own right with critics and audiences, winning the Best Actor and Screenplay prizes at Cannes. Cohen Media has refrained from taking out Oscar ads like the ones created by Harvey Weinstein with statements from prominent figures like Madeline Albright, in support of "Lion."
CEO Charles Cohen, who released Oscar nominees "Mustang" and "Timbuktu," made the deliberate decision to send screeners to all Academy voters before Thanksgiving, he told IndieWire. "We wanted people to see this film, we support the film and the director, and we think a lot of people have seen this film, and for whatever reason have responded well, irrespective of any controversy after its release."
Bernard's criticism "smacks of a desperate attempt to try to justify something that doesn't have a basis in fact," Cohen said. "The Academy is made up of people who take their voting very seriously, who respect art for what it is … They still have the right to vote the way they see fit. We have been conspicuously silent in support of the film; we want the film to stand on its own merits. Academy members would not vote for a film that they did not see or respond well to, nor would they vote strictly for politics while not giving the art of it a fair chance. What we all responded to is that artists should be free to express themselves, free to travel, and represent the work they worked hard for, in whatever country or award ceremony. The film is what should be judged, not a travel ban."
It's hard to measure how far the tides of the times have moved toward Farhadi's film, perhaps driving more people to watch it, and how much voters will be inspired to send a message to Trump. This happens every year. The zeitgeist is a powerful force, as Oscar votes often reflect how the Academy wants Hollywood to be viewed by the rest of the world. And this year is no exception.
[Anne Thompson  - Born and raised in New York, Anne Thompson has been a contributor to the New York Times, Washington Post, The Observer, and Wired. She has served as film columnist at Variety, and deputy editor of Variety.com, where her daily blog, Thompson on Hollywood, launched in March 2007. Anne was the Deputy Film Editor at The Hollywood Reporter, the West Coast Editor of Premiere, a Senior Writer at Entertainment Weekly, and West Coast Editor for Film Comment. She wrote the film industry column "Risky Business" for L.A. Weekly and the Los Angeles Times syndicate. A graduate of the Department of Cinema Studies at New York University, she has taught film criticism at USC and hosts the fall semester of "Sneak Previews" for UCLA Extension.]