labor
Paid Family Leave and Child Care Could Erase Motherhood Wage Penalty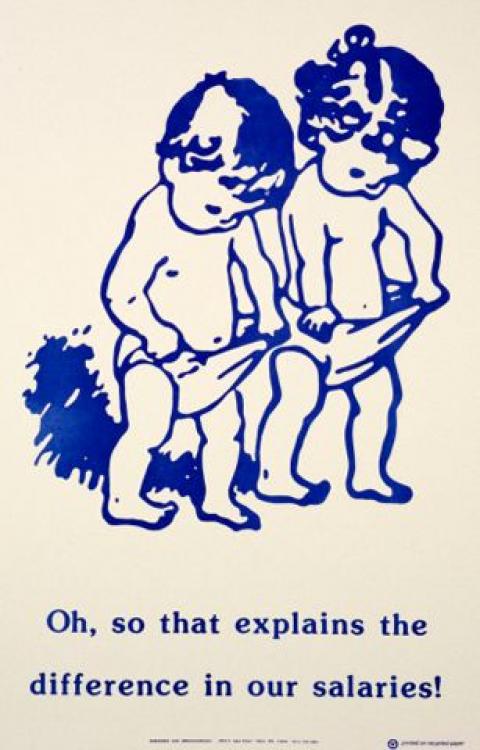 In 1990, American women earned 71.6 cents for every dollar earned by men.
Twenty-seven years later, that figure still holds true – for some women. In 2017, mothers earn just 71 cents for every dollar earned by fathers.
The wage gap between men and women in the U.S. shrunk drastically in the 1980s and early 1990s, as women joined the workforce in increasing numbers and earned degrees at higher rates, but the gap has remained relatively stagnant since the mid- to late 1990s. There's one major detriment to financial equality that women can't seem to shake: motherhood.
Or rather, how the American workplace approaches motherhood. When women become mothers, they tend to suffer financially, whereas men typically receive a boost in wages. It's a double standard known as the motherhood penalty and fatherhood bonus.
"If you look at the gender gap among childless and never married people, there is none, or women even have a slight edge on men," says Michelle Budig, a University of Massachusetts Amherst sociology professor who has been studying the motherhood penalty for about two decades. "It's when the family formation starts that we see these things start to emerge."
To close the gender gap, research shows, new parents need support from employers and policymakers alike, including paid family leave and affordable child care. Politicians agree on the need for family leave, but not on the terms of paying for it.
Gender equality in the workplace is a key measure in U.S. News' Best States rankings for gender parity, which take into account the labor force participation rate, unpaid care work and the types of jobs women hold. Maine places first in this measure, Alaska last.
Women are the sole or primary source of income in 40 percent of households with children, according to 2013 data from the Pew Research Center, and about 71 percent of mothers with children under 18 work, according to a 2015 Bureau of Labor Statistics report.
Mothers earn less than fathers in every U.S. state – and mothers fare the worst in Utah, earning just 58 cents for every dollar fathers make. That amounts to about $25,000 less annually, according to a report from the National Women's Law Center.
The motherhood penalty is also higher for low-wage workers, while mothers in the top-10 percent of earners incur no wage penalty, Budig explained in a 2014 report. Emily Martin, NWLC's vice president for workplace justice, says the motherhood income gap is higher in states where women are overrepresented in low-wage jobs, such as Louisiana, the No. 48 state for gender parity, where mothers earn $24,000 less than fathers annually.
"In some states low wage jobs are just more female," Martin says. "And that could be based both on the types of jobs that a particular state has, as well as based on what other available opportunities are there. So if a lot of the higher paying jobs in a state are in occupations that traditionally have not employed many women, that can lead to bigger wage gaps."
The gap widens for women of color: African-American mothers make 51 cents, Native American mothers earn 49 cents and Hispanic mothers collect just 46 cents for every dollar paid to white, non-Hispanic fathers, according to the NWLC.
There are several factors that could cause the wage gap between mothers and fathers, Budig says: taking time off to care for children, trading higher wages for more flexible jobs, distraction or exhaustion at work because of child care responsibilities, employer discrimination against mothers and preferential treatment toward fathers or that lower-income women are more likely to become mothers.
The notion of fathers as breadwinners and mothers as caregivers is pervasive among employers, according to experimental research from Shelley Correll, a Stanford University sociology professor and gender researcher. In her study, employers rated fathers as the most desirable employees, followed by childless women, childless men and finally mothers. Among men with otherwise equivalent resumes, fathers were more likely to be called about a job and to receive a higher wage offer than childless men.
Employers may view fathers as more committed, stable or mature, Correll found, while employers hold mothers to harsher standards. In the study, mothers who were highly successful in their careers were also viewed as less likeable, less warm and more hostile than non-mothers.
"Those stereotypes have a real impact," Martin says. "They impact employers' pay decisions. Data shows that employers are more likely to recommend lower salaries for mothers than for women without children and for [childless] men and fathers."
Sometimes employers' negative stereotypes of working mothers are blatantly voiced, but more often than not they are subconscious, Martin says. Employers are also likely to grab hold of information that confirms their stereotypes, such as judging mothers who occasionally need to leave work early as less committed, but not holding fathers to the same standard.
"As humans, we often are not quite aware of the shortcuts our brains are taking, and there definitely are a lot of unconscious stereotypes that influence employment decisions: Who to hire, how much to pay, how to evaluate worker performance," she says.
In another study, Budig found that in countries where paid paternity leave is longer, the motherhood penalty is smaller. But the two factors Budig found that significantly narrow the motherhood penalty are access to high quality, publicly funded child care and paid parental leave.
The Family and Medical Leave Act of 1993 requires employers to allow full-time workers 12 weeks off for childbirth or serious family illness. (Former President Bill Clinton says that, to date, he has received more thanks for enacting this legislation than any other.) However, the law does not mandate that leave be paid, and just 12 percent of U.S. workers have access to paid leave, according to a 2015 report from the Department of Labor.
 A majority of Americans over 40 support paid leave to care for family. Highly visible executives, like Zuckerberg, have spoken out in favor of paid family leave laws. He announced with a status update on Facebook that he was taking two months of parental leave to help care for his new daughter. Facebook offers 16 weeks of paid leave to new mothers and fathers. Paid Family Leave on the Rise In California, New Jersey and Rhode Island, paid leave is available to new parents through state insurance funds. Similar laws will go into effect in New York and Washington, D.C., in 2018 and 2020, respectively.
In the ninth-ranked state for gender parity, California, higher-earning new mothers and fathers were more likely to remain in the labor market after taking leave than new parents in a lower income bracket, according to a report on the economic and social impacts of the state's paid family leave program. Among parents who were still in the workforce one year after taking leave, however, both groups were more likely to remain at their original workplace than to switch employers.
The study also found that employees who took leave to bond with a newborn or care for a sick family member did not increase wage costs for employers – the average firm actually has a lower worker wage bill and turnover rate today than it did before California introduced paid family leave in 2004.
Similar positive outcomes were found in New Jersey and Rhode Island, tied for 18th for gender parity: New parents reported more wage increases and better health after their paid time off in both states. All three states also rank in the top 10 for public health and the top half of states for economy.
The issue of paid family leave has received increasing national attention in recent years from Republicans and Democrats alike. With the guidance of his daughter, Ivanka, President Donald Trump was the first Republican presidential nominee to roll out a paid maternity leave plan as part of his campaign platform.
"American families need relief," Ivanka Trump said at the Republican National Convention in Cleveland in July. "Policies that allow women with children to thrive should not be novelties, they should be the norm."
In September, Trump proposed a plan that would allow all new mothers six weeks of paid leave through unemployment insurance if they do not already receive paid time off from their employers. More recently, though, the administration has considered expanding the program to include both new mothers and fathers alike, an unusual move for Republicans.
Both Republicans and Democrats introduced legislation this year tackling paid family leave, though their approaches are vastly different. The Republican bill, known as the Strong Families Act, would create a tax incentive for businesses to offer two weeks annual paid family leave.
The Democratic plan would grant workers up to 66 percent of their wages for up to 12 weeks after childbirth, severe personal injury or a medical emergency in the family. The FAMILY Act would be paid for by employee payroll taxes of about $1.61 per week, as well as employer contributions.
"My administration wants to work with members in both parties to make child care accessible and affordable, to help ensure new parents have paid family leave, to invest in women's health, and to promote clean air and clear water," Trump said at his first address to a joint session of Congress in February.
However, critics say his child care plan, introduced in February, will disproportionately benefit the wealthy. The after-tax income increase for families earning less than $40,000 would be on average 0.1 percent – $20 or less. Meanwhile, 70 percent of the benefits would go to families earning $100,000 or more annually, and 25 percent would go to those earning at least $200,000, according to the independent Tax Policy Center. The median household income in the U.S. was $55,775 in 2015.
Nor does the president's first installment on a proposed 2018 budget mention paid family leave, and the plan falls short when it comes to protecting low-income mothers and children, with substantial cuts to the Department of Health and Human Services and the Department of Agriculture's Special Supplemental Nutrition Program for Women, Infants, and Children (WIC). The White House's full budget proposal is expected mid-May.
Sen. Bernie Sanders, the Vermont independent who ran for president last year, called the U.S. lack of mandated paid family leave an "international disgrace" in March. He said during his campaign for the Democratic nomination that he would sign the FAMILY Act into law if elected.
"What kind of society are we when we tell a woman she cannot love and nurse and be with her baby because she has to get back to work immediately in order to earn enough income to take care of her family?" Sanders asked in March.
Indeed, the U.S. is the only developed nation that does not designate formal paid leave for new mothers. In Sweden, for example, new mothers can take 14 weeks of maternity leave and receive 80 percent of their previous earnings, while in Bulgaria new mothers can pocket 90 percent of their pay for 32 weeks after childbirth.
The length of parental leave matters, Budig says. The motherhood penalty is the highest in some of the countries with the most generous paid leave models, such as Germany and Austria, where women take compulsory paid leave around the birth of a child. The ideal length of paid leave seems to be around one year, according to Budig's research.
"Not having leave forces women to step out of the workforce or leave their employer if they want to take any time with kids, and then when they re-enter they can't catch up," she says. "But I think having excessively long leaves makes them lose human capital."
A fear of falling behind could contribute to why women are working longer into their pregnancies and going back to work sooner after childbirth than they did in the past. In the mid-1980s, fewer than 40 percent of new mothers returned to work within four months of giving birth. Today that figure is more than half.
Instituting paid family leave won't be enough to close the motherhood wage gap, Budig says. While high-earning women – who often incur little to no motherhood penalty – can afford quality child care, low-income and disadvantaged mothers don't have that luxury. High quality, publicly funded child care, particularly for children under the age of 2, could alleviate some of that burden, according to Budig's research.
"Low-income women often have to rely on really fragile networks of kin care and family day care providers, where things fall through," Budig says. "Usually their solution to that is to quit their job and then start again because they're at such low wages that it doesn't matter if they quit McDonald's and start Walmart."
Until policymakers can come to an agreement on paid family leave and child care, it is unlikely the motherhood wage gap will ever fully erode. Still, Martin says the shifting perceptions around working parents in recent years are encouraging.
"There is a lot of work left to do, but for example, we are definitely seeing changes in public attitudes and in policymaker attitudes around … ensuring that paid family leave is guaranteed to workers," she says. "We're not there yet, but we have made tremendous progress as a country in moving forward in that conversation."