May Day: A Day Without Immigrants - Strike! Hundreds Of Thousands Of Workers Will Strike May 1, Organizers Say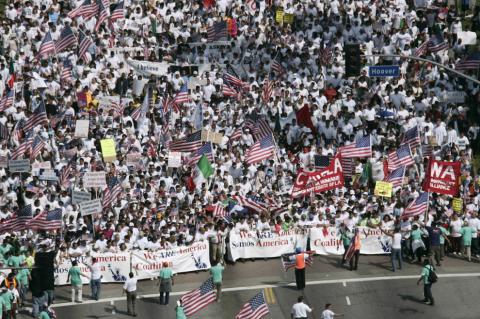 Thousands of demonstrators in support of immigration reform march along Wilshire Boulevard in Los Angeles on May 1, 2006 for the "Day Without Immigrants." ,Gene Blevins / Reuters // BuzzFeed News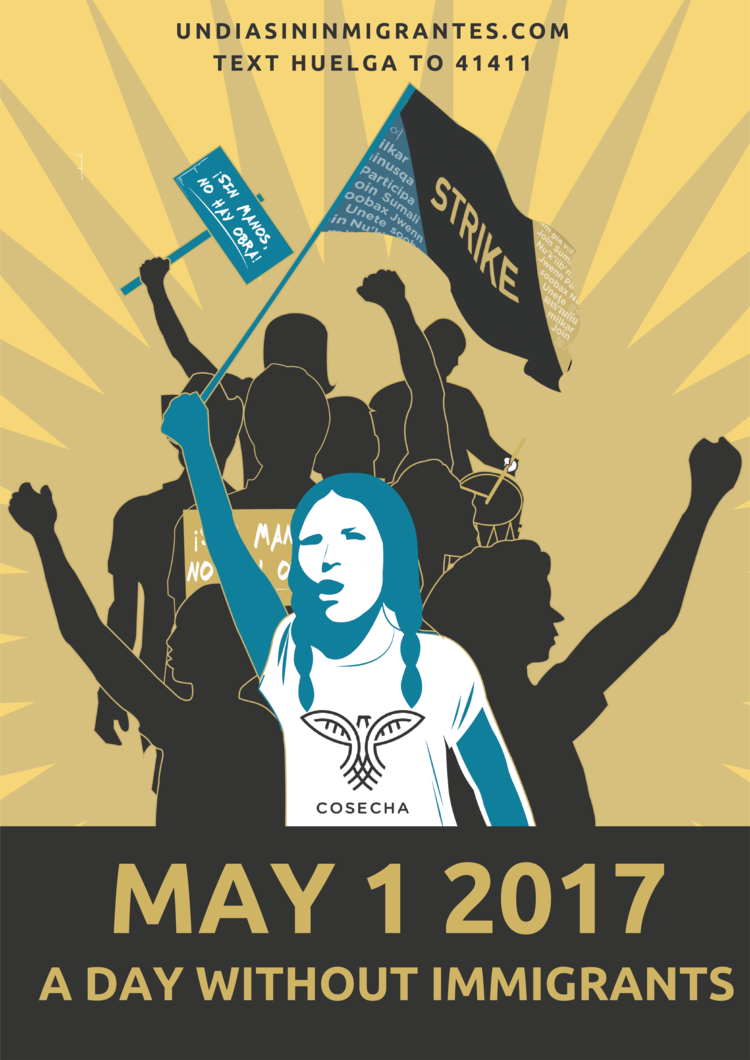 Cosecha is a nonviolent movement activating the migrant community and the public at large to fight for permanent protection, dignity, and respect for all immigrants in the United States. Developed by organizers who watched immigration reform stall in Congress for over a decade, Cosecha is taking a new approach. We believe that in order to win real protection for our communities, we need to mobilize millions of active supporters—by polarizing the American people to take an active stance on immigration issues.
Our work honors and draws from the legacy of other social movements in this country. We are students of the thousands of farmworkers who, under the leadership of Dolores Huerta, Larry Itliong and Cesar Chavez, fought back against labor exploitation. We have learned from the millions of African Americans who challenged the racism of Jim Crow and fueled the Civil Rights Movement. Building on this tradition, Cosecha views non-cooperation as our best tactic for building popular support and securing real victories for the 11 million undocumented immigrants in the U.S. 
Time and time again our community is called upon to vote for the next Deporter-in-Chief, whether Obama or Trump, who will shape immigration policy for the next four to eight years. Each election, we're promised that if we vote for the Democrats, they will give us immigration reform. When their promises go unfulfilled--when Obama deports 3 million immigrants or when Trump expands his power to deport and terrorize our communities--what do we do? We strike.
Long enough have we voted, marched in DC, and gone to court to protect the morsels of protection that we have; longer still have we endured pain as our communities are exploited, unrecognized, shamed, and torn apart.
Let's be clear. We are not striking to make the Republicans like us or to pass legislation that is in our favor. We are not striking because we want to remove Trump's oppressive executive orders. We are striking because our fight is not in DC--it's in every home, business, and industry that takes advantage of our labor and consumption. By striking, we make it clear that this country cannot function without immigrants. We build confidence that through non-cooperation, we can force this country to recognize us and realize that it depends on us. It is not until the United States accepts that it cannot sustain itself without immigrant labor that we will be able to win permanent protection, dignity, and respect.
On February 16th, the immigrant community demonstrated their readiness and willingness to self-organize. The first Day Without Immigrants made waves all over the media. Now, Cosecha is pushing to organize a series of intensifying strikes.
We will start with one day, but we are going for seven--a week without immigrants. We will end with dignity, respect, and permanent protection.
We are fighting for a new day of justice, reconciliation and unity for our immigrant communities. Cosecha's demands are permanent protection, dignity, and respect for the migrant community in this country.
What does permanent protection mean?
When we say permanent protection, we envision a change in the treatment of immigrants in this country. We visualize a future where immigrants are able to work and travel freely without the risk or fear of deportation. A future where we can walk the streets of this country with the recognition that we are a part of it. A future where we are not treated as outsiders, where our communities are not criminalized, and where we don't have to abide by the narrative of a model immigrant.
How will workers be protected?
We want to make sure workers that go on strike are protected. This takes continuous preparation and communication and an understanding that you are not striking alone. Cosecha is organizing an extensive network of legal support that can respond to unfair repercussions of striking. Workers will be protected through a strike fund that will help workers meet their essential needs during the strike. Cosecha will also provide necessary information in preparation of the strike so workers know their rights.
Is this strike for immigrants only?
By Cora Lewis
March 18, 2017
Almost 350,000 service workers plan to strike on May 1, a traditional day for labor activism across the world, in the most direct attempt yet by organized labor to capture the energy from a resurgent wave of activism across the country since the election of Donald Trump.
Tens of thousands of members of a powerful California branch of the Service Employees International Union will participate in the strike, according to David Huerta, the president of the chapter.
Huerta's union chapter represents tens of thousands of workers, including janitors, security officers and airport staff, while the Food Chain Workers Alliance, which represents workers throughout the food industry, says hundreds of thousands of its non-unionized members have committed to striking.
"There are workers in this area that voted for Donald Trump," Fuentes said, citing abortion as the decisive issue for many. "But what they are seeing is not what they were expecting to happen with this administration. They're seeing freedom of religion under threat, immigration under threat, and they've expressed regret for voting for him."
Fuentes said he has never seen workers express a desire to go on strike in his ten years of organizing, but on May Day, the majority of workers at the local Smithfield meat processing plant have pledged not to go into work, shutting down operations. They also plan to keep their children home from school and not to shop, he said.
"That was the largest national rising in many, many decades," said Daniel Gross, founder and executive director of Brandworkers, which organizes food manufacturing workers. "For those of us who were fortunate enough to be involved, we'll tell you, it was a strike. That 2006 momentum has not yet been duplicated on May 1 to date."
Striking is "a legal term for them, and it isn't for us," she said. "It's not part of collective bargaining agreements that our members can or cannot strike, so it's not the same. Since it's a legal situation in a contract [for unionized workers,] under the purview of the National Labor Relations Act, they're definitely warier."
That wariness means no national union has yet called on its workers to join a general strike, even though plenty of their ground-level leaders are actively involved in the upcoming protests.
"This is a strike from below, from the bottom of the economy," Gross said of the May 1 action.
The same migrant and immigrant constituency that struck eleven years ago will mobilize this year, joined by the Black Lives Matter movement, native sovereignty rights groups, and organizations Voces de La Frontera and Movimiento Cosecha.
SEIU-USWW's Huerta acknowledged that "there's always been tension between institutions and movements."
"Although we are part of an institution, we see ourselves as part of a movement," he said. "The question is, 'How do we use our institutional power to move the movement?'"
But Jayaraman dismissed the idea of 'protest fatigue' among her membership, which has turned out in high numbers for marches and strikes numerous times in recent months.
"If I see fatigue," she said, "it's among organizers who are trying to keep up with the workers."
Millions of immigrants, both documented and undocumented, who lead hard working and productive lives, are also union members.
Donald Trump launched his political campaign in 2015 with a racist attack on Mexican immigrants, painting them as rapists and murderers. He made attacks on our Muslim sisters and brothers his political trademark -- even going so far as to propose a religious test for immigration. This kind of race baiting and immigrant bashing has a long history in our country – a consistent attempt by business elites to divide working class people in order to advance their pro-corporate agenda.
As leaders of the unions who supported Bernie Sanders for president, we refuse to go down that road of hatred, resentment and divisiveness. We will march and stand with our sister and brother immigrant workers against the terror tactics of the Trump administration.
We are a nation of immigrants. Every generation and every race and ethnic group has seen attempts to divide the working class based on race and ethnic origin. Together we say NO to the politics of division! We call on Trump and his supporters to end the attacks on immigrant workers!
On May 1, 2017 millions of immigrant workers will engage in public resistance to the Trump administration. In some places that resistance will include labor strikes and boycotts. Millions
will march in cities and towns all across the country. We pledge to support these protests and will urge our organizations' leaders and members to participate in whatever way we can.
In Solidarity,
We face a moment of great uncertainty. Elements of the social safety net and basic rights provisions are being rescinded and amended more swiftly than they can be challenged through traditional legal and legislative interventions. Millions of immigrants live under daily threat of separation from their families and communities by intensified ICE raids.
Many of the attacks we face directly affect the university. The arts, humanities, and sciences face not only funding cuts but an assault on the concept of free inquiry itself. Climate change data is being removed from the public domain, university budgets are being held hostage by state governments and the threat of political retaliation by the federal government, white supremacists have been emboldened to commit hate crimes on our campuses, and basic facts have diminishing import in the national debate.
May Day 2017 will be a day of struggle against the Trump administration and the structural conditions under which it originated. A day in which workers across the country, waged and unwaged, will strike, march, rally, boycott, and make our voices heard against the sexism, racism, xenophobia, and homophobia of this administration and against the global system of production that makes it possible. This charge will be led by immigrant workers, hundreds of thousands of whom have already pledged to strike, with several hundreds of thousands more expected, in what could be one of the largest strikes in US history.
We call on the academic community to live up to the promise of higher learning by halting business as usual on May Day as an act of solidarity. 
While the nation's workforce pauses to engage in a day of action, universities must pause as well; for staff, adjuncts and student workers on our campuses know well the severity of neoliberal policies and the precarization of work conditions, while students are already facing the terror of ICE raids.
We call on universities nationwide to engage in a moratorium on university operations this May Day so that students, staff, and faculty—domestic and international, documented and undocumented—can engage in a day of demonstrations and teach-ins in solidarity with A Day Without Immigrants. We call on university administrators and faculty to cancel classes, close offices, and postpone maintenance to demonstrate our solidarity with immigrant workers and our support for thoughtful strategies of resistance.
And as members of the university community as a whole, we pledge to take action to defend all those who face retaliation for their participation in the moratorium and other May Day strike actions.
Amanda Armstrong (University of Michigan and International Women's Strike (IWS))
Cinzia Arruzza (The New School and IWS)
Tithi Bhattacharya (Purdue University and IWS) 
Zillah Eisenstein (Ithaca College and IWS)
Nancy Fraser (New School for Social Research and IWS)
Kate Doyle Griffiths (CUNY and IWS)
Keeanga-Yamahtta Taylor (Princeton University and IWS) 
Susana Draper (Princeton University and IWS)
Aaron Jaffe (Juilliard and IWS) 
Natalia Brizuela (Berkeley University) 
Conall Cash (Cornell University)
Simon Critchley (New School for Social Research) 
Jodi Dean (Hobart and William Smith College) 
Liza Featherstone (Brooklyn College)
Erik M. Fink (Elon Law School Greensboro, NC) 
Kevin Floyd (Kent State University)
Nancy Holmstrom (Rutgers University, emerita)
Christopher Isett (University of Minnesota) 
Aaron Jakes (New School for Social Research) 
Bill V. Mullen (Purdue University)
Charles Post (CUNY)
Catherine V. Scott (Agnes Scott College) 
Eva Soto Perelló (Portland State University)
Cornel West (Union Theological Seminary and emeritus from Princeton University)