Inmate Freed from Jail after Judge Throws out Double Murder Conviction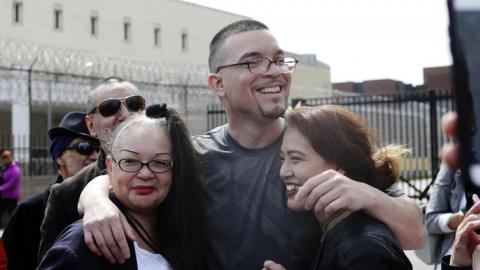 Roberto Almodovar hugs his mother, Angela Navarro, left, and his daughter, Jasmyne, after being released April 14, 2017, from custody after more than 20 years in prison at Cook County Jail in Chicago., Kristen Norman / Chicago Tribune
Jasmyn Almodovar walked up an empty driveway at the Cook County Jail on Friday afternoon, taking small, halting steps.
Her father's double murder conviction in 1995 had kept him behind bars almost her entire life.
But a Cook County judge on Friday tossed out Roberto Almodovar's conviction after a stunning about-face by prosecutors.
So 23-year-old Jasmyn stood alone at the jail's gate with her hands in her pockets, hoping to watch her father walk out a free man.
Just before 2 p.m., he came into view. Jasmyn ran straight toward him.
"It felt like I was in a movie or in a dream," she said later.
Her father picked her up for a long embrace as their friends and family cheered.
"I knew I was going to beat this case," he said. "I just didn't know when."
Almodovar and co-defendant William Negron were convicted in 1995 of a double homicide from the year before. The case against them rested on eyewitness reports obtained in part by now-retired Chicago police Detective Reynaldo Guevara, who since has come under fire over allegations he coerced witnesses and framed innocent people in dozens of investigations.
Attorneys for the two men argued for years that their clients deserved a new trial, an effort that culminated in heated closing arguments Monday afternoon. But In a dramatic reversal just two days later, the office of State's Attorney Kim Foxx, who was elected on a reform plank in November, announced it no longer was "in the best interests of justice" to proceed with the case.
Negron will remain imprisoned on a separate murder conviction that also dates to the 1990s, his attorney stated.
In dismissing both men's convictions, Judge James Linn said he was "stunned" by the prosecution decision to abandon the case.Guevara,
"I'd never seen anything like this," the longtime judge said before tossing their convictions.
No physical evidence linked Almodovar to the 1994 double homicide, according to an investigation led by former U.S. Attorney Scott Lassar, who found it "more likely than not" that Almodovar was in fact innocent of the murders.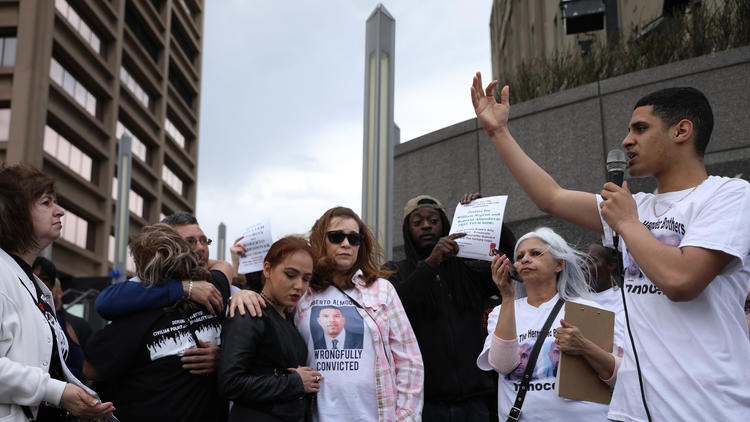 A rally for Roberto Almodovar and William Negron, who say they were framed by Chicago police, outside the Leighton Criminal Court Building on April 10, 2017.
(E. Jason Wambsgans / Chicago Tribune)
Jennifer Bonjean, Almodovar's attorney, condemned what she called "a system that allows wrongful convictions to happen and then get covered up."
About two dozen family members and supporters waited in the sun outside the jail on Friday afternoon to witness Almodovar's release.
Mary Rodriguez, Almodovar's aunt, had brought him new clothes and shoes to wear.
"He told me, 'Don't you give me white gym shoes,'" she said. "That's all they could wear (in prison)."
Almodovar walked out in blue patterned sneakers, wearing glasses with his hair gray, a stark contrast to the old photo of him printed on the shirts worn by many of his supporters.
Among the supporters outside the jail was Armando Serrano, 44, who spent 23 years behind bars on a conviction also tied to Guevara.
Charges were dropped against him and co-defendant Jose Montanez last year at the request of the state's attorney's office, then headed by Anita Alvarez.
"There's a horrible thing happening in that building right there," Serrano said, pointing to the Leighton Criminal Court Building behind him. "Innocent people, lost in the system."
Life outside has been a difficult adjustment, he said, and he wanted to support Almodovar's family.
"Take it easy, enjoy family," he said when asked his advice for Almodovar. "Don't lose sight of the people that have been with you."
Guevara has been under increased scrutiny as more people have come forward to accuse him of coercing witnesses and abusing suspects. In recent years, he has repeatedly invoked his Fifth Amendment right against self-incrimination.
In 2009, Juan Johnson was awarded $21 million in damages after serving more than 11 years on a murder conviction that was overturned after a 2004 retrial. Witnesses at the retrial said Guevara had bullied them into saying Johnson was the killer.
Serrano and Montanez were convicted on the testimony of a witness facing four felony charges. He recanted in 2004, claiming Guevara had fed him the story.
The dismissal of charges in Almodovar and Negron's case gave hope to other families whose loved ones were convicted on the strength of Guevara's investigation, said Esther Hernandez, who alleges that Guevara framed her sons, Juan and Rosendo, in a 1997 slaying.
The allegations against Guevara constitute a pattern of intimidation and coercion, attorneys for Almodovar and Negron had argued in their bid for a new trial.
Almodovar, who will turn 42 later this month and has asked his mom for a turkey dinner and his favorite cake, said he plans to spend time with family and maybe go to school to learn a trade.
He also needs to learn how to use a cellphone: "I'm new to everything," he said.
And he made a promise to daughter Jasmyn to teach her how to ride a bike, even if she already knows.
"The thing is, I kind of don't (know), so it's perfect," Jasmyn said.