labor
Funding Agreement Protects Orphan Miner Health Care, But Doesn't Resolve Pension Issues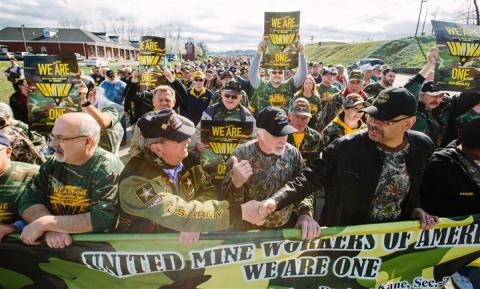 Thousands of mine workers and supporters march in Waynesburg, Pa., for a rally by the United Mine Workers of America on April 1, Andrew Rush/Post-Gazette
A new government funding agreement permanently protects thousands of retired miners' health care, but doesn't resolve pension shortfalls that also worry coal workers.
Legislative leaders have agreed to the provisions as part of a $1 trillion government funding bill, and rank-and-file members are expected to approve it later this week.
More than 22,600 'orphan' retirees whose employers closed or declared bankruptcy will lose health benefits imminently if Congress doesn't intervene as expected.
"For thousands of coal miners who suffer from black lung, as my father did, this funding for health care is as important as a breath of fresh air," said AFL-CIO President Richard Trumka.
Leaders of United Mine Workers of America called the long sought agreement "tremendous" news that will bring peace of mind to retired miners and their families.
Paul Rebar, 70, of Belle Vernon is among 2,000 retired Pennsylvania miners who will benefit.
"This means a lot. Me and my wife don't have to worry about health care now. I worked 40 years and all my life they told me we're going to have health care until I die and then she'll have it until she dies, but after all these bankruptcies and everything they pulled the rug out from under us," said Mr. Rebar.
Between 1971 and 2011 he worked in four different mines. One closed after a fire. Others changed hands numerous times as companies went out of business or declared bankruptcy, but all the while Mr. Rebar kept working.
"Forty years of coal mining takes a toll on you. I'm 70 now and my health isn't like it was," said Mr. Rebar who has one artificial knee and needs another. With guaranteed health insurance, that's an option now, he said.
U.S. Sen. Bob Casey, D-Pa., is among the lawmakers who pushed for the legislation.
"While securing permanent health benefits for our coal miners is a strong step in the right direction, I won't stop fighting until we've secured a pension fix as well," Mr. Casey said in a written statement.
Funding for the health benefits — $1.3 billion over 10 years — would come from customs fees collected on imports — and that's good news for miners, too, because it leaves other funding available for pensions if lawmakers can agree to fund them through, for example, the Abandoned Mine Reclamation Fund.
Some Republicans worry that providing federal money for miners' pensions will open the door to funding retirements of workers in other industries.
Mr. Rebar said he believes Congress will come to an agreement before long.
"It would have been better if they fixed the whole thing at once: health care and pensions. Easier for them and easier for us," he said. "But I'm confident it'll get fixed."
Democrats and coal-country Republicans say miners are uniquely deserving because of an agreement in 1946, when the government seized mines and ended a strike by agreeing to provide health and pension benefits.
"These miners worked hard, played by the rules, and were promised these health care benefits, which – without this agreement – they would lose," said U.S. Sen. Rob Portman, R-Ohio. "This bipartisan agreement gives them the health care benefits that they have earned, and peace of mind to their families."
Announced Monday, the agreement follows a series of short-term fixes.