Congress Is Drawing a 'Red Line' Over Trump's Support for the Saudi War on Yemen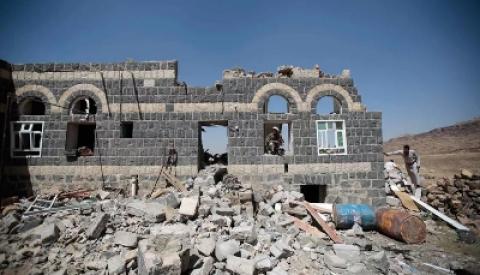 Forensic experts inspect the rubble of a house destroyed by a Saudi-led airstrikes in outskirts of Sanaa, Yemen, Thursday, February 16, 2017., AP Photo / Hani Mohammed // The Nation
The humanitarian crisis in Yemen grows more dire with each passing hour. On May 3, Norwegian Refugee Council Secretary General Jan Egeland, who had just returned from a fact-finding trip to Yemen,
wrote
, "The world is letting some 7 million men, women and children slowly but surely, be engulfed by unprecedented famine. It is not a drought that is at fault. This preventable catastrophe is man-made." 
Said Egeland, "The fear and desperation among civilians is now so great that mothers with acutely undernourished children grab their kids from hospital beds when they hear the war planes flying over."
Indeed, according to a
recent report
in
The Washington Post
, "Human rights activists have accused the Saudis of indiscriminate bombing in its campaign, saying it has killed thousands of civilians and reduced much of Yemen's vital infrastructure to rubble."  
Nevertheless, Defense Secretary James Mattis has proposed further US support for Saudi Arabia's savage war on Yemen.
The Post
recently
revealed
that Mattis has proposed direct US support for a Saudi-led assault on the Yemeni port of Hodeida.
The Post
also noted that during his recent trip to Saudi Arabia, the defense secretary had "hinted at direct U.S. military and intelligence support for the Saudi-led coalition, which is seeking to dislodge the Shiite-led Houthi rebels from Sanaa and other areas they control in Yemen." 
Opposition to administration plans to further assist in the wholesale destruction of Yemen is growing. 
But in Congress, opposition to administration plans to further assist Saudi Arabia in the wholesale destruction of Yemen is growing. California Democrat Barbara Lee told The Nation, "Instead of allowing the Trump administration to escalate its war without any Congressional oversight or specific authorization, Congress should be demanding an end to the immoral US arms sales to Saudi Arabia and pushing for a mediated, diplomatic, and humanitarian solution for the Yemeni people." 
Following up on an
April 10 letter
to President Trump, in which 55 House members demanded he "end, rather than increase, US logistical assistance for the Saudi-led bombings in Yemen," a bipartisan group of 16 House members led by Wisconsin Democrat Mark Pocan and Michigan Republican Justin Amash have now written to Defense Secretary Mattis to express their "concern that Pentagon officials continue to advance 'logistical and intelligence support' for a Saudi coalition attack on Hodeida."
"[Yemen] can't withstand a military offensive against the port that receives 70 percent of food imports." —Rep. Mark Pocan 
On Thursday, Congressman Pocan told The Nation, "Before the Saudi-led war, Yemen was already the poorest country in the region. After two years of indiscriminate bombings that have left thousands dead, and a crippling Saudi blockade that kills one Yemeni child every 10 minutes, the country simply can't withstand a military offensive against the port that receives 70 percent of Yemen's food imports." 
"In moments like this," continued Pocan, "it's essential that Congress assert its constitutional authority to oversee, debate, and declare war before the US becomes involved in a catastrophic military action overseas." Citing the horrific nature of the humanitarian crisis in Yemen, Pocan said he could "hardly think of anything worse than the US military participating alongside the Saudi military in destroying the lifeline to food for 7 million people already on the brink of starvation."  
In the letter the House members tell Mattis they "are deeply disturbed by the words of UN Secretary General António Guterres, who warned that in Yemen 'we are witnessing the starving and the crippling of an entire generation.'" And yet as children die in "the world's largest hunger crisis" he argued, "all those deaths could have been prevented."  
The letter concludes by warning that the signatories are "committed" to using their "Constitutional authority to assert greater oversight over US involvement in the conflict," and they threaten to "pursue legislation to explicitly prohibit US involvement in any such assault." 
This would seem to be no idle threat.
Pocan told The Nation that none of Trump's actions in Yemen have "been authorized by Congress, and yet the White House wants to ratchet up direct US military engagement." And so, in their push to prohibit US support for a Saudi-led assault on Hodeida, the House will "look to the precedents of the 204 members of the House who voted last year to block the transfer of cluster bombs to Saudi Arabia over its conduct in Yemen; or the 192 members of the House, Rep. Amash and myself included, who wrote to President Obama in August 2013 insisting that he come to Congress for authorization before bombing Syria."   
Speaking on condition of anonymity, one congressional source involved in the House effort to thwart Trump and Mattis's plans for Yemen told The Nation that "several staffers" are in the process of "preparing language with legislative counsel to use the War Powers Act of 1973 in order to introduce a privileged resolution to withdraw US forces from the Saudi-led war in Yemen, with Hodeida as a Congressional 'red line.'" 
The successful passage of such a resolution would represent a significant and welcome obstacle to the administration's plans to provide further support to Saudi Arabia's savage war on Yemen.