labor
AT&T Workers Start 3-Day Strike in Contract Impasse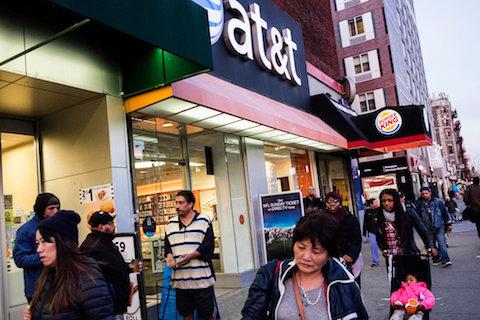 An AT&T Wireless store on Delancey Street in Manhattan. Just over half of the workers on strike work for the company's wireless business.,Christian Hansen
More than 35,000 AT&T workers began a weekend-long strike on Friday after their union accused the company of failing to make a fair proposal during contract negotiations.
Just over half of the employees work for the company's wireless business, primarily in call centers and retail stores, and have been without a long-term contract since February.

The union, the Communications Workers of America, complains that AT&T is sending call-center jobs overseas and diverting retail jobs to so-called authorized retailers not owned by the company and not unionized, and where wages and benefits are lower.
"At the end of the day, this is about good jobs," said Robert Master, a union official. "We are not engaged in a productive exchange here."
The union estimates that AT&T has cut 12,000 call-center jobs in the United States since 2011 while creating many such jobs overseas, but Mr. Master said the company had rebuffed a request for data that would clarify the extent of the practice and other changes to its work force.
Workers are also frustrated that they are being asked to pay more of their health-insurance costs, he added, and that changes in retail workers' commissions have limited or reduced their take-home pay. As part of its next contract, the union wants to bar AT&T from changing its commission structure unilaterally.
Marty Richter, an AT&T spokesman, said the company was offering the wireless workers wage and pension increases and called the willingness to strike "baffling." He said AT&T sales workers were well paid by industry standards, citing an average of over $68,000 in annual pay and benefits, roughly twice the figure for retail workers as a whole, according to PayScale, a company that tracks salary data.
Mr. Richter said that AT&T had successfully negotiated contracts covering nearly 130,000 workers since 2015, and that fewer than five of the company's more than 25,000 retail workers lost jobs last year because of store closings. The union said that some company stores had been converted to noncompany stores and that much of the recent growth in the retail work force had occurred at noncompany stores.
With over 200,000 employees in the United States, AT&T is the country's largest telecom company.
In addition to the call center and retail workers, the strikers include more than 15,000 employees on the company's wireline side — which includes landlines and internet service — as well as about 2,000 employees of DirecTV, which the company acquired in 2015. The wireline and DirecTV workers have been without a new contract for over a year and held a one-day strike in March. The two groups' contract negotiations are separate from those of the wireless workers.
As at most telecommunications companies, AT&T's wireless business is growing faster and is more profitable than its wireline side. One of its rivals, T-Mobile, is strictly wireless, which some analysts say gives it an advantage in a rapidly approaching future in which many customers will receive both phone and video service over wireless networks alone.
AT&T is also the only telecom company with a major union presence in its wireless business, a business that Mr. Richter said was "getting increasingly competitive as we battle with nonunion competitors." The company is awaiting Justice Department approval for its proposed acquisition of Time Warner.
Mr. Richter said AT&T was well prepared for a potential strike. The company has "a substantial contingency work force of well-trained managers and vendors in place," he said in an email, as well as the ability to reroute calls to unaffected call centers.
The union said workers planned to be back on their regular shifts Monday morning.