We Won't Always Have Paris - Withdrawing is a Crime Against Humanity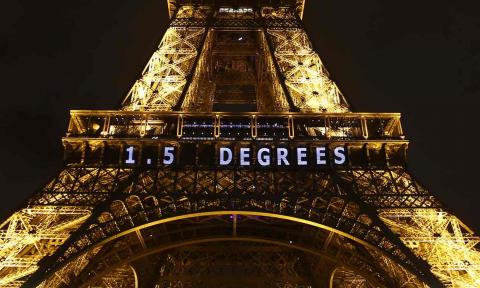 The Eiffel tower lit up during the Paris climate talks, referencing the 1.5C target that governments have agreed to pursue efforts to hold temperatures to., Photograph: Francois Mori/AP // Foreign Policy in Focus
Certainly, some important changes were beginning to take place in the years before Trump entered office. Officials in the Obama administration, who had always been slow to confront the crisis of climate change, were starting to acknowledge the seriousness of the problem.
Although many powerful people in the country continued to frame the issue as a debate, or even a hoax, officials in the Obama administration insisted that the so-called debate of the previous years was over.
By making no serious effort to wean the United States off of oil, the Obama administration ensured that the United States remained one of the leading producers of greenhouse gases. Even as administration officials continually boasted of their efforts to reverse the terrifying trends of global warming, they oversaw a dramatic increase in energy production, which they understood would have devastating consequences for the world.