tv
"Master of None" Returns With Class and Daring For Season Two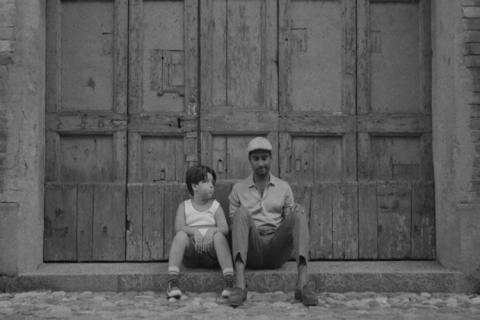 ,
By now, the idea of a comedian mining his or her life and act for sitcom material seems almost passé. Yet, Aziz Ansari continues to find new depths to explore when it comes to modern love, living in New York City and working as an Indian actor in the second season of his Netflix series Master of None.
Picking up where season one left off, Ansari's character Dev is living in Modena, Italy, studying the art of pasta-making with an older woman and her granddaughter Francesca (Alessandra Mastronardi), with whom Dev develops a strong connection, despite her committed relationship. Following his adventures in Italy with his friend Arnold (Eric Wareheim), Dev returns to his life in New York City where he is now the host of a baking competition series called "Clash of the Cupcakes," a job he doesn't find wholly fulfilling, but could lead to better opportunities from his celebrity chef producer Jeff Pastore (Bobby Cannavale). This is complicated when Francesca comes to visit New York on a number of occasions and Dev tries to reconcile whether he wants their relationship to be more than "just friends."
Ansari wears his influences on his sleeve throughout the season. The opening shot of the season shows a stack of Criterion Collection DVDs from the great Italian directors sitting on Dev's nightstand, opposite a nightstand covered in cookbooks. The season premiere is shot entirely in black-and-white and in the style of the classic Italian film Bicycle Thieves, while later episodes reference Federico Fellini's 8 ½ and Michelangelo Antonioni's L'Avventura. Ansari's real life retreat to Italy following the first season seems to have made a significant mark on the series.
Even so, many scenes showcase the rocky notion of modern dating and the beauty of New York City. Two of the season's best episodes, "First Date" and "I Love New York," do this while trying bold storytelling styles. "First Date" focuses on a number of dates Dev goes on using a Tinder-like app, and takes the audience through a typical first date with Dev and the slight variations that spring up between each of the women he goes out with. "I Love New York," on the other hand, hardly focuses on Dev at all, opting for the stories of a doorman, a deaf store clerk and a group of immigrant cab drivers who all live together. What's fascinating about these two episodes in particular is the way they get at how diverse New York City can be and how rarely that diversity is showcased. Dev's dates are from across all races and the principal characters of "I Love New York" are primarily minorities. These episodes paint a fuller picture of the city than shows that have come before like Girls, or even Louie.
Arguably the strongest episode of the season is "Thanksgiving," which explores the relationship between Dev and his friend Denise (Lena Waithe) as seen through Thanksgiving dinners with Denise's family over the years starting in 1997 and going all the way up to 2017. Directed by Melina Matsoukas, who is most notable for directing Beyoncé's Formation video, the episode gets at the intersection of queer identities and race and emphasizes a deeply ingrained sense of homophobia in the black community. The performances from Lena Waithe and Angela Bassett, who plays Denise's mother, are some of the best of the series.
As exuberant as I am about the standalone episodes of this season, I slowly soured on the later episodes focusing on the romantic arc between Dev and Francesca. This primarily stems from the fact that I didn't find Francesca to be nearly as interesting as Noël Wells' Rachel from season one. Francesca felt more like an exotic, unattainable prize for Dev instead of a fully defined character. Plus, I thought there was a certain level of poignancy to the Michael Clayton-esqe Uber ride that Dev takes where he reflects on his unrequited love while listening to Soft Cell's "Say Hello, Wave Goodbye." Along with a sexual harassment plotline shoehorned into the last episode, these aspects feel like the only stumbling blocks in an otherwise great season of television.
Overall, season two of Master of None is quite good. I think your level of enjoyment will likely depend on how invested you are in the primary romantic arc of the season, but there are more than enough other aspects to focus on like the impeccable soundtrack that has already been written about at length. At only 10 episodes, season two of Master of None is the perfect show to kick-start your summer binge.