labor
Women Hold the Keys to New Working-Class Prosperity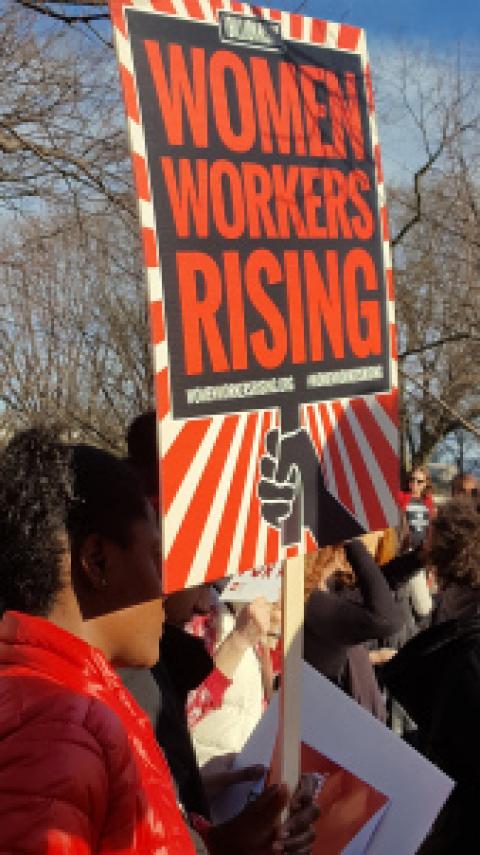 America rediscovered its working class during the 2016 election, and many Democrats and progressives now call for fresh policies to address the nation's crisis of bad jobs and stagnant wages. Twenty-first century working-class prosperity, however, must involve a reinvigorated labor movement.   And women, especially women of color, will be more central than ever before.
Pundits and politicians often use "working class" as code for a white guy in a hard hat.  Yet America's working class is primary female and is disproportionately brown and black.  This is true no matter how we define the working class.

The media usually defines the working class as people without a four-year college degree, which includes two-thirds of Americans. By this measure, women are the majority of the U.S. working class. In fact, 52 percent of people over age 25 without a four-year degree are women, according to census data, and a disproportionate number are women of color. If we describe class by education, people of color will be a majority of the nation's working class by 2032, earlier than in the overall population.
But is a college degree the best marker of what it means to be working class?    Many people who are high earners don't have a college degree.  If we use income as our lens, then women still are overrepresented in the working class. Though government data often subsumes women's earnings within household data, women are disproportionately among America's lower earners.  A recent GAO report found that though women make up nearly half the nation's workers, they make up nearly 60 percent of the workers in the lowest wage quintile.  We all know about the wage gap – – the median woman worker is paid 83 cents on every male dollar, and for black and Hispanic women it's even worse. Even when women and men hold the exact same working-class job – – like as a housekeeper, trucker, or nurse – – men still earn more than women.
Maybe the kind of job you do is the best way to gauge class status. Here again, women are increasingly central.  Eight of the ten occupations with the highest projected job growth by 2024 are women-dominated, working-class jobs, such as personal care and home health aides, nurses, food preparation and serving and retail salespeople. The jobs women hold are at the heart of an economy that is more based on service and finance than on industry.
Perhaps the best way to measure class is to just ask people about their class status.  The Center for Economic and Policy Research recently tabulated data from the General Social Survey that polls Americans about class identification.  While white women and men were equally likely to say they were working class – – about 40 percent made this identification – – a full 56 percent of black women and 62 percent of Hispanic women identified as working class.
Any way you cut it – –  by education, income, job, or class identity – –  the U.S. working class tilts female, and clearly it is not just white.
Today's workers are women, and they're also mothers and caregivers. Four in 10 American households with children include a mother who is either the sole or primary wage earner. Yet the nation has not yet dealt with women's basic issues as workers, and societal and economic structures still assume a male, industrial breadwinner.  Unlike other industrial nations, the U.S. doesn't have robust child care and family leave policies.  Working-class people often face long hours and unpredictable schedules that are impossible to square with family life.  In most households, women still do most of the cleaning and cooking, doing the double duty of paid work and family caregiving. One recent AFL-CIO report found that women have less than forty minutes a day of personal time after fulfilling all their other responsibilities.
This is why issues that matter for all working families — universal child care and pre-K, paid family leave, free college and guaranteed fair scheduling, affordable housing, and fair wages — are especially important for working-class women.  Wealthier families can afford privatized versions of these essential tools. They can hire nannies, afford unpaid leave, pay for college, and cover the mortgage.  But working-class women are left to fend for themselves in an increasingly precarious economy.
Women are the core of the new working-class, and their concerns make up the nation's most pressing working-class issues. That's why women's leadership – – especially among women of color  — will be critical for a new working-class movement.
This is the goal of a new joint project by Georgetown University's Kalmanovitz Initiative for Labor and the Working Poor and Rutgers University's Center for Innovations in Worker Organization.  WILL Empower (Women Innovating Labor Leadership) will identify, nurture, and train a new generation of women leaders for today's workers' movement.  Participants will benefit from training and mentoring, apprenticeships, fellowships, and a public advocacy and research platform.  The project will help seed a new generation of women leaders who can help convene and lead a cross organizational collaboration to mobilize the full potential of today's working class.
WILL Empower builds on the fact that women are already at the leading edge of the resistance.  With five million global participants, the Women's March on Washington was perhaps the largest political mobilization in history. Women's leadership mobilized both men and women to express their outrage at the new political order.  Women have continued to march, huddle, strike, and organize since January, among them legions of young women workers. A Day Without a Woman further spotlighted women's role in the economy, and working-class women also drove a Day Without Immigrants.
The project will amplify women's emerging role as the face of the 21st century workers' movement, a movement that blends traditional unions and "alt-labor" organizations, like workers' centers and wage campaigns. By 2023, a majority of union members will be female, and women are already leading many of the nation's largest unions, like the NEA, AFT and SEIU.  Women have been key leaders in new worker organizations, especially young women of color – – like at the National Domestic Workers' Alliance and the National Taxi Workers' Alliance.
A newly-mobilized working class could reshape the nation's economic and political landscape. Yet in order to build a winning movement for these times, working-class women's issues and leadership must be front and center to progressive core strategies, policies and organizations.   Women, it seems, hold the keys to the way forward.
Lane Windham is Associate Director of Georgetown University's Kalmanovitz Initiative (K.I.) for Labor and the Working Poor where she jointly directs the K.I.'s WILL Empower partnership with Rutgers. She holds a doctorate in U.S. History.