tv
We Asked Financial Advisers: How Realistic is Netflix's New Show, 'Ozark'?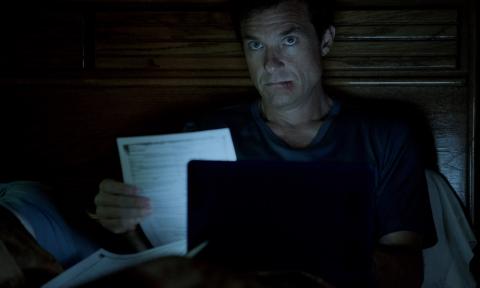 Jason Bateman stars as a financial adviser in Netflix's 'Ozark',Jackson Davis
"Scratch. Wampum. Dough. Sugar. Clams. Loot. Bills. Bones. Bread. Bucks. Money. That which separates the haves from the have nots. But what is money?"
Right from the opening monologue narrated by star Jason Bateman, Netflix's new drama "Ozark" makes clear it doesn't just want to depict a financial adviser up to his neck in danger. It's out to convey profound truths about money.
Netflix premiered "Ozark" last week to decent reviews, and while the streaming giant doesn't release audience data, reactions on social media show that "Ozark" is finding an audience.
The show stars "Arrested Development" actor Bateman as Marty Byrde, a Chicago-based financial adviser who relocates with his wife (Laura Linney) and children to Missouri's Lake of the Ozarks, after his business partner skims millions from the second-largest Mexican drugs cartel. At the lake, Byrde must continue to launder millions in cartel cash with the FBI closing in.
The bleakly comic, 10-episode series was written by Bill Dubuque and Mark Williams, who previously scripted the Ben Affleck-starring financial thriller "The Accountant." Dubuque, who worked as a corporate headhunter for 12 years, told the St. Louis Post-Dispatch, "Money fascinates me. How we view money, the power of getting it, the pressure of holding onto it."
Noting that the Lake of the Ozarks was built when Union Electric constructed the Bagnell Dam to generate hydroelectric power in 1929-31, Dubuque said, "The lake is both a real thing and a metaphor for capitalism."
"The first ten minutes of the show hits the middle class in the groin."

Richard Rosso, Clarity Financial, LLC
"I know money," Bateman's character Marty Byrde declares in episode two of "Ozark". But does the show know money? How accurately does "Ozark" capture the life of a financial adviser?
Very accurately, according to Richard Rosso, director of financial planning at Clarity Financial, LLC. "Finance is a core premise of the show and Marty Byrde is a very practical adviser, like when he says that money is the measure of a man's choices," Rosso says. "Financial advisers who work with people every day will get a kick out of it."
The longer Byrde and his family try to stay afloat in the Ozarks, the more the show deviates from fiscal conversations. Yet Rosso said he was especially impressed with key details early on in the pilot.
"The first ten minutes of the show hits the middle class in the groin," he says. "There's a scene where a couple are sitting with their financial adviser [Bateman] and the wife is a little bit more risk-averse than the husband. That was realistic as women tend to be better investors than men and look at the bigger picture."
But it was less authentic, he thought, that Bateman's Byrde would be watching a video of his wife having sex with her lover during their discussion. "That was a little bit crazy but the stress and the frustration of the job can create abhorrent behavior," Rosso says.
Bateman, who also produces and directs episodes of "Ozark," is central to the drama's realistic feel, according to Rosso. "He's so perfect for the role," he says. "He's an everyman who has a cool head."
Rosso also admired that Byrde is frugal and drives a Toyota Corolla. "The best financial advisers are not as ostentatious as they were 20 years ago," he says. "They have to be super savers as an example to their clients because extravagance is now seen as a red flag."
"Ozark's" veracity is even more impressive when compared with rival shows, he added. "Shows like 'Billions' [on Showtime] are all about the romance of hedge fund guys and these larger-than-life figures," Rosso says. "Here, we have a guy living the middle class or lower middle class life."
"His success come from laundering money, but for the most part there's nothing sexy about him except he has the ability to understand the middle-class dilemma and exploit it for his own purposes," he says.
While Rosso thought the show contained some financially implausible moments, such as a subplot involving a stripper and bearer bonds which are becoming a thing of the past, he concluded that "'Ozark' brings up a lot of post-great recession structural problems that we still have. The show has a behavioral connect to the middle class."
"It's more about money laundering than it is about financial advice."

Ted Dros, Torus Capital
Not everybody is convinced, however. Ted Dros, a trader at Manhattan-based Torus Capital, says "Ozark" is unrealistic.
"The FBI would have gotten complaints and clamped down on what Jason Bateman's business did a long time before he gets busted by the cartel," he says. "And he's able to launder hundreds of millions of dollars even though financial advisers get regularly audited?"
"It's more about money laundering than it is about financial advice," Dros adds. "The show glosses in rudimentary fashion over what he does. I'm not in touch with the seedy underbelly of the market myself but there's so much regulation right now it would really make your head spin if this happened in real life."
But, as Rosso points out, you don't necessarily want a drama about a financial adviser to be too realistic. "If Jason Bateman was an average financial adviser, nobody would want to watch it," he says. "You have to do what he's doing in the show!"