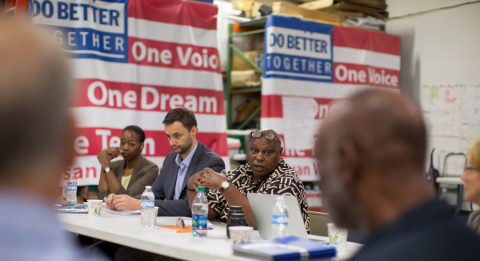 A UAW meeting last year in Caton, Mississippi.,Maina Kiai
An old friend of mine and a former UAW organizer told me this would be the outcome two weeks ago! It was a chronicle of a defeat foretold by some.
UAW's national organizing staff and key organizers on the ground must have known this was going to be the outcome but chose not to speak out earlier because they feared retaliation and blacklisting. We will see what people say over the next few weeks. Our best organizers in the labor movement know what is wrong but can't effect the change necessary to win. We are stuck with failed generals whose battlefield defeats reverberate far beyond their little fiefdoms. Every defeat or retreat of a major union impacts us all.
There is little doubt that there is a huge amount of incompetence, bureaucratic sloth and undemocratic rule at work in the UAW's defeat. But there is more to it. We are witnessing the end result of the anti-communist purge of the labor movement in the late 1940s, the failure of the underfunded 'Operation Dixie,' the dominance of business unionism, and the lack of rank-and-file democracy in most major unions.