food
Tom Colicchio Changes His Restaurant's Racially Tinged Name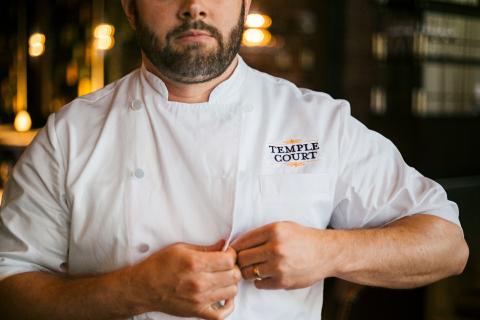 Bryan Hunt, the executive chef, puts on his new coat at Temple Court. The restaurant, which opened in October, was formerly named Fowler & Wells, John Taggart
In an age of careful branding, restaurateurs put a lot of thought into choosing just the right name. Rarely will they go to the trouble and expense of changing it.
Yet the chef Tom Colicchio is dropping the name of his newest Manhattan restaurant, Fowler & Wells, after learning that it has historically racist connotations. The new name is Temple Court.
Fowler & Wells, which opened last October, was named for a publishing company and scientific institute that once operated in a building on the same site in the financial district; that building was later torn down, replaced by Temple Court, the building that stands there now. The men who started the company, Lorenzo and Orson Fowler and Samuel Wells, were proponents of phrenology, a popular 19th-century belief that the shape of one's skull revealed characteristics like mental aptitude and personality.
The practice was frequently used to justify slavery and to advance a belief in African-American inferiority. Orson Fowler wrote that coarse hair correlated with coarse fibers in the brain, and indicated coarse feelings; that, he wrote, suggested that people of African descent had poor verbal skills and traits that were best suited for nursing children or waiting on tables.
Mr. Colicchio, who has emerged as a strong liberal voice in food policy, and frequently uses his Twitter account to criticize President Donald J. Trump, said that when he and his team were developing ideas for a name, they understood that phrenology "was used for nefarious reasons" but had only a passing knowledge of it.
The connection, he said, seemed a harmless one. They even gave their cocktails names that referred to the era; a section of the bar list included a brain diagram and was titled the Phrenological Cabinet.
"I don't think it was a bad idea to start with because we didn't have any of the information we have now," Mr. Colicchio said. "I have a fairly liberal persona and never in a million years would consider myself a racist, so it never crossed my mind."
In a review of Fowler & Wells in January, The New York Times's restaurant critic, Pete Wells, pointed out the deeper racial implications of the name, while acknowledging, "This is obviously not a side of phrenology that Mr. Colicchio, who is outspoken about his progressive politics, embraces."
Mr. Colicchio said those implications were eye-opening and he immediately knew the name could not stand. Though customers and social media remained quiet on the issue, several staff members came to him to discuss it.
"Very quickly, internally, we told people we were changing the name of the restaurant," he said.
The decision was made well before the deadly violence in Charlottesville, Va., on Aug. 12 that followed a decision by the city to remove a statue memorializing Robert E. Lee. Since that weekend, dozens of universities and cities have begun to remove or are discussing the removal of symbols of the Confederacy.
Mr. Colicchio said he has been working on the name change for months. The process, which has cost $50,000 to $100,000, was complex, he said. The new name had to meet the approval of the developer, GFI Capital Resources Group, that had turned the decaying Gilded Age building at 5 Beekman Street into a luxury hotel and condominium complex called the Beekman. Condominiums there are selling for around $3 million, and hotel rooms start at about $400 a night.
Once everyone agreed, designers had to create a new sign and logo. New menus have been created and new business cards have been printed.
Complicating matters, Mr. Colicchio had named the restaurant's private dining room Temple Court, which had a set of its own materials that needed to be redone.
Before selecting the new name, he said, his staff did research to make sure it didn't pose any problems.
Eugene Kelly, an Irish immigrant who built his wealth from retail sales and banking, originally commissioned the building. Its construction began in 1881, and the building was modeled after one in London that was part of the Inns of Court, a series of compounds where British barristers lived and trained.
Correction: August 30, 2017 
 
An article last Wednesday about the chef Tom Colicchio's decision to change the name of his restaurant Fowler & Wells because of its connections to phrenology misidentified the members of the Fowler family who helped Samuel Wells found the Fowler & Wells publishing company in the 19th century. They were Lorenzo and Orson Fowler, not Edward Fowler. The article also misidentified which Fowler family member wrote a passage suggesting that African-Americans were racially inferior. It was by Orson, not Edward.