Abortion Is Central to Universal Health Care. Will Democrats Protect It?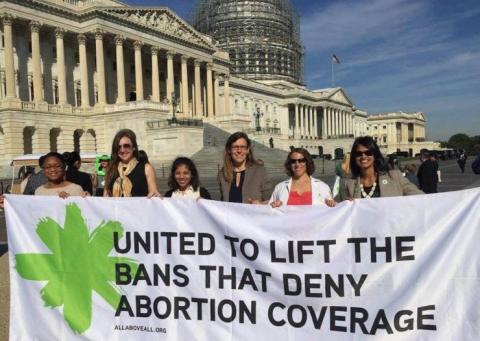 ,
Abortion Is Central to Universal Health Care. Will Democrats Protect It?
https://rewire.news/article/2017/08/31/abortion-central-universal-healt…
When Sen. Bernie Sanders (I-VT) and Rep. John Conyers (D-MI) partnered for an overflowing health-care town hall in Michigan over the August recess, they shared more than a stage. The veteran lawmakers are leading the charge in Washington for universal health coverage.
More than 1,000 people packed the meeting that turned into a "rallying cry for progressives," according to a Detroit Free Press report. Progressives recognize that health care is a human right. But do they recognize abortion care as health care, or will they sacrifice it for the sake of the quote-unquote greater good?
On Capitol Hill, Democrats have increasingly signaled their support for single-payer proposals in which the federal government covers health-care costs, regardless of income, job status, or health status. 
The most popular ones propose expanding Medicare, the federal insurance program for people age 65 and older, to all. Conyers introduced his eighth iteration of a Medicare for All bill in the U.S. House of Representatives at the start of the current 115th Congress, and Sanders plans to unveil a U.S. Senate version after lawmakers return to Washington in early September, Rewire reported in July.
Sen. Brian Schatz (D-HI) recently sat down with Vox's Sarah Kliff and Jeff Stein to discuss his forthcoming bill that would allow anyone to buy into Medicaid, the joint state-federal insurance program for people with low incomes, on the Affordable Care Act (ACA) exchanges.
A policy goal pursued by generations of progressive organizations and lawmakers, a nationalized health care system for all Americans, regardless of age or income, now receives the support of 33 percent of the country across party lines, according to a Pew Research Center poll from June. A full 60 percent broadly believes health care for all is the federal government's responsibility. Of course, with a GOP-controlled Congress and White House committed to undermining coverage, single-payer health care will remain a dream for now. What proposals from Sanders, Conyers, and Schatz can do is show voters how the world should look when Washington emerges from unilateral rule by a Republican Party fiercely opposed to expanding quality health-care coverage. 
There's one hitch in these best-laid plans: Thanks to the Hyde Amendment, a congressional appropriations rider enacted into law every year since 1976, no federal funds—including the Medicaid and Medicare reimbursements that a doctor receives for providing various health-care services—can cover abortion care except in rare circumstances. Hyde today disproportionately affects people with low incomes and people of color.
Under Medicare for All or another single-payer system, the discriminatory ban could apply to every person who moves off their private insurance into a public option that's supposed to be more equitable. (Many women with private insurance still pay out of pocket for abortion care, according to a 2013 study co-authored by the Guttmacher Institute's Rachel K. Jones. The pro-choice research institute maintains a list of states that restrict private insurance from covering abortion. Vox's Kliff published a story Thursday about how patients with private insurance that covers abortion "often have to fight for coverage.")
Sanders is the only lawmaker whose bill addresses Hyde. Conyers is aware of the issue but is banking on Hyde being gone before Medicare for All becomes a reality. He's involved in a separate effort to put an end to Hyde. Schatz represents the great unknown.
Three Bills, Three Different Approaches
Sanders' Medicare for All bill will preempt the discriminatory Hyde Amendment, according to an aide.
"It will cover 'comprehensive reproductive, maternity and newborn care.' Abortion falls into that bucket," the aide said in an email. "We are also taking steps to ensure the government could not refuse to accredit an abortion provider as a participating provider simply because they provide abortions."
Conyers' version does not.
"I just can't envision a world where we have the votes to pass Medicare for All but we haven't repealed the Hyde Amendment yet," Dan Riffle, Conyers' senior legislative assistant for health care, told Rewire.
"We agree that that's important," Riffle said in a phone interview. "I just don't think it's something we should slow down progress on Medicare for All now, today, based on a concern that is almost certainly not likely to be present when the bill is passed."
Conyers began introducing Medicare for All bills in 2003—more than a decade before Democrats cast off Hyde as the cost of doing business on Capitol Hill and coalesced around the Equal Access to Abortion Coverage in Health Insurance (EACH Woman) Act. The EACH Woman Act replaces Hyde with explicit guaranteed abortion coverage under Medicaid, Medicare, and other health-care plans obtained through the federal government. The legislation protects private insurance companies that cover abortion care from political interference at the federal, state, and local levels.
More than two-thirds of House Democrats, including Conyers, signed on to the 2015 and 2017 versions of the legislation embodying the #BeBoldEndHyde movement. More than half of the chamber's Democrats have co-sponsored Conyers' vision for universal coverage.
Conyers' office considered amending this year's Medicare for All bill to address Hyde but faced a "tight timeline" prior to introduction, according to Riffle. Although the office is open to amending a future version, the "easiest way" to get co-sponsors to sign onto a bill is to tell co-sponsors from prior years that it's the same.
"That's why we try to do it the same every year," Riffle said. "But, you know, there comes a point where you do have to update it," whether that's by eliminating Hyde or "moving away from a fee-for-service to [an] outcome-based payments model."
"It's something that we'll look at, I don't know if it's something that we would put in on the first draft, but again, we're never going to pass a Medicare for All bill that doesn't cover abortion services."
Schatz's Medicaid expansion bill may or may not take Hyde into consideration. A spokesperson, Mike Inacay, asked Rewire to send questions via email but ignored repeated follow-up requests for answers.
The Senate does not have any Hyde-ending legislation comparable to the House's EACH Woman Act.
#BeBoldEndHyde From the Start
Advocates agree that single-payer bills must tackle Hyde, even as they concurrently work to end the provision.
Destiny Lopez is the co-director of All* Above All, a reproductive justice coalition dedicated to eliminating Hyde, partly through spearheading support for the EACH Woman Act. She maintains that any universal coverage that doesn't include abortion among the full range of reproductive health services "falls short of accomplishing what the purpose of the law actually is—that everyone can get the health care that they need."
"Anything that somehow carves out or doesn't address existing abortion coverage bans is not good enough for us," Lopez said in a phone interview.
Prominent members of the All* Above All coalition have had positive discussions with Sanders' office. "The proof will be in the pudding, right, so we'll see kind of what mechanisms they're going to use to do that, and we'll hold our breath until we see the bill," Lopez said.
As for Conyers' version, "our wish for that bill would be the same."
"I think there's some work we still need to do on the House side to ensure that that bill, again, is a bill that's putting out our vision."
Lopez acknowledged that work is a little easier on the House side because of the 122 EACH Woman Act co-sponsors, including Conyers, who have "put their values on this out there."
Whether Hyde-type restrictions would automatically carry over into a single-payer universe depends on how the bills are written, according to the National Women's Law Center's Rachel Easter. Would the bills, for instance, fund health care through mechanisms subject to Hyde?
"What we do know is that members of Congress who are opposed to abortion are constantly trying to eliminate insurance coverage of abortion altogether," Easter, counsel for reproductive rights and health, told Rewire.
Easter pointed to congressional Republicans' push to end private insurance coverage of abortion care through their Obamacare repeal bill and sundry legislative attempts to expand and codify Hyde. Anti-choice lawmakers will try to hold single-payer proposals hostage as well, she warned in a phone interview.
That's why the lawmakers behind single-payer bills need to take aim at Hyde from the start. 
Abortion Access for All
And just as importantly, they need to be proactive in specifying abortion care within the scope of covered services.
"How does a piece of legislation determine what is and isn't covered?" Easter asked. "Does it refer to what the ACA requires coverage for? Because if so, that's not automatically going to include abortion coverage."
It's not at all. President Obama in 2010 signed an executive order applying the Hyde Amendment to the ACA. Obama's executive order followed the unsuccessful Stupak-Pitts Amendment's attempt to bar the ACA's tax credits from subsidizing health insurance plans that covers abortion.
Although the Stupak-Pitts amendment ultimately failed, it initially passed the House with the help of 64 Democrats. Only a handful of those Democrats remain in the House. But even vocally pro-choice members of the party have rejected a litmus test on abortion, inviting anti-choice Democrats into the fold. Sanders, a progressive icon and former presidential candidate who ran on ending Hyde prior to its inclusion in the Democratic Party platform, told NPR that "you just can't exclude people who disagree with us on one issue."
Democrats' and progressives' fealty to abortion rights, then, isn't a given in the upcoming single-payer debates.
"It's a concern for me at a time when the Democrats are talking about candidates and saying, 'We're not too worried about your litmus test here,'" Karen Middleton, NARAL Pro-Choice Colorado's executive director and a former state legislator, said in a phone interview.
Middleton and other Colorado-based reproductive rights advocates breathed a sigh of relief when a 2016 ballot initiative to add universal health coverage to the state's constitution failed. The proposal didn't override Colorado's pre-existing constitutional ban on state funds for abortion care. "It's likely that universal health care advocates left out any protections for abortion coverage to ease the initiative's passage in a somewhat conservative state," Slate's Christina Cauterucci reported at the time.
Single-payer advocates in Congress can confront Hyde head-on because it's part of a statute; were Democrats who support the EACH Woman Act in power, they'd likely choose to stop attaching the ban in the form of riders to the various appropriations bills (and the continuing resolutions that fund the government in the absence of viable appropriations bills), unlike their Republican counterparts.
Middleton encouraged those lawmakers to "at least start with the best version of the bill, not start with the bill where we need to advocate" to override Hyde and cover abortion. Reproductive rights advocates didn't accept that tradeoff for the supposed greater good in Colorado, and they won't now.
"The cautionary tale of Colorado was that we had well-meaning allies and advocates who we work with closely all the time who were so committed to wanting to provide universal health care that they missed nuance," Middleton said. "They were happy to throw this issue [of abortion] under the bus."
"It was really sad to get into that fight, which is why the idea that they're even thinking about it [in Congress] ahead of time … would make so much more sense, and it would bring all of us to the table to help fight to support the bill," she added. "You're much happier having us as friends than enemies, trust me."
Christine Grimaldi is a reporter and writer based in Washington, DC. Prior to joining Rewire, she covered Congress for Bloomberg BNA and completed an MA in nonfiction writing from Johns Hopkins University. Her journalism and essays have appeared in or on Slate,Washingtonian.com, The Morning News, and elsewhere. Contact her @chgrimaldi and grimaldi.christine@rewire.news.
Trump Administration Is Aggressively Defunding Pregnancy Prevention Programs
http://www.alternet.org/news-amp-politics/abstinence-only-education-sti…
An authoritative update to a 2006 report on abstinence-only sexual education programs confirms that such programs fail to prevent pregnancy, waste federal funds and violate human rights. If only Trump hadn't cut $214 million in funding for teen-pregnancy prevention programs this past July while teen-pregnancy is at an all-time low.
The study, due to be published September 2017 in the Journal of Adolescent Health, confirms that Congress wasted $2 billion funding domestic abstinence-only-until-marriage (AOUM) programs from fiscal years 1982 to 2017. AOUM programs "are not effective in delaying initiation of sexual intercourse or changing other sexual risk behaviors," the report states.
They are also a human rights violation because the programs deny teens information about birth control, condoms and sexually transmitted diseases. The study notes, "AOUM programs, as defined by U.S. federal funding requirements, inherently withhold information about human sexuality and may provide medically inaccurate and stigmatizing information."
The international community advocates for the right to sexual health information in order to effectively prevent HIV/AIDs and STIs, as well as unwanted pregnancies. According to a 2003 comment made by the U.N. Committee on the Rights of the Child, governments must "ensure children have the ability to acquire the knowledge and skills to protect themselves and others as they begin to express their sexuality."
Most men and women are engaging in more premarital sex, and AOUM programs deprive them of the information to practice safer sex. Demographics shows that people are getting married later, while the age for their first sexual encounter remains about the same. Recent data shows that for women, the median age for first sexual encounter is 17.8 years, followed by marriage at 26.5 years. For men, the first sexual encounter is at 18.1 years and then later marriage happens on average at 29.8 years. That's a gap of 8.7 years between sex and marriage for women, and 11.7 years for men.
John Santelli, one of the co-authors and professor of Population and Family Health at the Mailman School of Public Health, told Forbes, "These programs simply do not prepare young people to avoid unwanted pregnancies or sexually transmitted diseases."
Much of the problem around abstinence arises from its two common definitions—one more scientific, the other moral. Health professionals view abstinence as the absence of sexual intercourse—pretty straightforward. AOUM program supporters, however, view abstinence as a religious issue, defining it as a "commitment to chastity." This could be especially harmful for minority youth who may identify as LGBTQ.
In a released statement, Leslie Kantor, the study's coauthor and the vice president of education at Planned Parenthood Federation of America, further explains, "Withholding critical health information from young people is a violation of their rights. Abstinence-only-until-marriage programs leave all young people unprepared and are particularly harmful to young people who are sexually active, who are LGBTQ, or have experienced sexual abuse." 
President Trump has filled the Department of Health and Human Services with abstinence-only and false science supporters. Tom Price, the new Secretary, has defended defunding government assistance for contraceptives, saying "there's not one" woman who can't already afford them.
Valerie Huber, the HHS' new chief of staff, is also the president of Ascend, a Washington, D.C.-based group that advocates for abstinence-only education.
Trump recently allocated $85 million to AOUM programs; meanwhile, Planned Parenthood continues to face threats of losing its federal funding, if Trump's health care legislation could ever pass. One in five women visits Planned Parenthood in her lifetime. It's not too difficult to see which program is more useful, without violating human rights. 
Julia Flasphaler is a junior writing fellow for AlterNet interested in trauma, gender and race. She is a senior English Literature major at Columbia University. Follow her at @juliaflafla.
Healthcare-NOW!  Our Commitment to Reproductive Justice
Sept 17, 2017
https://www.healthcare-now.org/blog/statement-on-reproductive-justice/
Healthcare-NOW organizes to win a national single-payer healthcare system and stands in solidarity with the movement for reproductive justice, which Sister Song defines as "the human right to maintain personal bodily autonomy, have children, not have children, and parent the children we have in safe and sustainable communities."
The Affordable Care Act (ACA) took a step forward in requiring all health insurance plans to cover contraception, and categorized a range of maternity care services as "essential health benefits" that must be covered without co-payments and deductibles. These new regulations only benefit those with continuous health insurance coverage, though, and excludes those with "grandfathered" or "grandmothered" insurance plans that are exempted.
Additionally, access to abortion services are highly inequitable based on income, race, geography, insurance status and type – and have become more inequitable since passage of the ACA. While almost 87 percent of employer-sponsored health plans cover medical and surgical abortion services, the "Hyde Amendment" – which has been re-approved every year since 1976 by Congress – prevents federal funds from going towards abortion services. This means that Medicaid and Medicare recipients generally do not have access except in the 17 states that fully fund those services. Furthermore, 25 states ban coverage of abortion services in insurance offered through the state exchanges, and 10 of those states ban abortion coverage in any private insurance plan. Securing reproductive justice requires repealing the Hyde amendment and guaranteeing safe and accessible abortions services at no cost to every woman.
Beyond access to reproductive health services, 3.5 million children still lacked health insurance after implementation of the ACA, and millions more are underinsured.
Achieving a universal, single-payer healthcare system has the potential to dramatically increase equity in access to reproductive health services; to provide universal healthcare for children; and indirectly address broader systems of inequality that undermine reproductive justice by reducing income inequality, improving housing security, job security, and more. Hence, winning access to comprehensive, universal healthcare is integral to our ability to make fundamental, personal decisions about our sexuality, our health, and our family life.
While access to abortion and contraception are critical, Healthcare-NOW acknowledges the limitations of the health insurance system in addressing the totality of reproductive freedom. The movement for reproductive justice was developed by native women and women of color to shift from a narrow "pro-choice" framework – which is focused on the legal right to access abortion services – to address the broader social and economic inequalities that impact women's reproductive health and ability to control their reproductive lives.
Having inadequate resources leads many of us to avoid pregnancy or to end a pregnancy – even though we would prefer not to do that if we enjoyed adequate income, job security, health care, housing, and education. Often a woman decides she must end a pregnancy because she cannot feed the children she has, let alone another child. Or she may fear that having a child or another child will result in her losing her job. In the U.S. today, 15 million children are being raised in poverty, which profoundly impacts the health future of children, limits their opportunities, and represents an additional, morally unacceptable barrier to the right to have and raise our children.
Many of us, including many low-income women, also decide freely to avoid or to end a pregnancy, based on our own complicated, unique circumstances, and not simply because of income and resource constraints.
Reproductive justice therefore involves addressing broader inequities than those found in the health insurance system. But achieving a universal healthcare system with equitable access to reproductive health services is necessary for achieving reproductive justice.
Healthcare-NOW fights to move from a system in which communities have access to dramatically different coverage depending on their class, race, gender, age, and job status, to a system in which every resident has access to one, comprehensive standard of care in which every resident is invested. Healthcare-NOW is committed to ensuring that this standard embraces and advances reproductive justice goals.