FBI Terrorism Unit Says 'Black Identity Extremists' Pose a Violent Threat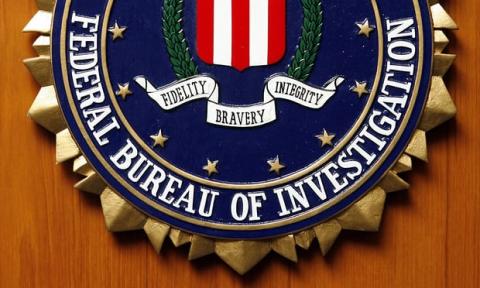 An FBI report describes a likely 'increase in premeditated, retaliatory lethal violence against law enforcement'. ,Michael Sohn/Associated Press
The US government has declared "black identity extremists" a violent threat, according to a leaked report from the FBI's counter-terrorism division.
The assessment, obtained by Foreign Policy, has raised fears about federal authorities racially profiling activists and aggressively prosecuting civil rights protesters.
The report, dated August 2017 and compiled by the Domestic Terrorism Analysis Unit, said: "The FBI assesses it is very likely Black Identity Extremist (BIE) perceptions of police brutality against African Americans spurred an increase in premeditated, retaliatory lethal violence against law enforcement and will very likely serve as justification for such violence." Incidents of "alleged police abuse" have "continued to feed the resurgence in ideologically motivated, violent criminal activity within the BIE movement".

The FBI's dedicated surveillance of black activists follows a long history of the US government aggressively monitoring protest movements and working to disrupt civil rights groups, but the scrutiny of African Americans by a domestic terrorism unit was particularly alarming to some free speech campaigners.
"When we talk about enemies of the state and terrorists, with that comes an automatic stripping of those people's rights to speak and protest," said Mohammad Tajsar, staff attorney with the American Civil Liberties Union. "It marginalizes what are legitimate voices within the political debate that are calling for racial and economic justice."
The document has emerged at a time of growing concerns about Donald Trump's links to the far right and white nationalists, and increasing anxieties about his administration's efforts to further criminalize communities of color and shield police from scrutiny. Anti-Trump protesters and Black Lives Matter activists have continued to face harsh prosecutions and close federal monitoring.
The FBI did not immediately respond to the Guardian's request for comment on Friday, but defended its tracking of "black identity extremists" in a statement to Foreign Policy, claiming the "FBI cannot initiate an investigation based solely on an individual's race, ethnicity, national origin, religion, or the exercise of First Amendment rights".
The FBI's report noted specific cases of recent violence against police, most notably Micah Johnson, a 25-year-old shooter in Dallas who killed five officers and said he was targeting white people and law enforcement. Black Lives Matter – a movement protesting the disproportionate killings of black citizens by police in the US – had no ties to Johnson or other targeted killings of police and has condemned those shootings.
The number of police officers killed on the job also remains a fraction of the number of citizens killed by officers each year, and statistics suggest that more white offenders than black offenders kill officers.
The new FBI report said "BIE violence" peaked in the 1960s and 1970s "in response to changing socioeconomic attitudes and treatment of blacks", adding that possible indicators today for "BIEs posing a violent threat to law enforcement" include "violent anti-white rhetoric" and "attempts to acquire illegal weapons or explosives". BIE appears to be a very new term within law enforcement, Foreign Policy noted.
Elsa Waithe, a comedian and activist with Black Lives Matter, said she feared the FBI's classification could deter people from joining protests and further "criminalize anyone who is already in the movement".
She noted that she often wears a "black power" button and could easily see the FBI labeling her as a threat as a result: "The term 'black identity extremist' is so vague on purpose … If I wanted to do a picnic for black folks, is this now some sort of terrorist activity?"
But law enforcement threats would not discourage her, she said. "This changes nothing. For some people, this means we fight harder."
Some reports have suggested that the Trump administration has also pushed to focus counter-terrorism efforts solely on Islamist extremism and no longer target white supremacist groups. The president further faced significant backlash in August for saying there were "very fine people" on both sides of a neo-Nazi rally where a civil rights activist was killed by an alleged white nationalist.
The FBI document seemed to be aligned with far-right figures who have increasingly called Black Lives Matter a terrorist group, some comparing it to the Ku Klux Klan, noted Tajsar.
DeRay Mckesson, a prominent Black Lives Matter activist, likened the "black identity extremist" monitoring to the FBI's highly controversial domestic counterintelligence program known as Cointelpro, which was used to target political groups and activists like the NAACP, Martin Luther King Jr, socialist and communist groups and anti-war protesters.
"We knew that we were likely being watched," said Mckesson, who has spoken out about being monitored by the US government and FBI. "This is confirmation that the work of social justice continues to threaten those in power."
______________________________________________
If you read the Guardian, join the Guardian.  Become a supporter of The Guardian