Tidbits - October 19, 2017 - Reader Comments: Stop Trump War on North Korea; Puerto Rico; The Harvey Weinstein Story; The Anti-War Movement; Socialism; Salsa Meets Jazz For Puerto Rico; ...and more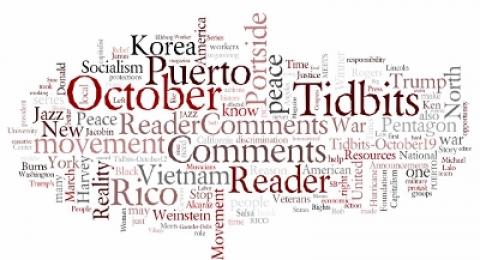 Tidbits - Reader Comments, Announcements and Shorts - October 19, 2017,Portside
Announcements:
National Mobilization to Stop Trump War on North Korea - November 4 - 11  - Tidbits - Oct. 12
We know there are mass protests being planned in South Korea, and we'll know more about Japan once their snap election is over October 22. Veterans for Peace is calling for protests across the US on November 11, Armistice Day, with a focus on stopping US war with North Korea. 
To kick it off, we will host four online teach-ins on the historic roots of the conflict and the dangerous moment we are in, one on sanctions as economic warfare against North Korea, the response from South Korean and Japanese peace activists, and concrete asks to Congress. It's a stellar lineup and I think this community could learn a lot and hopefully help organize actions, whether a visit to a local Congressional office, a teach-in (I can help you find Korea experts near you!), and a protest.
We are in the process of consolidating all the actions across the country —if folks have some good suggestions for how to do this that allows people to go and find groups organizing something that week or to post and share your actions, we would love to know the most cutting edge technology.
With thanks for your solidarity and sharing this call for action widely,
Christine Ahn
Women Cross DMZ
Stop War with North Korea; Online Teach-ins Continue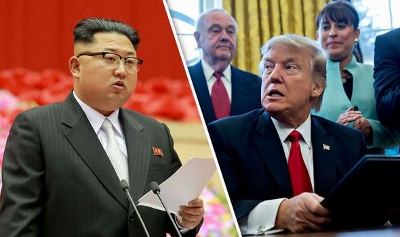 Those of us who know that diplomacy, not aggression, is needed in North Korea have a responsibility to oppose any military threats or action taken in the name of the United States. 
United for Peace and Justice /calls on all peace groups and organizations to take action to protest the unhinged nuclear threats http://www.unitedforpeace.org/2017/10/16/stop-war-north-korea-trump-un/ coming from the mouth of the President and to demand diplomacy and peace. Read our latest statement here. http://www.unitedforpeace.org/2017/10/05/oppose-trump-un-demand-diploma…
UFPJ is part of a growing collaborative of groups developing a new campaign to prevent war/promote peace on the Korean peninsula, and rebuild the peace movement here. Women Cross the DMZ, with groups including Code Pink, Veterans for Peace, and United for Peace & Justice, invite your participation in a series of online teach-ins, to build toward nationally-coordinated local actions from November 6th – 11th.
The Human Cost of War with North Korea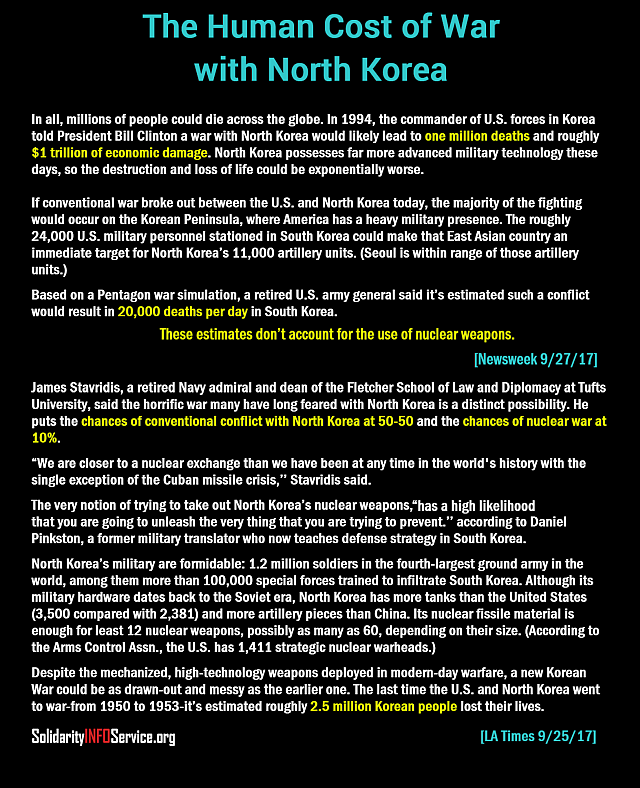 Re: Donald Trump Sued by 18 States
No one should be surprised . Trump has been screwing the little guy his whole life. Just look at number of times he's been sued for nonpayment or breach of contract. Ebenezer Scrooge.
Enrico Campomizzi
Posted on Portside's Facebook page
Re: Hurricane Maria Could Lead to National Public Health Crisis
Capitalism like a hurricane on its destructive path. And the destruction of the hurricane will literally affect so many people dependent on these meds. And...wow! Now we "care" about what's happened to Puerto Rico!!!
Joanna Levine
Posted on Portside's Facebook page
Re: 'Big Decision': Will the US Spend What It Takes to Save Puerto Rico? - Massive Marshall Plan Needed
This is long read, but you will better understand how are hands are tied!
Nilda Rose Carrasquillo
Posted on Portside's Facebook page
    ====
Under the Constitution, Puerto Rico is an unincorporated territory under the jurisdiction of Congress. Will Congress leave Puerto Rico bankrupt with its infrastructure and economy crippled, or will it invest billions in bringing it to a self-sustaining condition? The question of what to do with Puerto Rico involves much more than political status.
Philip Specht
Posted on Portside's Facebook page
Trump's Aid to Puerto Rico - Cartoon by Lalo Alcaraz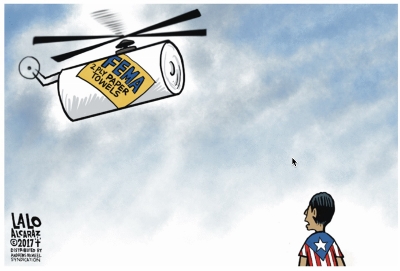 Lalo Alcaraz
October 13, 2017
[Lalo Alcaraz is an American cartoonist. He is most known for being the author of the comic La Cucaracha, the first nationally syndicated, politically themed Latino daily comic strip.  Alcaraz has produced editorial cartoons for LA Weekly since 1992 and also creates cartoons in Spanish for La Opinion, the United States' oldest Spanish-language newspaper. His work has appeared in The New York Times, The Village Voice, Los Angeles Times, Variety, Hispanic Magazine, Latina magazine, La Jornada in Mexico City, BUNTE, (Germany's People magazine) and many other publications.]
Re: How to Wipe Out Puerto Rico's Debt Without Hurting Bondholders
Regarding Ellen Browns article on "saving Puerto Rico" may I suggest in this case, Donald Trump is right.  Capitalism is a gambling game. You may win, or lose. Generally the high rollers win and the weak players lose. Property titles migrate toward the top of the pyramid. Every office has the solution ready at hand... IT's called a "shredder". (Or the "D" key) A true retirement plan (Social Security) with a minimum payment, enough for a reasonable life, plus the opportunity for a little more, for those who actually earned a little more.)  It's time we all advocated real solutions, instead of "fixing capitalism." Consider: all banking publicly owned, similar to Credit Unions. No "stock market",, etc, etc
Ed Hemmingson
Re: I Was Not Protected From Harvey Weinstein. It's Time For Institutional Change
(posting on Portside Labor)
As we speak of institutionalized sexual crimes, have you seen WRITTEN IN BLOOD from PM Press?  Documented institutionalized forced sexual servitude in the early coal camps—still censored to this day.
Wess Haris
The Harvey Weinstein Story - Cartoon by Rob Rogers
If Harvey Weinstein's career were a movie, it would make Sex, Lies, and Videotape, one of Weinstein's early independent successes, look like a G-Rated cartoon in comparison.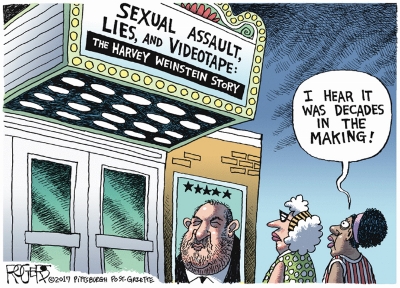 Rob Rogers
October 19, 2017
Pittsburgh Post-Gazette
[Rob Rogers is the award-winning editorial cartoonist for the Pittsburgh Post-Gazette. His cartoons have been vexing and entertaining readers in Pittsburgh since 1984. Syndicated by Universal Press Syndicate, Rogers' work has also appeared in The New York Times, The Washington Post, USA Today and Newsweek, among many others. Rogers has also been the curator of three national cartoon exhibitions, Too Hot to Handle: Creating Controversy through Political Cartoons (2003) and Drawn To The Summit: A G-20 Exhibition Of Political Cartoons (2009), both at The Andy Warhol Museum, and Bush Leaguers: Cartoonists Take on the White House (2007) at the American University Museum. He is an active member (and past president) of the Association of American Editorial Cartoonists.]
Re: The Myth of the Spitting Antiwar Protestor
I had to explain to my Vietnam vet friend about the myths about this kind of thing....he was astounded that the government would do such things....but after thought, he understood.
Gwendolyn Ivey
Posted on Portside's Facebook page
Re: Ken Burns' Series on Vietnam
Some brief comments here.
1. The series started with a totally historically wrong view of Vietnam Veterans and the peace movement. Not really excusable.
2. The series didn't (but surely we could not have expected it!)  note that it was American imperialism which took us into Vietnam. If one compares the US and the USSR, bad as Stalinist Russia was, it gave support to Vietnam but sent no troops. It supported Cuba at a serious cost. Where the US invaded Vietnam, and tried to do that in Cuba, and did it in Iraq, and tried it in Lebanon, the Soviets never tried to establish colonies.
3. I won't blame them but you are right - they did not deal with the US peace movement. But as I joked with a friend, those of us who were in the peace movement know how hard it would have been to cover it, with the splits, the role of the Trotskyists, the Communist Party, and,  of course, the truly independent wonderful real peace movement which co-existed with these other tendencies.
[My off hand comment about the Trotskyists and the Communists sounds like a put down for the CP which, in fact, played an important and responsible role. And the pacifists were crucial in the movement and I didn't even mention them. (For example, the role of WRL with Ellsberg).]
Very hard to cover that movement - almost needs a series of its own.
What won me to the series was, first, the fair treatment of Ho Chi Minh, and, second, letting us hear the voices of the Vietnamese themselves. That alone made the series worthwhile.
It was hard for me to watch all the segments. Hit too close to home, too many memories - for you, me, and some others, it was a solid ten years of our lives.
David McReynolds
    ====
Moderator's Note: See also: Article by Robert Levering in - Waging Nonviolence -- Ken Burns' Powerful Anti-war Film on Vietnam Ignores the Power of the Anti-war Movement
Re: Too Poor to Vote: How Alabama's 'New Poll Tax' Bars Thousands of People from Voting
I thought we were passed that poll tax bs.
Tom Dugan
Posted on Portside's Facebook page
    ====
Poll taxes are unconstitutional!
James McGinnis
Posted on Portside's Facebook page
    ====
GREED Only Party suppression continues! Go America!
Steven Barrison
Posted on Portside's Facebook page
Did You Know - Many California Firefighters are Prisoners
Meet the inmates fighting California's wildfires
By Ninna Gaensler-Debs
October 16, 2017
KALW - Local Public Radio - 91.7 San Francisco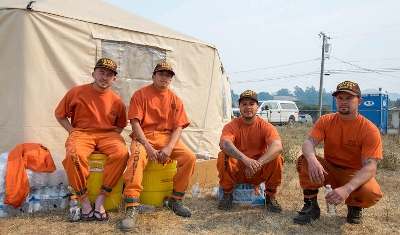 Anthony Torpey, Phillip Estorga, Junior Rios and Solomon Schumaker are just a few of the men fighting California's wildfires
credit - Ninna Gaensler-Debs
Approximately 4000 incarcerated men and women currently deployed fighting California's wildfires.
Michael Draebom's firefighting crew was in trouble before they even reached the fire.
Some trees had fallen into the road, so they stopped to clear them. They were only there for a few moments when a pine tree snapped and fell down on a fire truck, injuring two firefighters.
"Everybody was okay," Draebom says, shaking his head. "But they barely dodged losing their lives."
Those were Draebom's inaugural moments of his very first fire. It only got worse from there.
"We just drove through devastation of just houses burned to the ground and people scattering everywhere," Draebom says. "You know you hear as a kid what hell is like — that's to me, that's what it reminds me of."
Read more / hear their story here.
While watching Donald Trump "sign" his "signature", I noticed that he basically just makes a series of big swirls. Can anyone find the video of that news clip?
Ellen Dannin
Good article, but why is nationalization not even mentioned as a possible alternative instead of merely the weak "public option"? We need to think as big as our enemies do.
Joe Berry
Re: What the Revival of Socialism in America Means for the Labor Movement
To bring about more social justice and a better distribution of wealth, which is what the Left is supposed to be working on, the labor movement is just one small part. LEGISLATION will be the main leverage point. Let's start at the end point. Here are the hallmarks of Democratic Socialism. This is what the Left in a capitalist country should be shooting for.
1)- LIVING minimum wages
2)- Universal Healthcare
3)-Free Education
4)-Private ownership of the means of production
5)- Progressive taxation.
Progressive countries usually have strong labor movements. Yet, it's having the right progressive mindset among lawmakers in congress that will actually make the difference.
Luis Nando Velez
Posted on Portside's Facebook page
(posting on Portside Culture)
Just to let Portside readers know that there's another very informative and insightful review of this work by Honneth, written by Martin Jay, entitled "Positive Freedom" in The Nation. Here's the link for those who interested.
Ron Blum
Re: Rereading "Grapes of Wrath"
Great review of a great book. One sentence stuck out for me: ...
"the bank--- the monster has to have profits all the time. It can't wait. It'll die." Capitalism - never ending greed.
Pat Turnbull
Posted on Portside's Facebook page
    ====
A wonderful book which shows the harshness of ordinary peoples' lives and the greed and brutality of the capitalist class.
For those on the left who have never read this book, could I urge you to do so. It is not an 'easy' read as it graphically depicts the greed and brutality of the capitalist class and the harshness of the conditions faced by working people when capitalism is in crisis. It also depicts instances of real human compassion but not from the capitalist side.
Alex Mclaren
Posted on Portside's Facebook page
Re: The Epic Systems Oral Argument Did Not Go Well for the Employers (Though it May Not Matter)
(posting on Portside Labor)
The current administration is so blatantly pro-management it is sickening and makes one wonder once again why so many blue collar workers favored the so-called president. Those votes have come out to bite them in the ass.
Victor M.carreras Roena
Posted on Portside's Facebook page
Re: The US Women's Movement, the Left, and United Fronts
"In the 1930s, the hegemony of the Communist Party, which combined lack of interest in women's rights with the desire to control popular movements"
I guess Tax never heard of men who were kicked out of the CP for "male chauvinism".
Michael Munk
Portside is a great source of views and important information that's reliable but often not readily available elsewhere.
James Young
Posted on Portside's Facebook page
'Take a Knee' Goes International as German Soccer Team Joins the Protest
The Associated Press 
October 15, 2017
Haaretz (Israel)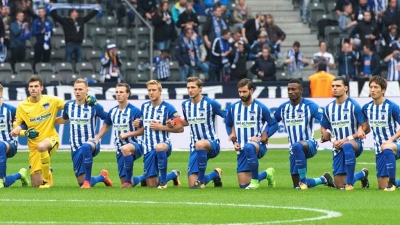 'We wanted to make a stand against racism, ' said Hertha Berlin's captain Per Skjelbred after his team protested at Berlin's Olympiastadion, originally built for the 1936 Olympics in Nazi Germany
Hertha's starting lineup linked arms and took a knee on the pitch, while Pal Dardai's coaching staff, general manager Michael Preetz, club officials and substitutes took a knee off it before kickoff.
"Hertha BSC stands for tolerance and responsibility! For a tolerant Berlin and an open-minded world, now and forevermore!" the club said on Twitter.
"Hertha Berlin stands for diversity and against violence. For this reason we are joining the protest of American athletes and setting a sign against discrimination," the stadium announcer told more than 50,000 fans attending the game at Berlin's Olympiastadion, originally built for the 1936 Olympics in Nazi Germany.
Full story here.
Reality Winner Denied Bail; Stand with Reality

First, the bad news
As you may have already heard, Reality Winner was denied bail on Thursday. That means that by the time she faces trial in March of 2018, she will have already served a 9-month jail sentence, despite having no criminal record and a spotless record of service with the U.S. Air Force.
Judge Brian Epps made the outrageous assertion that Reality "hates America", but we know the truth -- Reality has spent her entire adult life serving America, and her outspoken politics come from a passionate desire to make this country a better place.
One thing we now know for sure is that this trial is going to be tough on Reality, her family, and her legal team. The prosecution is determined to make an example out of her, and the judge isn't going to give an inch.
The good news
At the same time, this trial is an opportunity -- this may be the biggest challenge of the Espionage Act in its 100-year history, and we may have a chance to end its abuse as a loophole to deny whistleblowers their legally-guaranteed protections.
Our only source of financial resources is you, our supporters, and we need to dig in right now for the long fight ahead. We need to demonstrate to the Trump administration that the American people aren't going to back down from this attack on our democracy and our free press.
Will you help us fund the fight ahead by donating to the Reality Winner Defense Fund?
Stand with Reality was founded by three individuals dedicated to open government, free expression, civil liberties, and the rule of law.
Jeff Paterson, Co-founder - Marine veteran and web developer, spent the last eleven years as the project director of Courage to Resist, which provides legal and advocacy assistance to military war resisters.
Rainey Reitman, Co-founder - Writer and privacy advocate, leads the advocacy team for the Electronic Frontier Foundation, a civil liberties organization, and works as a nonprofit consultant.
Trevor Timm, Co-founder - Lawyer and free speech advocate, co-founded and runs the Freedom of the Press Foundation, which helps defend the rights of journalists.
ADVISORY COMMITTEE - 
US Army Col. Ann Wright (ret.) - Former US State Dept. diplomat
Birgitta Jonsdottir - Icelandic Parliamentarian and poet
Sue Udry - Defending Rights and Dissent executive director
Josh Wolf - Journalist jailed for 226 days for protecting source materials
Jesselyn Radack - National security & human rights attorney
Daniel Ellsberg - Pentagon Papers whistleblower
Gerry Condon - Veterans for Peace national board member
Sue Gardner - Journalist; former Wikimedia Foundation executive director
Medea Benjamin - CODEPINK Women for Peace co-founder
STAND WITH REALITY WINNER ~ PATRIOT & ALLEGED WHISTLEBLOWER
c/o Courage to Resist
484 Lake Park Ave #41, Oakland CA 94610
510-488-3559
Facebook - Stand with Reality Winner
https://standwithreality.org
50th Anniversary of 1967 March on Pentagon; Vigil & Other Events in DC - October 20 - 21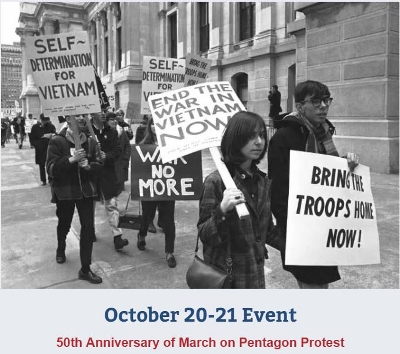 From Protest to Resistance: On the 50th Anniversary of the October 1967 March on the Pentagon
The October 1967 March on the Pentagon was a landmark event in the history of the US peace movement. Not only was it one of the largest gatherings to oppose the Vietnam War up to that time, it was also notable for its escalation of tactics from protest to mass resistance. Over 600 activists were arrested on October 21 in both planned and spontaneous acts of nonviolent civil disobedience, signaling a new strategy for anti-war organizing. Interaction between protestors and soldiers lay the groundwork for both confrontation and engagement.
 
During twenty-four hours in Washington, DC, we will remember and reflect on the significance of that action and the overall impact of the peace movement on ending the Vietnam War, as well as on lessons for today's resistance.
 
FRIDAY EVENING, OCTOBER 20 - 5-7 PM
Gather at the Pentagon for a commemorative vigil on US responsibility for the legacies of war: land mines, unexploded ordnance, Agent Orange, forced relocations of rural people, and on the struggles of veterans.
Featured will be Peter Yarrow of the legendary folk group Peter, Paul and Mary, performers at the 1967 rally at the Lincoln Memorial, draft resisters whose cards were turned into the Justice Department on the same date fifty years ago, and advocates of taking responsibility for war legacies.
 
SATURDAY, OCTOBER 21 – ALL DAY
An all-day gathering at the Western Presbyterian Church in Washington, DC, in four sessions:
 
1) Understanding the Historical Context
What was happening in Vietnam and in the peace movement; public opinion about the war; in the White House; in the Pentagon; and internationally;
 
2) Recalling the Event
The many moving parts of the demonstration, from the rally at the Lincoln Memorial and the counterculture's "levitation" of the Pentagon, to the sit in on the steps and detention at Occoquan; what actually took place and who was there; an opportunity to share personal experiences.
Daniel Ellsberg will share his experience by video of beginning the day in the peace march and ending it at his office in the Pentagon watching the occupation of the steps alongside Secretary of Defense McNamara.
 
3) The Impact of the Pentagon March and the Antiwar Movement
The effect of the 1967 march and of a multi-faceted peace movement on the war and on US politics, culture and society; the emergence of a GI movement and its relation to civilian activists.
 
4) The PBS Series and Unlearned Lessons
The 18 hour documentary by Ken Burns and Lynn Novick is creating a new national memory of the war. Did it get the history right and give fair treatment to the role of the anti-war movement of civilians, serving military and veterans? What lessons were conveyed for current and future US military conflicts and opposition to them?
 
Post Gathering Commemorative Walk to Vietnam Veterans Wall
After the conference, we'll conclude with a walk from the church to the nearby Vietnam Wall and Lincoln Memorial, paying tribute to all who were victims of a tragically unnecessary war.
The Vietnam Peace Commemoration Committee is the organizing principal for the event (www.vietnampeace.org) Co-sponsors include Partnerships for International Strategies in Asia (PISA) of George Washington University, Historians for Peace and Democracy, Bulletin of Concerned Asian Scholars/Critical Asian Studies, Fund for Reconciliation and Development, Veterans for Peace, and The Norman Mailer Society (Mailer's Pulitzer Prize-winning book Armies of the Night, published in 1968, focuses on the events of the March on the Pentagon.)
For media inquiries, please contact Chris Kelly, Fifth House Public Relations: 617/532-0574 or ckelly@fifthhousepr.com
Relief for Musicians affected by Hurricane Maria--SALSA MEETS JAZZ for PUERTO RICO! - New York - October 23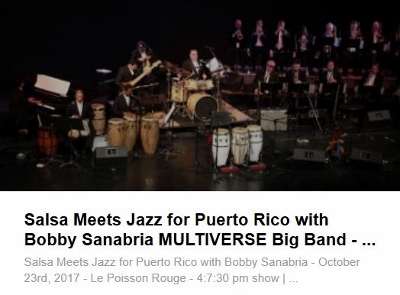 Relief for Musicians affected by Hurricane Maria--SALSA MEETS JAZZ for PUERTO RICO! OCT. 23
Monday October 23rd
7:30 pm
(Le) Poisson Rouge
158 Bleecker St, New York, NY 10012
 
The house will rock for the musicians of Puerto Rico!!!
(LE) POISSON ROUGE formerly the Village Gate presents
 
SALSA MEETS JAZZ for PUERTO RICO - Invoking the The Village Gate's legendary Monday night Salsa Meets Jazz series, Bobby Sanabria hosts a star studded benefit concert at LPR to raise money and support for musicians in Puerto Rico through the efforts of the Jazz Foundation of America. Join us on this incredible night! Guests may choose one of four ticket tier options ($100 VIP Meet and Greet + Gold Circle Seating, $50 Gold Circle Seating, $35 General Admission Seating, $25 General Admission Standing), and may choose to donate more at the event.
The Multi-Grammy nominated Bobby Sanabria MULTIVERSE Big Band
w/ special guests...
NEA Jazz Master PAQUITO D'RIVERA 
NEA Jazz Master JIMMY OWENS
NEA Jazz Master CANDIDO 
Latin Grammy Lifetime Achievement Award Winner LARRY HARLOW
Fania All Star EDDIE MONTALVO
legendary trumpeters RANDY BRECKER and JON FADDIS
jazz & blues powerhouse vocalist ANTOINETTE MONTAGUE, 
vocalist BRENDA FELICIANO
poet MARIPOSA
original Last Poet FELIPE LUCIANO, 
and the one and only DAVID AMRAM
all join forces to help the musicians of Puerto Rico! 
All proceeds go to the Jazz Foundation of America Relief Fund for the Musicians of Puerto Rico!!! 
https://jazzfoundation.org/donate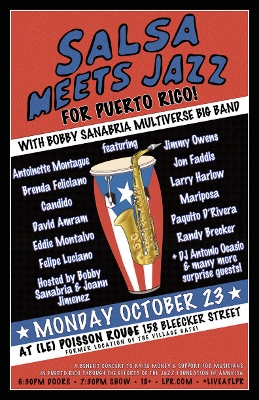 Capitalism: A Debate - New York - November 3

Hosted by Jacobin Magazine and Reason Magazine
Friday, November 3 at 7:30 PM - 9:30 PM
Great Hall at Cooper Union
FREE - Reserve Your Ticket here
Is capitalism the best way to improve standards of living, ensure political and economic freedom, and provide opportunity? Could socialism do better?
A debate between Reason and Jacobin.
Moderated by Michelle Goldberg, columnist for the New York Times
Featuring:
Nick Gillespie and Katherine Mangu-Ward (for Reason)
Vivek Chibber and Bhaskar Sunkara (for Jacobin)
The debate will be held at Cooper Union's historic Great Hall, which has since 1858 hosted critically important debates and political speeches from Abraham Lincoln, to Frederick Douglass, Susan B. Anthony, Elizabeth Cady Stanton, to Ralph Nader, to Bolivian president Evo Morales and Venezuelan president Hugo Chavez.
Reason is the libertarian magazine of "Free Minds and Free Markets"
Jacobin is a leading voice of the American left, offering socialist perspectives on politics, economics, and culture.
About our speakers
Michelle Goldberg is an op-ed columnist for the New York Times, and the author of several books including "Kingdom Coming: The Rise of Christian Nationalism," "The Means of Reproduction: Sex, Power, and the Future of the World."
Nick Gillespie is editor in chief of Reason.com and Reason TV, the online platforms of Reason.
Katherine Mangu-Ward is editor in chief of Reason and a Future Tense Fellow at New America.
Vivek Chibber is a professor of sociology at New York University and the co-editor of Catalyst: A Journal of Theory and Strategy. His latest book is "Postcolonial Theory and the Specter of Capital."
Bhaskar Sunkara is the founding editor and publisher of Jacobin.
It is Time to Expand Our Civil Rights at Work - Los Angeles - November 16
Our movement "#BlackWorkersUnited" to #HealBlackFutures" shifted the debate on the moral and economic crisis of discrimination in the workplace and its impact on our communities by introducing and passing SB 491 through the California Assembly.
Black Workers United successfully moved Governor Brown to go on the record supporting the need for California to strengthen employment discrimination protections at the local level, issuing an executive directive to establish a workgroup to review and report back to him findings on how local governments can implement anti-employment discrimination enforcement.
Though we fell short of the signature, the Governor made it clear in his message that "It Is Time" for the state to look at the important issue of stronger local anti-employment discrimination protections. And we agree!
As we watch the targeted attacks on the most vulnerable people in this nation escalate and multiply by this federal administration, we say yes, IT IS TIME.
Now, we need your help to ensure the spirit of SB 491 is realized by putting workers at the table as a driver of the local employment anti-discrimination enforcement review process.
That's why we are asking you to save the date and join us for the "It Is Time to Expand Our Civil Rights at Work Fundraiser and Reception.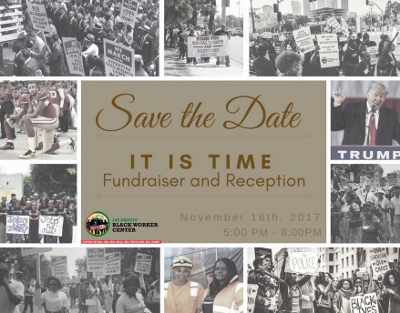 The Fundraiser and Reception will be held Thursday, Nov. 16th from 5:00-8:00 p.m. and will  recognize SB 491 co-authors, CA State Sen. Steve Bradford and Assemblymember Tony Thurmond, co-sponsors of SB 491 who also made history in their own right as the  first African Americans to chair labor committees in both CA State Senate and Assembly, ushering in critical policies to benefit working people.  Other honored guests include the UCLA Labor Center, UCLA Law School and Western Center on Law and Poverty. Proceeds will benefit our Worker Justice University leadership training and organizing efforts.
We are encouraged and preparing for the next phase by learning from the many victories both small and large in this journey.
Our efforts to ensure Black workers get the protections they deserve sparked dynamic partnerships between labor and community organizations, mobilized, educated, and empowered hundreds of Black and POC workers, and built a diverse coalition of over 50 organizations focused on economic and racial justice across the state of California.
As always thank you for your commitment to Black workers and your continuous support of the Los Angeles Black Worker Center.
All Power to the People,