food
The Podcast Taking on Racism in the Food Industry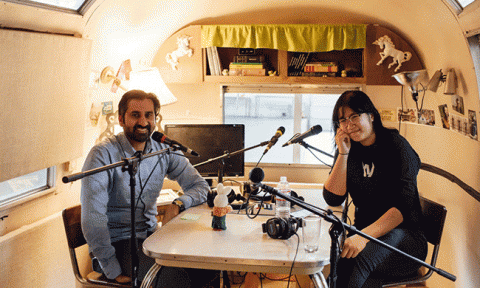 A chef and journalist started "The Racist Sandwich Podcast" to address inequity in the restaurant industry. Today, it's winning award nominations and fans worldwide.,Yes Magazine
Every month, about 30,000 listeners tune in to The Racist Sandwich Podcast to get biweekly reflections from chef Soleil Ho and journalist Zahir Janmohamed. Ho and Janmohamed met in a Portland, Oregon, restaurant during a meetup for artists and writers of color in early 2016. The two found common ground in their desire to address racism, classism, and gender in the food industry and to cover the experiences of people of color working within it.
Not long after, the two started The Racist Sandwich, a reference to a 2012 incident where a Portland Public Schools principal was falsely accused of calling a peanut butter and jelly sandwich racist. This year, the podcast was an International Association of Culinary Professionals finalist for best culinary audio series.
I spoke with Ho, 29, and Janmohamed, 40, about the history, success, and future of the podcast.

What are some of your personal experiences with race and food that inspired you to start this podcast?
Ho: I'm Vietnamese American, but the industry I work in is dominated by white straight males. One time my boss got concerned because we were adding more Asian dishes to the menu. He said he didn't want the restaurant to turn into an Asian restaurant, but only about 10 percent of our dishes were Asian cuisine. Later, the owner suggested that I, the head chef at the time, [add to the menu] a Chinese-style Burrito that he called the Chimmy-Ching-Chong.
Janmohamed: I'm Indian American, and my parents are immigrants, so I was made fun of for the lunch I brought to school. Kids will tell me that my food smelled funny. I loved the food, but I was embarrassed to bring it to school. I went home to my parents like, "Mom, why are you giving me this food. Why are you embarrassing me like this?"
And sometimes I walk into restaurants and see no people of color—all white. It's not that anyone has ever said anything to me, but they look at me, and I just don't feel comfortable.
What are some issues with race and the food industry?
Ho: There's a lot of "othering" when talking about nonwhite cuisine. It's awesome that the media has increased its coverage of ethnic foods, but their ability to treat the communities in which these foods come from with the respect they deserve is still lagging. Not only should we talk about the next trendy ethnic food, but we should talk about its people, their community, and history. And these are the discussions we have behind closed doors or at a small panel. The Racist Sandwich Podcast is opening these discussions to a broader audience.
We are unapologetically about empowering people of color.
Janmohamed: Food often bring us all together, but sometimes it brings us apart. Why do some people think Mexican food should be cheap but they're happy to pay more for Italian food? Why do we usually see immigrants and people of color working in the back of the restaurants where they don't have the opportunity to earn tips like the people who work up front? Why people who are considered overweight face body-shaming and discrimination? Why is there an underrepresentation of black women food writers? Why are healthier foods more expensive than junk food?
How is the Racist Sandwich addressing these issues?
Ho: We bring a lot of guests from unrepresented communities on to our show to talk about their experiences. We also talk a lot about food deserts, which are in primarily communities of color. These people have to catch a taxi or a bus miles away just to get fresh fruits and veggies because they can't get it from the corner store. These hurdles make it hard for them to put healthy food on their tables every day.
Janmohamed: We are unapologetically about empowering people of color. In terms of food, people often suggest things white people can do to improve these issues, but we genuinely don't care about that. I don't spend hours and hours working on the show just to tell white people what to do. I just want to hear from people of color. I want to know what it's like to be a Black food writer or a Mexican American chef.
When did you know that you were on to something?
Ho: I kind of knew we had a hit after our first episode because we got so many messages from people in the food industry. They were glad that there were people finally talking about race and identity in the food industry. There was no one else doing that. Later, we did our first meetup in Portland where we invited fans of the podcast to come hang out with us at a food cart. When I got there, it was completely packed with all of these people who came to hang out with us. That was moment that made me go, "Whoa!"
Janmohamed: When we first started the podcast, I thought [it] would focus specifically on Portland, but two months into it, I noticed the people from New York, Toronto, and London were following us on Twitter. We began getting emails from people all over. I never expected that we would reach that point.
Tell me about your favorite episode so far?
Ho: We did an episode on food photography. We interviewed a photographer about the ways ethnic foods are presented in photos. Whenever we see photos of ethnic foods, we see all the little, unnecessary things to show us that its ethnic food. For example, whenever you see photos of Asian dishes, the chopsticks are always so interestingly placed in these photos. This is done to show us that what we're looking at is ethnic food. That episode blew a lot of people's minds, so I love it for that.
Janmohamed: I have a few favorites. For one episode, I went to a white supremacist rally in Portland, and I interviewed the people who were protesting the rally. It was a bonus episode that didn't exactly focus on food and race. I didn't know how our listeners would react because we were stepping outside of our traditional box. But the people really resonated with it, and it turned out to be our second-most [popular] episode.
What's next for the podcast?
Ho: We're starting to get out of the studio and do some field recording. We're considering looking for a second producer so we can increase our output. It would be amazing if we could go weekly. We have a lot of stories we're sitting on that we haven't had time yet to put out. I also want to address mental illness in the food industry. When I first started out, I worked in a restaurant in Minnesota. The chef there was this really cool guy whom I learned a lot from. He killed himself. He was about only 30. There's a lot of pressure in the restaurant industry, especially for chefs.
Janmohamed: We will continue to expand our reach to other cities. I will be moving to Columbus, Ohio, soon, in a few weeks. (My partner is starting a job at Denison University.) So now I'm looking to travel to do in-person interviews with people in the Midwest. I think that will be fun. We also want to grow our financial base and have more people contribute. If we can get more financial support, then we can do more.