labor
AFL-CIO Must Shine Light on Past Foreign Policy, Activists Say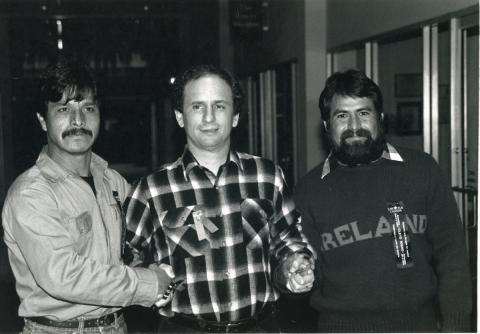 n 1992, U.S. Senator Paul Wellstone met with Mexican auto workers speaking out against repression against unions in their country., Photo courtesy Laney/McMahon
As the AFL-CIO held its national convention this week in St. Louis, passing resolutions in support of worker rights and condemning fascism, union members in Minnesota called on the labor federation to shine a light on its past foreign policy practices.
Specifically, they want the federation to open up the files on AIFLD, a branch of the AFL-CIO founded in the Cold War era that often worked against workers' interests in other countries.
On Sept. 14, following a presentation by Rob McKenzie, delegates to the Duluth AFL-CIO Central Labor Body passed a resolution calling on the national AFL-CIO to release sealed documents on its history with AIFLD, the American Institute for Free Labor Development.
McKenzie, a retired St. Paul Ford plant worker who became a United Auto Workers International Representative, is slated to address the St. Paul Regional Labor Federation in November on the same issue.
After retiring early last year, "I began researching something that has bothered me for 20 years," McKenzie said. "In January 1990, a group of about 300 armed thugs attacked and shot workers in the Mexico City Ford Assembly Plant who had engaged in a work stoppage a few days earlier. When they returned to work, the thugs were inside the plant, a confrontation occurred and 12 workers were wounded and one died. Our UAW local did support work for them and brought a couple of the fired union officials to St. Paul."
In 1996, an AFL-CIO staff person told McKenzie that AIFLD had been involved in the case.
AIFLD was created in the early 1960s by the AFL-CIO supposedly for labor solidarity work in the Western hemisphere. Many U.S. union leaders in that Cold War era were hard-core anti-communists. AIFLD accepted a lot of its funding from the U.S. State Dept.'s United States Agency for International Development and later the National Endowment for Democracy.
In her 1992 book Workers of the World Undermined: American Labor's Role in U.S. Foreign Policy, Beth Sims' main thesis was that AFL-CIO foreign policy sided with pro-business unions abroad rather than helping exploited Third World workers. She revealed over 60 departments and institutes in global labor and government organizations that she said were undermining workers' organizing. Yet President Ronald Reagan drew great praise for his support of Poland's Lech Walesa and the Solidarnosc movement as he was leading the charge against unions in America.
"AIFLD had a bad reputation in the UAW(link is external)," McKenzie said. One of the union's founders, Victor Reuther, "had criticized AIFLD in the 1960s for working closely with the CIA in Latin America."
There were a number of published stories about the AFL-CIO's complicity with the State Department in the 1990s into the early 2000s, but you are hard pressed to find anything about it in an Internet search today.
In 1995, Service Employees International Union President John Sweeney was elected president of the AFL-CIO in the first contested election for the position in federation history.
Shortly after taking office, he merged three federation departments into the American Center for International Labor Solidarity, eliminating AIFLD. Labor's fight against communism had cooled — but its history is sealed at the University of Maryland archives.
McKenzie has made numerous requests to the AFL-CIO and the University of Maryland to have the archives made available with no success.
"I was told in June 2016 that my request was being processed but it never happened and now I get no response to my requests," said McKenzie. "It has turned into a long and complicated story that started with my desire to seek some justice and resolution on the story about those Mexican Ford workers."
A few weeks ago, he contacted the university again and learned that the AFL-CIO had refused the university permission to open the AIFLD records he had requested. He hopes pressure from labor bodies will change their mind.
Central Body delegates were grim faced in hearing and discussing McKenzie's story. Some expressed concern over a bad light that could be shed on the AFL-CIO at a time when labor is struggling. But when the resolution came to a vote, it passed without opposition on the premise that truth needs to have light shed on it.
The delay tactics he has experienced have been frustrating for McKenzie, who has been working tirelessly on the project, even taking Spanish lessons in hopes of finally getting and reading a 1992 Mexican Human Rights Commission Report on the incident. He is also auditing a Modern Mexican History class at the University of Minnesota.
"I have not been able to contact any of the officers or activists in Mexico who were involved in this," he said. "They had no idea of AIFLD involvement at the time."
While seeking support from local labor councils, McKenzie will keep looking for the answers.
"I have had a Freedom of Information Act Request in now for over a year and hope to get State Department documents in a few weeks," he said. "I know there are some because I have a fax [U.S. Senator Paul] Wellstone sent on it." In 1992, Wellstone met with Mexican union officials when they visited UAW Local 879 in St. Paul.
McKenzie's work on the incident is occurring as U.S., Canadian and Mexican trade representatives are renegotiating NAFTA, the North American Free Trade Agreement. NAFTA has proven to be a job killer in all three countries. Many U.S. and foreign automakers have moved production to Mexico because it is close to American consumers. Mexican auto workers have seen their wages cut to just over $2 an hour as they assemble vehicles they could never hope to own.
While its demise cannot be directly linked to free trade deals such as NAFTA, the St. Paul Ford plant closed in 2011 after 86 years of operation. The assembly plant, training center and other buildings have been torn down.
Larry Sillanpa is editor of Labor World and a frequent contributor to Workday Minnesota.