labor
U.S. Labor Leaders Confront Sexual Harassment in Top Ranks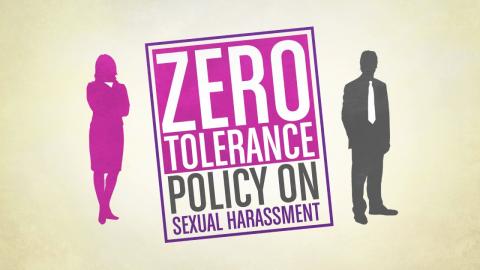 Richard Trumka, the head of America's biggest labor organization, opened its October national convention in an unusual way: the AFL-CIO president read a passage from the code-of-conduct and gave out the contact information of two people designated to field any complaints about sexual harassment or other discriminatory or inappropriate behavior.
"It's a zero-tolerance policy," Trumka told reporters that day. "We think we're on the cutting edge of that. And if we aren't, we want to be there."
Less senior activists say the country's biggest union federation – and the broader labor movement – still have a ways to go. The AFL-CIO's chief budget officer and assistant to Trumka, Terry Stapleton, resigned Monday following allegations of sexual harassment. The Service Employees International Union, the second-biggest union in the U.S., is reeling from its own harassment scandal that has seen the departure of four senior staff.
It is a high-stakes reckoning for the weakened labor movement, which champions workplace dignity and the power of unions to protect against exploitation and harassment. Dozens of current and former movement employees say the groups' leaders too often fail to protect their own staff from abuse or to take sufficient action in response, creating toxic cultures that have turned off promising young organizers.
"Sexual harassment is a reason women organize," said Kate Bronfenbrenner, a former organizer and now a lecturer at Cornell University's labor relations school. "But it can be a reason women don't organize."
'A Special Responsibility'
"The recent news regarding sexual harassment in numerous industries has shown that no organization, including our own, is immune to a culture that has allowed both women and men to feel unsafe and threatened on the job,'' the AFL-CIO said in a joint statement from Trumka, secretary-treasurer Liz Shuler and executive vice president Tefere Gebre. "As the premier organization for working people, we recognize that we bear a special responsibility to lead by our actions and example."
Some characteristics of union organizing may make it easier for bad actors to get away with abuse, said Rutgers professor and former organizer Janice Fine. Macho norms still prevail in many unions. Staff work long hours doing emotionally draining work, often far from home. Organizers are loyal to the workers the union represents and loathe to do anything that could be perceived as damaging to a campaign.
"There's still this idea that in order to do it, you have to work 24 hours a day, you have to be willing to move, you have to put work above all other things," said Fine. That's included trying to overcome sexism by excelling at work rather than by confronting it directly. Recently, she said, that's begun to change.
Exits at SEIU
Scott Courtney, an executive vice president at SEIU and a key architect of the high-profile "Fight for 15" campaign, resigned in October amid an investigation into alleged "sexual misconduct and abusive behavior." During a career that spanned decades, people who worked for Courtney say he was known for dating his subordinates. Women warned each other and raised concerns about his behavior with higher-ups over the years, former employees said. Seventeen years ago, dozens of employees presented their concerns about Courtney in writing to national leaders, according to people who participated.
Courtney did not respond to a request for comment. An SEIU spokeswoman declined to comment on specific personnel matters because the internal investigation is ongoing.
That investigation also led the union to terminate two members of the senior staff, SEIU said. Another top Fight For 15 leader, Kendall Fells, resigned on Nov. 2. Without commenting individually on the departures, the union said that day that the investigation had "brought to light the serious problems related to abusive behavior towards staff, predominantly female staff." Fells declined to comment.
"We are incredibly grateful to the people who have come forward," said SEIU Executive Vice President Leslie Frane, who described the organization's response as swift and decisive. "Our mission is about making sure that working people are treated with respect and dignity, have good wages and a voice on the job. We are committed to making sure that the work environment for our staff lives up to those values."
Lewd Messages
The AFL-CIO, a federation of 56 unions that together represent 12.5 million workers, in May settled a grievance brought by its own employees' union, which accused the group of creating a hostile work environment for employees working on the 2016 election in Pennsylvania. Supervisors there allegedly referred to female staffers as "bitches" and other epithets, according to current and former staff. David Eckstein, a former AFL-CIO official who came out of retirement to help with the federation's efforts in Pennsylvania, said he was "stunned" by what he described as colleagues "deliberately trying to push the women backwards, and out of the state."
The agreement established a process where an ombudsman could be brought in to address any future concerns, the organization said. "We pledge to double down on our efforts to ensure we stamp out the pervasive problems of harassment and discrimination of any form in our workplaces and in our society," the AFL-CIO's officers said in the joint statement.
In a separate investigation earlier this year, the AFL-CIO's Stapleton was disciplined for sexual harassment allegations, according to people familiar with the process. Stapleton, who oversaw employees' expenses and travel, allegedly sent a secretary lewd messages and urged her to come to his hotel room during a meeting of the executive council. Stapleton also suggested he could protect her job if she had a sexual relationship with him, according to the people. The AFL-CIO laid off dozens of people in February.
According to the AFL-CIO, Stapleton was sent for mandatory training at his own expense, moved to a different office and suspended for two weeks without pay. He resigned Nov. 6 after Bloomberg News raised questions about the allegations. Stapleton did not respond to a message left Monday.
Earlier Reports
Current and former AFL-CIO employees say leaders shouldn't be shocked by the recent allegations. In 2015, they say, an external consulting group prepared a report for the organization that related staff accounts of "rampant" sexual harassment and discrimination. No version of the report was ever distributed to staff, although a handful of people were allowed to read copies.
Asked about the findings, an AFL-CIO official familiar with the report said that the firm, the Anti-Oppression Resource and Training Alliance, was "not the right fit" and wasn't familiar with large unionized workforces. The AFL-CIO terminated the contract, opting to rely on its joint labor-management process instead.
"I don't think any sector is immune from this, including folks on the progressive side," said Cecilia Muñoz, the former director of the President Barack Obama's Domestic Policy Council and one of several leaders asked by SEIU to serve as advisers in the wake of the Courtney investigation. "There's no question there's a larger national reckoning going on."
Losing Women
Women across industries say these kinds of incidents -- and cultures that tolerates them -- often drive them to quit jobs or change careers. For the labor movement, which needs all the young talent it can get, this may be especially costly.
"I'll put my body on a picket line as a supporter, but it would take a lot for me to go back inside as a staffer after how I was treated," said former SEIU employee Melissa Byrne, who alleged that when Fells was her boss, he commented on what she wore, told her she was too awkward to pick up men and said she was lucky to work for him because no one liked her. Byrne, who led the online get-out-the-vote effort for Bernie Sanders' 2016 campaign, said she raised concerns about Fells with SEIU officials in 2011.
Former SEIU Chicago researcher Carrie Sloan said she moved to a different office and a different campaign because of her experience with her supervisor, Chris Schwartz, who repeatedly ogled her and other women and pressured them into spending time with him outside work. When she reported him within the organization -- SEIU found conclusive evidence of his inappropriate behavior and suspended him for a week in 2009, according to internal documents reviewed by Bloomberg -- he tried to retaliate with a negative performance review, she said.
The anxiety of dealing with Schwartz, Sloan said, made her nauseated. She was unable to eat and lost 15 pounds. In 2010, current and former SEIU staff said, union leaders loaned Schwartz to the United Auto Workers union, where he remains now.
"I take full responsibility for my actions nearly 10 years ago and I'm deeply sorry," Schwartz said in a statement. "Since then, I have conducted myself totally differently and tried my best to help create supportive, respectful environments for the women I work with." The UAW said in the time Schwartz has worked there, his performance has been "exemplary."
"The message that we got from this whole thing was that he was more important than we were, and more valuable," said Sloan, who now directs research for a progressive non-profit. Her experience with Schwartz and the union leaders' response to it contributed to her decision to leave the SEIU in 2015.
Policy Changes
Union leaders say they take sexual harassment seriously. In addition to expanding staff training and counseling as needed, SEIU has established additional channels through which employees can report potential issues. At its executive council meeting in March, the AFL-CIO approved a new, stronger code of conduct and a new process for addressing issues like sexual harassment and requiring its state and local affiliates to do the same.
"It's an epidemic, sexual harassment – we've all been there," said Laurel Brennan, secretary-treasurer of the New Jersey AFL-CIO. "We're still there."
On the last day of the AFL-CIO's convention in October, an organizer from the federation's San Diego and Imperial Counties Labor Council took to the floor to express gratitude to the national organization, which had ousted local leaders following sexual harassment allegations earlier this year.
One of the AFL-CIO's biggest members, the American Federation of Teachers, called on the federation to do more. "The AFL-CIO should lead, not follow, when it comes to workplace safety, which means not just reacting but creating an anti-harassment culture," AFT President Randi Weingarten said in a statement after an earlier version of this story was published. "Working women and their families must be able to have confidence and trust in their unions."