labor
Iowa Workers Defy Attempt to Weaken Their Unions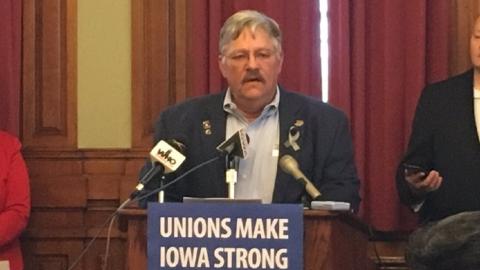 AFSCME Council 61 President Danny Homan in February speaks out against a bill that resulted in changes to Iowa's collective bargaining laws.,Steffi Lee
Teachers and Teamsters, prison guards and other government employees in Iowa last month voted overwhelmingly to stay with fellow workers in unions to make their voices heard, state officials announced Oct. 24, when statewide balloting showed that 97.3 percent of unionists re-certified their unions.
Lawmakers who passed an anti-union measure that went into effect in February apparently thought public workers would abandon collective bargaining.
They were wrong.
If legislators want to kill organized labor, they may have to outright outlaw unions.
"This sweeping victory confirms what we've known since the gutting of collective bargaining rights in February," said Danny Homan, president of American Federation of State, County and Municipal Employees (AFSCME) Council 61, " – that unionized employees, members and non-members, value their voice in the workplace.
"While this process was unnecessarily challenging and unfair at every turn, I am immensely proud of our members and leaders who stepped up to earn every last vote," he added. "We worked hard to communicate the rigged system put in place to each and every eligible voter, and that work paid off. I congratulate the hard-working public employees who voted to recertify; this victory is all theirs."
Democratic State Sen. Rob Hogg told the blog bleedingheartland.com, "Republicans set out to bust unions, but in the process they reinvigorated workplace democracy in all parts of Iowa."
The state said 436 out of 468 union locals were re-certified; 32 were de-certified, meaning they're no longer authorized to negotiate for their bargaining units.
This round of voting showed that 28,448 workers voted for continued representation by their unions, with 624 opposed and 137 ballots voided.
AFSCME and the Iowa State Education Association (ISEA) are the largest unions in Iowa's public sector. AFSCME's results had 41 of 42 locals re-certifying (with the "loss" to be appealed since it stemmed from one voided ballot in a unit with four members). ISEA won 216 of 220 units, helped by an internal organizing campaign and a video featuring president Tammy Wawro reminding teachers that collective bargaining ensured that workers "have a seat at the table."
There was near-unanimous support in some votes. For example, 141 out of 144 members of the teachers union in the Keokuk (Iowa) school district backed their union. And Communications Workers Locals 7103 and 7173 voted 69-0 in one unit and 264-1 in the other).
Teamsters won 57 or 69 re-certification elections, with 1,828 out of 1,888 ballots cast.
Unions affected also included Laborers, Machinists, Operating Engineers, Painters and SEIU.
Earlier this year, 13 faculty and teacher bargaining units voted to maintain their union affiliation, and none voted to de-certify. More than 200 other ISEA bargaining units will vote next year.
"Public employees resisted the GOP's efforts to extinguish them," said Pat Rynard in iowasstartingline.com. "Public union members just showed they could overcome the most arduous of obstacles."
The obstacles were established in a collective-bargaining law with new limits on workers and the union structure they voted for, passed by Iowa's Republican-controlled legislature and signed by then-Gov. Terry Branstad (R). Based on the measure Gov. Scott Walker jammed through Wisconsin's legislature, the anti-union law took effect in February.
Under the law, public-sector unions must recertify each time they're scheduled to bargain new contracts, every two or three years. The law also says re-certification requires support from 50 percent plus 1 vote from members of the bargaining unit — not of ballots cast. So a non-vote becomes a "no" vote. Units failing that benchmark are dissolved and can't have a union authorization election for two years.
Lawmakers claimed that the law would hold unions accountable to workers they'd been elected to represent, but the goal obviously was to weaken workers' collective influence in politics and business.
The law also restricts subjects that can be bargained (seemingly contradicting the National Labor Relations Act's definition of mandatory and permissible bargaining subjects). Unions can no longer negotiate health insurance, layoffs and transfers, seniority or vacations.
The voting process was difficult. Problems were reported with online and telephone voting, plus some ballots were mailed to teachers in plain white envelopes, so some may have been unintentionally discarded.
"There's not one Republican in this state that could win an election under the rules they gave us," Homan said. "And we won 41 of 42 because we went out and worked our tails off."
International Brotherhood of Teamsters president James Hoffa commented, "Given the roadblocks constructed by anti-union elected officials in the state, the results are overwhelmingly positive. Teamster members and staff who worked for months to build solidarity and momentum across the board should be proud of their efforts."