film
Review: "Mudbound" Is a Racial Epic Tuned to Black Lives, and White Guilt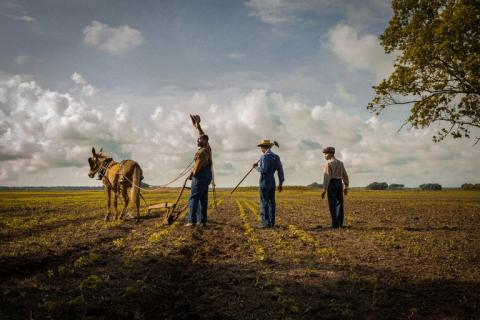 A scene from "Mudbound," Dee Rees's film adaptation of Hillary Jordan's novel., Steve Dietl/Netflix
"Mudbound" is a movie about how things change — slowly, unevenly, painfully. It is also, as the title suggests, about how things don't change, about the stubborn forces of custom, prejudice and power that lock people in place and impede social progress. Set mainly in the Mississippi Delta in the years just after World War II, when Jim Crow was still enshrined in law and practice, the film, directed by Dee Rees, tests and complicates William Faulkner's much-quoted claim about the not-even-pastness of the past. It's a work of historical imagination that lands in the present with disquieting, illuminating force.
The particular corner of the past that Ms. Rees investigates is not entirely unfamiliar. The source of the screenplay for "Mudbound" (which the director wrote with Virgil Williams) is a novel by Hillary Jordan that counts Faulkner and Toni Morrison among its evident literary influences. On film, the racial history of the American South tends to be flattened into reassuring morality tales in which black lives matter less than white consciences. Ms. Jordan's book occasionally wanders in the direction of this kind of soothing, redemptive storytelling — the white characters are split a bit too neatly into the righteous and the wicked, their black counterparts confined to salt-of-the-earth nobility — but the movie resists this tendency. Its people, members of two families knotted together by fate, hate and economics, are complicated. The wounds are raw.
'Mudbound' provides her a larger canvas and a sprawling, crowded plot. Relying on multiple narrators to tell a tale (as Ms. Jordan does) is a common enough novelistic technique, but movies sometimes sag under the weight of even a single voice-over. The half-dozen voices who reflect on the meaning of the onscreen action might have been distracting or confusing, but instead, remarkably enough, they provide an almost musical structure and a feeling of moral gravity. What happens is a communal tragedy, but one that is experienced differently by everyone involved.
The Jacksons are African-American tenant farmers who have managed, through years of toil, to arrive at a measure of stability and the guarded hope that something better might be possible in the future. The land they work is purchased by Henry McAllan (Jason Clarke), whose agriculture and business skills fall short of his ambitions. He and his wife, Laura (Carey Mulligan), come to rely on Hap and Florence Jackson (Rob Morgan and Mary J. Blige). Henry's feckless younger brother, Jamie (Garrett Hedlund), befriends the Jacksons' oldest son, Ronsel (Jason Mitchell). Both Ronsel and Jamie are combat veterans, and their natural camaraderie breaks the rules of racial separation, particularly infuriating Jamie and Henry's father, a hateful old cur they call Pappy (Jonathan Banks).
Pappy's snarling, slur-spewing villainy verges on caricature, but "Mudbound" does not pretend that his is the only, or even the most insidious, face of white supremacy. Nor does the film locate the poison of racism principally in the attitudes and feelings of the dominant race. What Hap and Florence are up against as they try to provide for their children and hold onto their dignity is a system of organized expropriation — a heritage of plunder (to borrow a term from the writer Ta-Nehisi Coates) designed to keep them poor, precarious and dependent. Their labor provides an insurance policy for Henry's bad luck and incompetence. Their successes will be punished so his failures can be mitigated and his entitlement upheld. What's theirs is his.
The more sympathetic members of the McAllan clan — Laura, a bookish, musical, cultivated woman dragged into the mud by the blunt force of her husband's will, and Jamie, a dissolute, poetic soul of the kind Tennessee Williams would have recognized — are in some ways more dangerous to the Jacksons. Ronsel has seen enough of the world and tasted enough freedom to find the strictures of home intolerable. His insistence on behaving like a citizen already puts him at risk: After both world wars, black veterans were frequent targets of white violence. But Jamie, in his blithe disregard for local norms, is protected in a way Ronsel is not, and his refusal to grasp that asymmetry has terrible consequences.
I won't spell those out. "Mudbound" begins with the digging of a grave and then jumps backward in time to move slowly toward the shadow of at least one death. Along the way, quite a lot happens — a bit too much, perhaps. There are subplots that might have been excised and twists that are a little too contorted. But Ms. Rees also knows that plot is not everything, and she uses Ms. Jordan's busy narrative as a trellis rather than an engine. What happens is less important, finally, than who it is happening to.
What stays with you are everyday moments — the wordless communication between Hap and Florence, the aimless soldiers' talk between Jamie and Ronsel, Laura's lonely patience, Henry's simmering insecurity — and the graceful performances that bring them to life. The way those instances of ordinary human tenderness and decency stand out is proof of the film's achievement, which is to lay bare a world in which cruelty is normal and injustice seems as implacable as the weather.
"Mudbound" is currently streaming on Netflix and also playing on the big screen in theaters across the country. 
[A. O. Scott graduated with a B.A. degree in Literature (magna cum laude) from Harvard College in 1988 and was a grad-school dropout (from Johns Hopkins, in American Literature). He has also served on the editorial staffs of Lingua Franca and The New York Review of Books.He is an American journalist and film critic. Along with Manohla Dargis, he serves as chief film critic for The New York Times.]