labor
Janus is Coming. Are You Ready?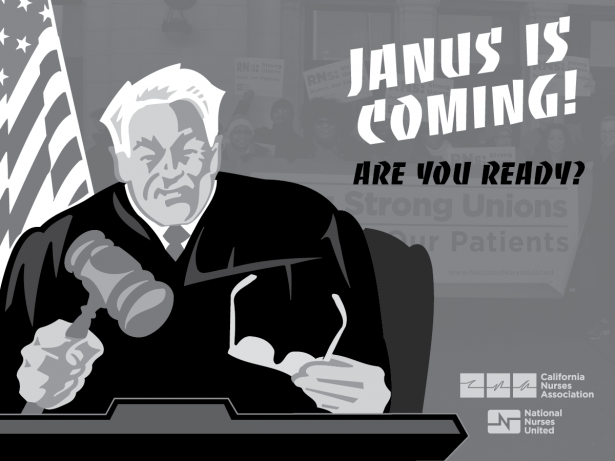 When healthcare corporations cut corners on spending, they cut corners on human lives. Nurses know this. That's why we stand together, as proud union members, to fight for and win important patient and nurse protections, written into contracts our employers agree to — and are legally bound to follow.
"We wouldn't be invited to that table if our employers didn't have to do it under law," said RN Sue Phillips, of Palomar Medical Center in Poway, California, who, along with her fellow nurses, has fought for protections such as safe staffing, safe patient lifting practices, and a nurse-driven workplace violence prevention plan. "If we didn't have our union, we wouldn't have that voice."
On February 26, with a pro-corporate majority Supreme Court, a single case threatens to unravel the protections public sector nurses have fought so hard to secure for their patients over the years. "Janus v. AFSCME" is intended to weaken public sector unions by encouraging employees in unionized public sector workplaces to refuse to pay dues — while they enjoy the rights and benefits of a union contract and representation.

Strong unions mean strong patient advocacy.
Why is this case so critical? To answer that question, we must consider "What changes would hospital or county management make if nurses had no union — or if the union was too weak to oppose them?"
Patient Safety Comes from Union Strength
Anti-labor forces, such as the "National Right to Work Committee," bankrolled by billionaires and corporate CEOs, are pushing Janus, expecting that the court will issue a decision that acts as a prohibition on union shops in the public sector.
The phrase "right to work" is outrageously misleading, given that without a union, employers simply have a "right to exploit" their unprotected workers. As things stand, nurses and other workers who have the protection of a union can speak up without fear of retaliation or being unjustly fired — which, in cases where patient safety is at stake, could be the difference between life and death for those in our care.
We know our patients want their nurses to feel empowered to speak up about unsafe conditions in hospitals. Unfortunately, unprotected nurses means unprotected patients.
"Because we have a union in place, when they are short on staff, we are able to call staffing and ask for additional help. Without a union, they'd tell us 'Just do the best you can,' said RN Martese Chism, of John Stroger Hospital, in Chicago, IL. "And these are our patients' lives we are talking about; they deserve safe care."
One of the most important protections unions can provide for nurses and patients, in a contract, is "safe staffing ratios" — limits on the number of patients that can be assigned to a nurse. Safe staffing contract language is especially important given that currently 49 out of 50 states have no cap at all on how many patients a nurse can be saddled with at once. The only state with mandatory safe staffing ratios is California: because of a UNION fight.
National Nurses United's California arm, the California Nurses Association, fought for and won legislation in that state mandating safe staffing ratios — saving patient lives, improving the quality of care, and reducing nurse burnout. A 2010 study (Aiken et. al) found that compared to California, New Jersey hospitals would have 13.9 percent fewer patient deaths and Pennsylvania 10.6 percent fewer deaths if they matched California's ratios in medical-surgical units.
CNA union nurses fought for and won legislation in California making it the only state in the country that has a limit on the number of patients assigned to one nurse. Union strong for our patients!
"I remember having five patients and covering another nurse that had five (meaning 10 patients while the other RN had to be out of the unit)," said Tanya Williams of Washington Hospital, in Fremont, California. "Right now, we are getting our breaks. Having a united voice made a difference."
And safe staffing is just one fight that unions have advanced, and continue to prioritize, to save patients' lives.
The Impact of Janus
While the impact of Janus will be strongest on directly affected workers (public sector employees in states that are not currently 'Right to Work' states), this case is an attack on the labor movement as a whole. By going after unions' ability to represent workers in the public sector, they hope to divide workers in the workplace, and outside the workplace, weakening our voice.
The negative repercussions will even be felt in non-unionized facilities.
"Nurses in the entire healthcare industry have benefitted from the union. They benefitted from our fight," said Chism, pointing out that employers who do not want their facilities to unionize often have to match benefits fought for by union employees — in an effort not to lose their workers to facilities with better working conditions.
Nurses will always stand strong, together, for our patients.
"Non-union nurses have healthcare because we had benefits in our contracts. All nurses benefit from unions. All patients benefit. So once the hospital industry gets unions out of the picture, everyone's working conditions are coming down."
"Yes, you're paying your dues. In the long run, with your benefits, not being able to be terminated without cause, safe staffing ratios, training — those things are important," said Joyce Robinson, a public health nurse with Cook County, Illinois. "Without a union, management and facilities won't have to do any of those things."
When We're Under Attack: Stand up, Fight back!
As this critical case approaches, National Nurses United invites you to stand with nurses in our commitment to keeping unions strong, for safe patient care. Here's how you can help:
SUPPORT: We are supporting the RNs currently working in public sector facilities, by getting pledge cards signed, to keep our union strong and alive. If you are a public sector nurse represented by CNA/NNOC/NNU, ask your rep for a pledge card, and tell your colleagues!
EDUCATE: We'll be sharing memes, videos, blog posts and articles on Janus v. AFSCME to deepen our understanding, and our resolve. Share them with your friends and family!
TAKE ACTION FEB. 22: Stay tuned for more info on the RN Day of Action, on February 22nd, where nurses will speak out in communities across the U.S., with our allies, on the importance of strong unions, for safe patient care.
Nurses are duty bound to advocate for our patients. We will not allow the protections we have fought for and won to be rolled back. We hope you will stand with us in the commitment to keeping our collective voice strong — because as our union work has shown again and again, the people united can never be defeated.
Director of Health & Safety at @NationalNurses, Director of RN Response Network; I'm an RN & healthcare champion who believes healthcare is a human right!