Scholars for Social Justice Launches with 100+ Members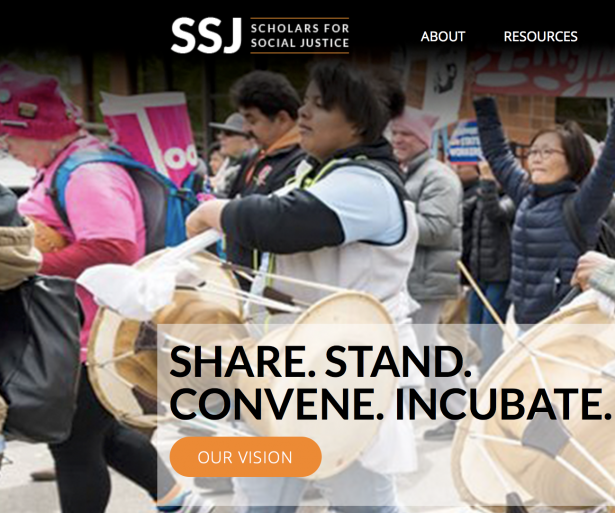 We are clearly living in dangerous times with the election of Donald Trump and the empowerment of a set of rabidly right wing and racist forces. Trump, Pence and the Republicans have made it clear that not only will they usher in a radically conservative policy agenda threatening any incremental advances won under the Obama presidency, but more fundamentally reactionary right-wing supporters will directly target the rights, status and lives of people of color, Muslims, women, immigrants, LGBT communities, the poor, indigenous and differently-abled and all who have been forced to live on the margins in this country.
Trump's election, in particular, is also a direct hazard to basic democratic practices and protections, attacking and punishing those who would rightfully dissent and demonizing and intimidating a press whose responsibility it is to hold the government accountable. Campuses and classrooms have been and will continue to be important sites of struggle and contestation in this regard.
In such an environment all those who believe in social justice must join together in the fight against forces who will try to advance hate and an oppressive political agenda. It is essential, however, that those of us who are engaged in documenting, exploring and amplifying in our research those communities most likely to be harmed by a Trump presidency, stand in solidarity and mobilize collectively in solidarity with those communities.

Scholars for Social Justice (SSJ) is a new formation of progressive scholars committed to promoting and fighting for a political agenda that insists on justice for all, especially those most vulnerable. This organization will mobilize the knowledge, skills and resources of scholars to battle the repressive attacks on marginalized communities, advancing instead an agenda of equality and justice. Issues impacting immigrants, women of color, people of color, LGBT, Muslims, women, differently-abled, indigenous and poor and working-class communities will be our priority. Moreover, SSJ will be especially attuned to using the experiences of these same communities to reimagine the academy, expanding who it serves, who has access to it and who shapes its mission.  While all are welcome to join SSJ, the leadership will be comprised primarily of those whose lives & communities sit at the intersection of the most recent attacks from the right.
SSJ stands in solidarity with other movements that have taken to the streets to win liberation for their communities. From the Movement for Black Lives to the Sanctuary and Immigrants Rights Movement to the Fight for Fifteen, oppressed people have launched national and international campaigns to protect their rights, demand their dignity and win liberation for all. And while the repressive political environment we currently face dictates that we focus our work on the most immediate struggles in the United States, we will work to make visible the fact that across the globe other marginalized peoples are engaged in similar fights for freedom, dignity and justice. Thus, Scholars for Social Justice will be in dialogue and work in active collaboration with progressive scholars in countries from South Africa to Brazil to Palestine.