Tidbits - February 22, 2018 - Reader Comments: Blood on their Hands - NRA, Trump, Congress, GOP; Trump Military Budget; Israel; CIA; Who Does NRA Own; Events notice; Resources; and more....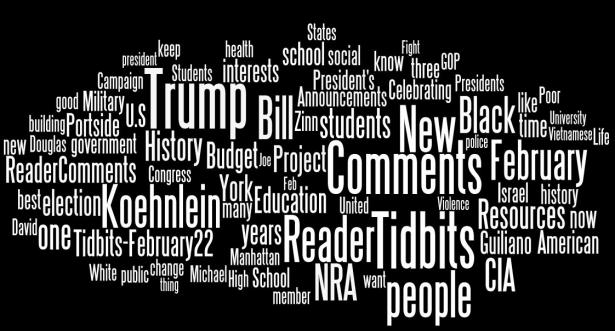 Tidbits - Reader Comments, Resources and Announcements - February 22, 2018, Portside
Resources:
Announcements:
What It Means to be a High School Teacher Today...in the aftermath of Parkland, Sandy Hook, Columbine
What is it about this particular tragedy that tipped the scale? Why not Newtown, why not Columbine? These are the questions we asked one another at school last week. My answer is that it now seems inevitable: not if, but when. When will it be our turn? When will we bar the doors, fight, run or hide? When will our school become a shooting gallery for the deranged?
At this point we've been practicing lockdown drills for years. We lock and block the doors, huddle on the floor in the darkest corners of our classroom; 36 teenagers and one adult trying to be as quiet as possible. No phones, no talking, no movement. We wait for the rattle of the door handle, at least one of us cries, and then it's over. The all-clear. We turn on the lights, stretch our cramped limbs and return to our seats. I tell a joke, try to lighten the mood a bit and resume class.
How do I convey what it feels like to walk into your workplace every morning wondering if today is the day you'll die there? How do I explain the trepidation I feel when I have to confront that one student--the one that's been making the disturbing art, doesn't smile or interact with peers, and whose parents won't return my emails or calls -- to tell him that I need him to tone down the violence in his work? How do I share my deepest fear that this is the kid that will come back for me later, armed and ready to exact his revenge?
How do I express the complexity of emotions I feel when I'm huddling in the dark with my students, thinking about what it would take for all of us to make it out of the building alive?
You see, I don't want to be a hero, I want to be a teacher. I don't want to take a bullet for my students, I want to listen to them, advocate for them and support them so that they can go out into the world armed with kindness, empathy and critical thinking skills.
Two weeks ago, I gave my new students a questionnaire about their lives. One of the students answered the question "What is one thing that really stresses you out?" by writing the following: "What really stresses me out is the fact that I might die in this building."
Why is the ok on any level? Imagine your child, your grandchild, your niece or your nephew saying that to you. What would you do?
Oregon high school teacher
American -- cartoon by Rob Rogers
Another day, another gun massacre in the United States. I wonder why this doesn't happen in any other country in the world. Oh, right. The NRA and those cowards in Congress.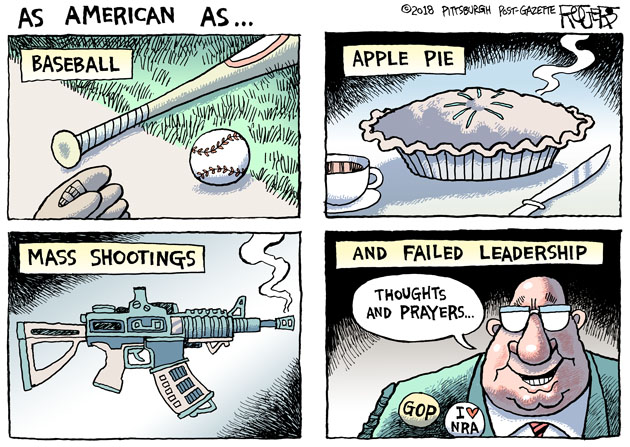 Rob Rogers
February 16, 2018
Pittsburgh Post-Gazette
We all knew it would happen again —
Not where or when, and yet we knew.
A boy with a twisted will
With a pressing urge to kill,
Pulling the trigger was all he had to do.
And once again the candles, the flowers,
The photographs, the tearful embraces.
Another neighborhood,
Another school drenched in blood.
Loved ones bereft of smiling faces.
And again in their domain of power
The senators and congressmen
Offer condolences and state
It's much too soon to legislate.
But a grieving multitude demands, "When?"
When?
When?
When?
Seymour Joseph
Re: Who Was Marjory Stoneman Douglas?
"Be a nuisance where it counts," Douglas once said. "Do your part to inform and stimulate the public to join your action. Be depressed, discouraged, and disappointed at failure and the disheartening effects of ignorance, greed, corruption and bad politics—but never give up."
The students at Douglas High may not know it, but in translating their anguish into activism, they are carrying on in the tradition of their school's namesake.
Hayyim Feldman
Posted on Portside's Facebook page
Re: Florida High School Students Stage Walkout to Protest Gun Violence 
It's time, again, to revive this song, that has only 79 views to date but ought to have 79 million!
"Guns Don't Kill People" https://youtu.be/t78RdolIEGY
Leonard Lehrman
And the President's Response - Trump Backs Arming Teachers

Read full story here.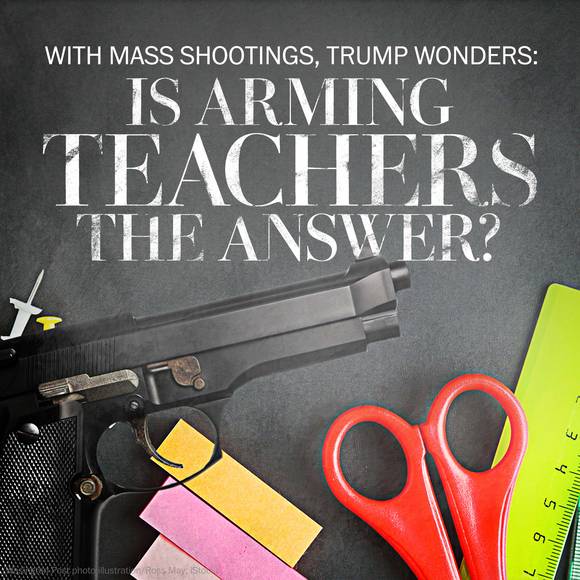 Re: N.Y. Teamsters Form `Sanctuary Union' to Fight ICE Agents
An informative and encouraging article. I did not know that Administrative Warrants existed or their critical difference from a Judicial Warrant.
Hope DeRogatis
Posted on Portside's Facebook page
     =====
This is solidarity! Thank you New York Teamsters. This is an exampled for trade union locals throughout the country.
As a former helper-member of IBT Local 753 in Chicago - what was then the Milk Drivers local - I salute my Teamster sisters and brothers of the different New York Teamster locals.
Jay Schaffner
Posted on Portside's Facebook page
     =====
I see this as the beginning just like in the early 1900s. Next thing you know the politicians will be calling it a "Red Scare" and lean further on the unions. This could be the beginning of "end". And I mean the people have had enough crap of Republicans and Democrats and we want and need a change. What we have now is corrupt to the core.
Adelaide B Forrest
Posted on Portside's Facebook page
The View from Canada: America Hostage -  cartoon by Michael de Adder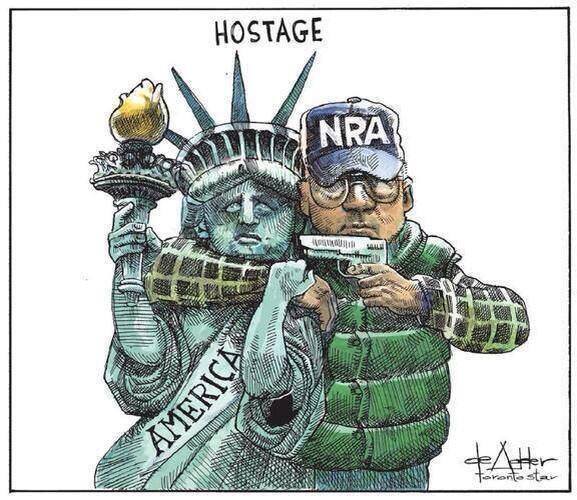 Michael de Adder
February 15, 2016
The Toronto Star
Re: President's New Budget. Stark Vision of GOP Reality. Attention Must Be Paid; Here are the Proposed Cuts; Huge Increase for Pentagon
Not surprising, money goes to military/ Death Machine...!!! He wants to destroy the most vulnerable folks He must be stopped!!!!
Laura Owen
Posted on Portside's Facebook page
     =====
They will keep finding "bad guys" to keep people scared and keep feeding their own.
Why do we keep falling for it?
Howie Leveton
Posted on Portside's Facebook page
     =====
Conservative ideals at work. Thank you McConnell and Ryan! Swell the rich and hang the rest.
Edwin Christman
Posted on Portside's Facebook page
     =====
So tell me one more time that the dumpster isn't busy searching for a war to boost his flagging ratings..............
Susan Labelle
Posted on Portside's Facebook page
Re: Trump's FY2019 Budget Request Has Massive Cuts for Nearly Everything But the Military
Why? I don't get it.
Tom Dugan
Posted on Portside's Facebook page
     =====
This should make Americans think in the choices they make of the person who will lead the nation with elegance, knowledge, compassion, empathy, diplomatic skills, respect and solid achievements in benefit of the American people and not in their personal pockets. None of these qualities form part of Trumps baggage...yet he was elected thanks to the electoral college and not the popular vote. So, we now have a world wide despised president 
Aida Rivera
Posted on Portside's Facebook page
Re: How Israel's Secret Services Built the Most Robust Assassination Machine in History
Ronan Bergman, who documents Assassination Machine in his recent book, is an interesting reporter. The Israeli liberal-left, once so dominant in Israel and in its military, is now itself fading into history. Bergman emphasizes the fact that the choices made by the Israeli secret service were moral choices (no collateral damage), but let's see what Israel will be like in the "new age" - with the dominance of Trump, Saudi Arabia-ISIS, and the Israel-Home party of Naftali Bennet. Will anyone survive this murderpus trio in the Middle East? i don't think so.
David Makofsky
Posted on Portside's Facebook page
Re: Vietnam's Lessons and the U.S. Culture of Violence - an Analysis
You would not know from Lawrence Davidson's article on the My Lai massacre that the US was waging a war of imperial conquest in Vietnam.  Of course, understanding what happened at My Lai, and so many other Vietnamese hamlets and villages, is impossible outside of this context.  American servicemen were fighting in a war in which their government told them they were fighting to protect Vietnam's people from communism, and keep those people free. These servicemen, in Vietnam, quickly discovered that if they were there to protect the freedom of the Vietnamese, the Vietnamese were certainly not grateful.  Indeed, they were sullen, hostile, or simply unfathomable and untrustworthy.  
The lie of America's presence in Vietnam thus stood revealed to American servicemen.  Americans were risking their lives and being maimed and killed in defense of a lie.  Some American servicemen understood this lie and turned against the government that had sent them to conquer another people.  Others suppressed the anger they felt toward their own government and channeled that anger against the Vietnamese, a lot easier a target, and they killed with the nihilistic rage common to people deep in denial.
David Barber
Re: Marxism as `Organized Sarcasm'
(posting on Portside Culture)
What a misogynistic pronouncement by Joseph Conrad was quoted below. One that ought not to be repeated.
'O, the horror, the horror, everything was his...(written by Joseph Conrad) now takes on a whole different meaning.
Joyce Parkes
Re: As Germany Honors Those Who Fought Fascism, We Must Honor Those Who Fought White Supremacy
Thank you.  This is a remarkable document that I am sharing with some colleagues who will appreciate the effort to produce it and who will value its purpose and content.
Joe Grogan, Retired prof., 
Humber College, Toronto, 1969 to 2003/Bolton, Ontario/Canada
Re: Paul Robeson, Life, Legend and Contradictions
Loved this.  My father wrote speeches for him, and I had the great privilege of meeting him many years ago.
Anne & Charles Johnson
     =====
The reviewer writes an excellent review and has the heart to recognize merit where some would simply focus on the flaws.  Buhle has a good heart
Michael Batinski
Re: Is Donald Trump a Traitor?
The subhead of the article asks whether Trump "has the best interests of the United States or those of Russia at heart."  This invites us to consider what are those best interests. Let's not concede the field of language to those who presume to be working for "the best interests of the United States."  We know to ask "what are the best interests" of "which United States" and "who decides what those interests are?"
Another feature of Risen's formulation get's me thinking:  Might the really "best" interests of all countries and peoples be compatible? What would a world be in which that were recognized, and how do we work towards it?
Joe Maizlish, Los Angeles
Prados pretends to be criticizing the CIA while making it look like a bunch of good guys who make mistakes and have a hard time helping the good guys without becoming bad now and then. To be fair and balanced, you should get Douglas Valentine to do one.
Steve Leeper
     =====
And then there is ICE evolving into another monster!
Leanna Noble
Posted on Portside's Facebook page
     =====
Portside, are you now apologists for the CIA?!!
The CIA is and always has been our enemy.
The CIA overthrows democratically-elected governments "in the interests of democracy."
Alan Hart
Posted on Portside's Facebook page
Re: Black Panther Is Great. But Let's Not Treat It As an Act of Resistance
The gentleman seems to confuse revolutionaries with the masses. The masses are always susceptible to manipulation. Revolutionaries are not. The movie that turns the masses into progressive revolutionaries hasn't been made yet.
Bernard White
     =====
Lets not forget the great film and series Zhaka Zulu based on a real royal African warrior during the kidnapping of his people to be enslaved !
Placido Torres
Posted on Portside's Facebook page
Re: In Soil-dwelling Bacteria, Scientists Find a New Weapon to Fight Drug-resistant Superbugs
When studying homeopathy we looked at allopathy's tendency to use smaller and smaller doses of drugs.
We said that allopathy is going to back itself right into homeopathy which relies on the energy of the material instead of the material itself which can be very toxic.
Now we read that playing in dirt is a healthy thing to do. It has been known for a very long time that access to dirt for babies and young children is necessary for building immunity. Sterile conditions for people are not healthy and this article makes me laugh at its naivete in this regard.  However, what is not stated is how such 'folk' wisdom is ignored simply because it cannot be patented for profit.  Now, under the pretense of having discovered something new, drug corporations will crow while creating new patents for profit.  They scare me more than anything as their goal is to have an ongoing sick public which serves well as their economic frontier.  That makes us nothing more than objects for profit.
Tanya Marquette
     =====
Good news for the human race. The nature giving the cure for diseases. The soil and It's unique form of helping humanity..
Victor Rafael Almodovar Toro
Posted on Portside's Facebook page
Re: Black Lung Disease on the Rise
This is part of Trump's plan to boost the coal industry. Cut back health and safety regulations, the production costs go down, and profit goes up.
Philip Specht
Posted on Portside's Facebook page
     =====
Yep gotta love that beautiful clean coal
Jeffrey Dunmyer
Posted on Portside's Facebook page
Re: California Police Worked With Neo-Nazis
Until they purge police dept. of racist cops nothing is ever going to change. Even with videos of the police committing murder they still are still found innocent. They know they can do anything to black people and suffer no consequence. There is no such thing as a good cop as long as they protect bad cops
Laddie Stinson
Posted on Portside's Facebook page
Today, Friday, Feb 16, Special Counsel Robert Mueller -- who has been investigating Russia's election interference -- indicted 13 Russian nationals and 3 companies for conspiracy to defraud the United States, interfere in the 2016 presidential election.  and conceal their identities to "produce, purchase, and post advertisements on U.S. social media and other online sites" meant to swing the election for Trump.
Mueller's explosive indictments lay to rest -- once and for all -- any claims that the Russia story is a hoax or a witch hunt.
This is the clearest picture US people have been shown about the size and scope of Russia's comprehensive efforts to meddle with our democracy since the early assessment released by US intelligence agencies shortly after the election. Mueller's explosive indictments lay to rest -- once and for all -- any claims that the Russia story is a hoax or a witch hunt.  Now that Muller's investigations are beginning to yield the answers people deserve, it's even more important that the Mueller investigation remain independent and not be obstructed by the White House or its partisan allies.
While interference by Russia in US policy and elections is wrong, abhorrent policies of the US are even worse.  The US has a long history of attempting to influence presidential elections in other countries - it's done so as many as 81 times between 1946 and 2000, according to a database amassed by political scientist Dov Levin of Carnegie Mellon University.  T
That number does not include military coups and regime change efforts following the election of candidates the U.S. did not like, notably throughout Latin America, and n Iran, Guatemala, Chile, Italy, and Africa, nor general assistance funding and election monitoring.
Levin defines intervention as "a costly act which is designed to determine the election results [in favor of] one of the two sides." These acts include funding the election campaigns of specific parties, disseminating misinformation or propaganda, training locals of only one side in various campaigning or get-out-the-vote techniques, helping one side design their campaign materials, making public pronouncements or threats in favor of or against a candidate, and providing or withdrawing foreign aid.
James E. Vann
Longtime political, housing, community activist
in Oakland, California
See if your Congressional Representative or Senator is in hock to the NRA, and for how much.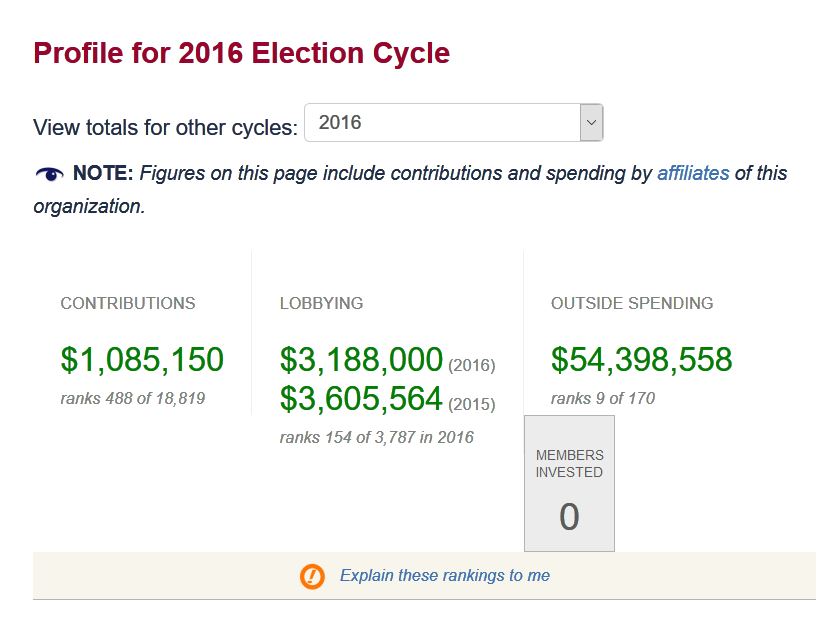 Click here to explain these rankings.
The Center for Responsive Politics
1300 L St., NW Suite 200
Washington, DC 20005
telephone (202) 857-0044
fax (202) 857-7809
President's Day (and all-time) Resource - Teach Students to Question the President (Zinn Education Project)

February 16, 2017
On last Sunday's CBS show "Face the Nation," senior Trump policy adviser Stephen Miller defended Trump's travel ban and said, "The powers of the president to protect our country are very substantial and will not be questioned."
We need to remind students that this country has been at its best when people have organized to question and challenge presidents — opposing presidential support for slavery, war, invasion, segregation, and injustice of all kinds. Our students need stories of this resistance to inform and inspire their own activism in the years ahead.
As Presidents Day approaches, it's a good time to reflect on how we can help students to think critically about the presidency — and, yes, help them to question the president.
Howard Zinn said about the three branches of government,
We've never had our injustices rectified from the top, from the president or Congress, or the Supreme Court, no matter what we learned in junior high school about how we have three branches of government, and we have checks and balances, and what a lovely system. No. The changes, important changes that we've had in history, have not come from those three branches of government. They have reacted to social movements.
Here are a few of the many resources available at the Zinn Education Project to critically teach the presidency. With your support, we can bring these lessons to classrooms everywhere.
History of U.S. Presidents
c/o Teaching for Change
PO Box 73038
Washington, DC 20056
Celebrating Black History Month Feb. 26 webinar on the Poor People's Campaign
CCDS Socialist Education Project: Celebrating Black History Month
Feb. 26 webinar 9 pm  ET, 8pm CT, 7pm MT, 6pm PT
The Poor Peoples Campaign 
Speakers:
Kerry Taylor: the poor peoples campaign of Martin Luther King Jr. 
Mildred Williamson: the new Poor Peoples Campaign and developments in Chicago in response to the challenges of today.
The presentations will be followed by discussion.
(please pass this on to friends and lists)
Background to Black History Month
US capitalism has the distinct feature of over 200 years of rapid large scale accumulation from the super exploitation of black labor in the slave system in the ante-bellum South and the share-cropping peonage system in the post-bellum South.  
Black history month is a time to reflect and learn about this history and its great relevance today.  Chronic unemployment and poverty, numerous police shootings of young black men such as in Ferguson, and high rates of incarceration were all but a prelude to the overt racism of the Trump administration.  National oppression is deeply rooted in US society and is an important material basis of our national wealth.  Resistance is also strong, led by the Black Lives Movement and others.   The new Poor People's Campaign is resonating far and wide, building momentum for its positive agenda for peace and justice.
The stronger the momentum for black liberation, the stronger the movement for the working class, the progressive majority, and social change.  This movement for economic and social justice creates a more favorable situation for promoting and advancing towards socialism. 
Kerry Taylor, Ph.D. is an associate professor at the Citadel in South Carolina.  He is a specialist in twentieth-century US, labor, African American and oral history.  Taylor was the associate director of the Southern Oral History Program and co-edited volumes 4 and 5 of the Papers of Dr. Martin Luther King, Jr.
Mildred Williamson works for the  Cook County Health & Hospitals System and the University of Illinois at Chicago-School of Public Health.  She has been active  in issues such as access to healthcare/community health, HIV/AIDS policies & programs, social determinants of health, correctional health, public education/youth development, anti-racism and police accountability.  
Join from PC, Mac, Linux, iOS or Android:  https://zoom.us/j/354712203
Or iPhone: just tap, (when directed enter the access code that follows the phone number)
    US:  +14087403766,,354712203#  or  +16468769923,,354712203# 
Or Telephone : (dial the following number, when directed enter the meeting number  354 712 203)
    Dial (for higher quality, dial a number based on your current location): 
        US:  +1 408 740 3766  or  +1 646 876 9923  or  +1 669 900 6833 
    Meeting ID: 354 712 203
    International numbers available:  https://zoom.us/zoomconference?m=S3lEPnR1HBCGaxk3DwhsyMOm8b-4ZkBj
Celebrating the Life of Bill Koehnlein - New York - March 24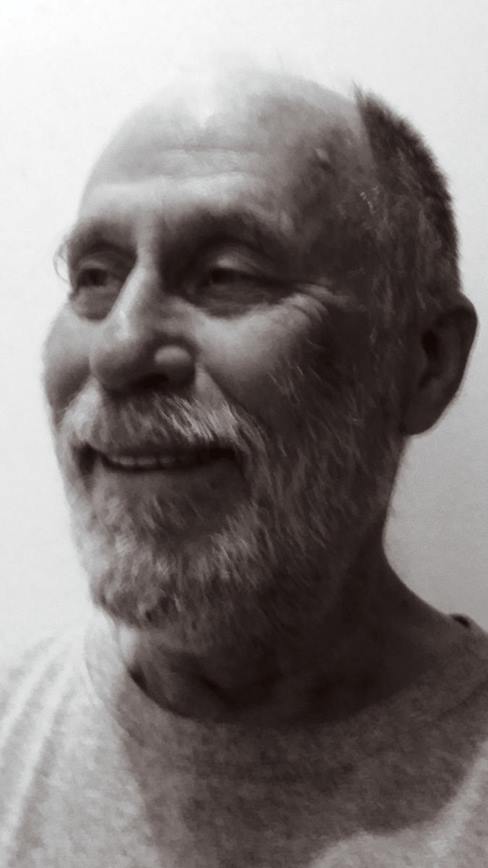 William (Bill) W. Koehnlein, life-long peace and social justice activist, organizer and educator, died in Manhattan on November 19, 2017, after a long, courageous struggle with colon cancer.
A native New Yorker, Bill was born May 10, 1949, and spent the first six years of his life in the Payson Avenue section of Manhattan (1949-51) and in Elmhurst, Queens (1951-55), where he attended kindergarten at P.S. 89. For the next twelve years, he lived in Huntington Station, Long Island,  subsequently moving to the Lower East Side of Manhattan, his main residence until his death.
Bill was a warm, humble, honest and compassionate person. Throughout his adult life, he worked primarily as a freelance book editor and indexer.  A political actor, he radically opposed the culture of capitalism both as a writer and organizer committed to grass-roots movement-building for systemic change.  In his interactions with people from all walks of life, he espoused and embodied an alternative culture of solidarity. The projects and actions in which Bill was involved from the 1960s on reached across the ideological spectrum of the Left—anarchism, socialism, communism, while sharing a common goal: promoting revolutionary consciousness and practice. For example:
 Bill demonstrated with SDS at the 1968 Democratic Convention in Chicago.
 From the 1960s to the late 1980s, he was an active member of the anarchist community. During this period of time, a) he participated in the Free School movement as a member of the collective that ran Free Space/Alternate University (in the A. J. Muste building and on 14th Street); b) he was a member of the Libertarian Book Club; and c) in the early 1980s, he co-founded the Anarchist Switchboard (East 9th Street/Second Avenue in Manhattan), a three-year  project partly modeled on the original Free Space.
Since the 1960s, he actively supported the War Resisters League.
From the late 1980s until his death, Bill was an active member and constant supporter of the Brecht Forum/New York Marxist School, and subsequently, the Marxist Education Project.
He was the administrator of the Theater of the Oppressed Laboratory (TOPLAB) (late 1990s – 2017).
For three years, he volunteered weekly at the Earth Matter NY Compost Learning Center, on Governors Island, caring for the chickens.
He was a working member of the Fourth Street Food Co-op in Manhattan.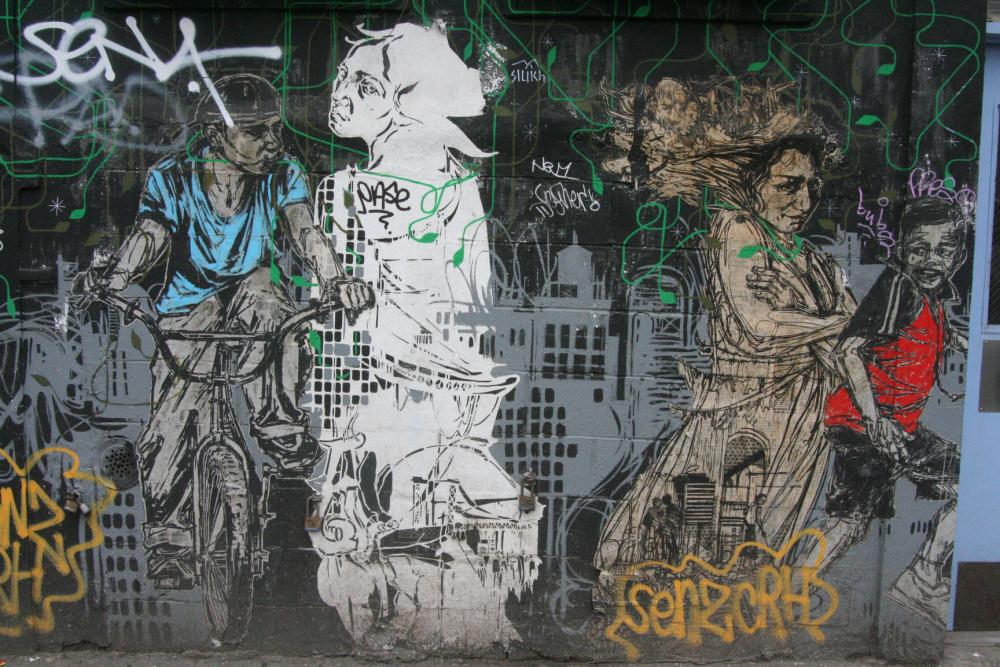 Celebrating the Life of Bill Koehnlein
Saturday, March 24, 2018
Saint Mark's Church in-the-Bowery
Parish Hall
131 East 10th Street (at Second Avenue)
New York, NY 10003
1:00-4:00pm
Bill lived a full life with integrity. He also touched hearts and minds with his encyclopedic knowledge and wit. He did extensive research on many subjects, including organic farming and sustainable agriculture, edible mushrooms, alternative medicine and the politics of food. He was also an animal whisperer and defender of animal rights who vigorously promoted the health and ecological benefits of the vegan diet. He fed birds and squirrels, loved crows, brushed his cat, gazed at the moon, climbed rocks, and felt at home in the woods and on mountain hiking trails. Bill will be lovingly remembered by his family and friends as an engaging raconteur; a writer of both incisive political commentary and whimsical fiction; a disseminator of information—news, films, music, recipes; an accomplished photographer; a lover of music ranging from Wagnerian operas to John Coltrane and Sun Ra; and a creative vegan cook. 
Bill's family would like to thank the Visiting Nurse Service of New York Hospice and Palliative Care Program for their invaluable support. We request that any monetary contributions in memory of Bill be sent to The War Resisters League, The Marxist Education Project or The Catholic Worker.
He is survived by his wife of 37 years, Marie-Claire Picher; his son, Lyle Koehnlein, and   daughter-in-law, Jessica Weiser; his mother, Joyce Johnson Koehnlein; two sisters—Janice Van Horne and Margaret Guiliano; his brother, John Koehnlein; two sisters-in-law—Patricia Di Grado Koehnlein and Annette Picher; three brothers-in-law—Philip Guiliano, Harry Van Horne and Edward Blechner; three nieces—Keely Guiliano, Zoey Guiliano and Selina Koehnlein; six nephews—Ry Guiliano, Zachary Guiliano, Delaney Guiliano, Kieran Koehnlein, Matthew Van Horne, Daniel Picher Fisher; his ex-wife, Sandra Gallagher Kynes; and many cousins and friends. He was pre-deceased by his father, William V. Koehnlein, and grandparents—Karl Koehnlein, Kristina Piskla Koehnlein, Viora Andren and Wayne Johnson.
50 Years After the Revolution: New Perspectives on 1968 - New York - April 27 & 28
Faculty House, Columbia University
64 Morningside Drive 
Manhattan
library.columbia.edu/rbml
Free; registration required
This two-day conference features panel discussions and a film screening as scholars, activists, and students consider the legacies of 1968 for politics and society today.
Conference will take place on April 27 and 28. Please refer to the Columbia University website for up-to-date information.
Part of: The '60s: The Years that Changed America
Event Contact Information:
Thai Jones
212-854-9616
tsj2001@columbia.edu