Friday Nite Videos | March 2, 2018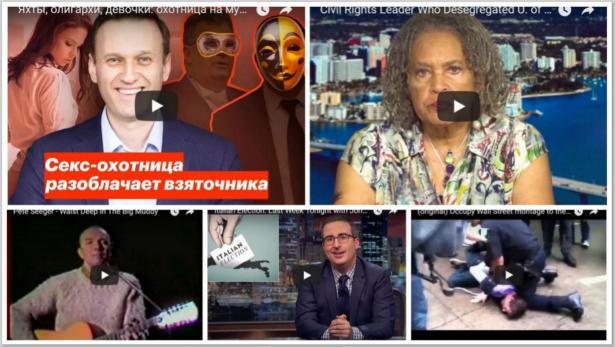 To view a video click an image below,
---
Montage of images from Occupy Wall Street set to the 1971 song Love, That's America, by Melvin Van Peebles, from the soundtrack of Watermelon Man.
---
Italy is in the throes of a turbulent race to elect a new prime minister. John Oliver discusses the colorful contenders and introduces an equally ridiculous candidate.
---
As a student-led movement for gun control sweeps the country, we look back with a leader in the student movement that desegregated the University of Georgia in 1961.
---
Russian opposition activist Alexei Navalny alleges a new link between the Kremlin and the Trump campaign. (With closed caption translation.)
---
50 years ago this week, Pete Seeger returned to the national stage, singing Waist Deep in the Big Muddy on The Smothers Brothers Show - a challenge to the Vietnam War that CBS promptly censored. (Full story here.)