labor
Activist, Unionist, Educator and Hell-Raiser' Carolyn Jacobson Dies at 67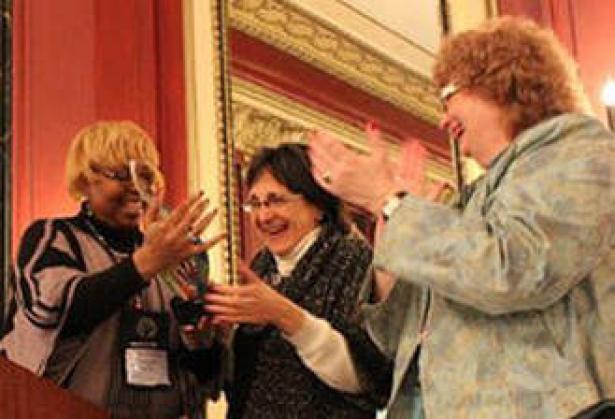 Jacobson (center), receiving CLUW's "Outstanding Achiever" Award in March 2014,
A woman whom her friends called "an activist, unionist, educator and hell-raiser" – and also a notable friend – Carolyn Jacobson of the Coalition of Labor Union Women died March 23, aged 67, after a 2-year battle with cancer. A jammed funeral service was held for her at Adas Israel synagogue in Washington three days later.
In a 40-plus-year union career, Jacobson was Communications Director of the Bakery, Confectionery and Tobacco Workers and Grain Millers, a board member and president of what was then the International Labor Press Association, and a co-founder and moving force behind key programs for CLUW.
She also helped convince the union movement to bring women's issues and women's rights to the forefront, including endorsement of the Equal Rights Amendment and equal pay for equal work, speakers said.

And she was a founder and force behind the Berger-Marks Foundation, a longtime foundation, first established by The Newspaper Guild, to train, mentor and promote younger women into leadership positions in unions and in social justice movements.
But as the speakers made clear, Jacobson was much more than that. 
"Our sister was an ardent feminist, a tremendous supporter of women's health, a funny human being and a loyal friend," said AFT Human Rights Director Connie Cordovilla.
 
And besides union organizing, and mentoring union women, she was also heavily involved in women's health issues, and could tie that together with unionism, said CLUW Executive Director Carol Rosenblatt.
"Carolyn knew women's health education not only could save lives, but was a great way to demonstrate to women that CLUW and the labor movement understood their needs. 
 
Women would become empowered about their own health. CLUW chapters promoting the campaigns would attract new members.  Carolyn knew this was a winning combination and she was right," Rosenblatt said.
  
"In 2001, she originated and directed CLUW's Contraceptive Equity Project to make sure unions knew they had a right to demand contraceptive coverage in their health plans if the plan covered other preventive drugs and devices. Carolyn was thrilled when, as a result, the largely male Masters, Mates and Pilots union added contraceptive coverage for its 6,800 members and spouses. The project succeeded in assisting millions of union families secure contraceptive equity in their health plans."
 
Jacobson then turned to campaigns against cervical cancer, promoting more screening and annual follow-ups for union women and families. "The message Carolyn spread, is that unlike other cancers, cervical cancer is totally preventable," Rosenblatt added – and she spread it through recruiting a survivor to create and play rock music and through fundraising walks. And just before her own battle with cancer started, Jacobson launched a new CLUW campaign against coronary artery disease, the top killer of women in the United States. 
"Carolyn was what I call the 'feminist conscience' of Berger-Marks," former foundation President Linda Foley, who is also a former Newspaper Guild president, e-mailed. "As an organization dedicated to assisting working women and encouraging women labor leaders, we funded many individuals and projects during our 21 years of grant-making and programming.  Some projects promoted women; some strengthened unions; our goal was to do both."
One of her key projects, Foley said, was to ensure Berger-Marks funded scholarships for young woman union activists to attend regional labor training academies and courses – and to report on them afterwards. 
Another was to create and promote The Next Generation: A Handbook for Mentoring Future Union Leaders, Foley said. "Noting that mentoring was something often talked about but almost never done, Carolyn led a joint project with the Institute for Women's Policy Research that resulted in this excellent how-to manual. I don't believe anything else like this exists for unions or their members."
"Carolyn was the one who always — no matter the cause or goal — made sure that women, particularly young women, were where we put our emphasis."
.