Friday Nite Videos | March 30, 2018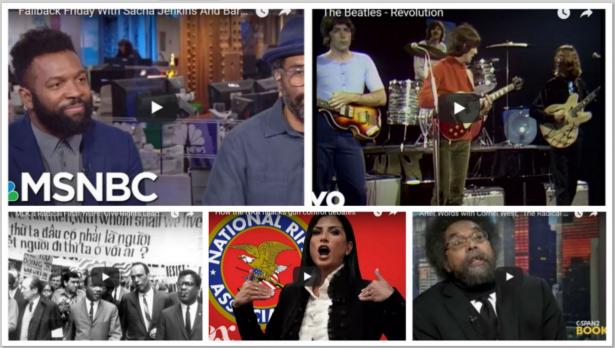 To view a video click an image below,
Cornel West explores MLK's radical political thinking with Khalil Gibran Muhammad, Director of the Schomburg Center for Research in Black Culture. An audiobook of West's compilation The Radical King, narrated by LeVar Burton, Gabourey Sidibe, Cornel West, Mike Colter, Danny Glover, Colman Domingo, and Wanda Sykes, will be released April 3, 2018.
Released 50 years ago, in tumultuous 1968, John Lennon's Revolution is considered one of the greatest rock songs. Despite its driving, almost apocalyptic guitar riffs it is less a celebration of revolution than a succinct rebuke of nihilism and sectarianism. 
Why is the NRA -- a group that represents the interests of gun manufacturers -- taken seriously in debates about reducing gun violence?

Cultivated Wit founder Baratunde Thurston joins Ari Melber for Fallback Friday and calls for surveillance capitalism to fall back
Fifty years ago Rev. Martin Luther King was assassinated at age 39. This program looks back at the last three years of King's life, beginning after the Voting Rights Act of 1965. King set his eyes on radical new objectives, launching a Poor People's Campaign and campaigning to stop the Vietnam War.