'It's Time for Indian Women to Be Heard': The Promise and Problems of the Tribal Law and Order Act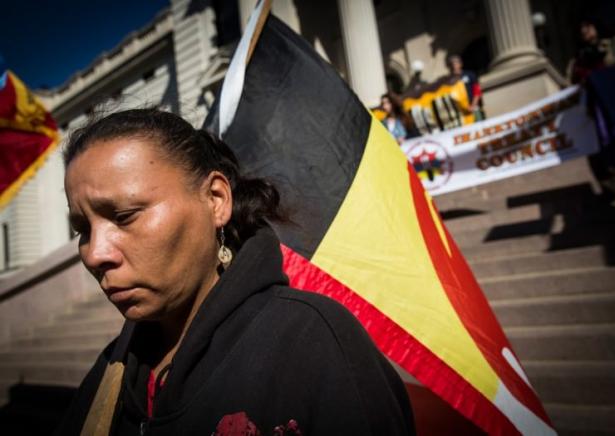 Overall, Native Americans are 2.5 times more likely to experience sexual assault crimes compared to other races.,Andrew Burton/Getty Images
"The Tribal Law and Order Act [TLOA] feels like window dressing," said Sarah Deer of the Muscogee Creek Nation, who worked on the legislation President Barack Obama signed into law in 2010 and was also instrumental in the reauthorization of the 2013 Violence Against Women Act (VAWA). "It's very disappointing, many of us worked so hard on the legislation."
The language of TLOA, with its specific promises to combat sexual and domestic violence against Native women, held great hope for Indian Country, a community in which one out of every three Native women reports being raped in her lifetime. Overall, Native people are 2.5 times more likely to experience sexual assault crimes compared to other races.
In the government's first evaluation of TLOA, however, the main government agency responsible for carrying out the mandates of the act has fallen far short of its goals.

Deer, who has worked for more than 25 years to end violence against women in Indian Country, agrees.
In its December 2017 report, the Office of the Inspector General (OIG) details numerous failures on the part of the Department of Justice (DOJ) in implementing TLOA.
According to the language of the act, the purpose is:
(1) to clarify the responsibilities of Federal, State, tribal, and local governments with respect to crimes committed in Indian country;
(2) to increase coordination and communication among Federal, State, tribal, and local law enforcement agencies;
(3) to empower tribal governments with the authority, resources, and information necessary to safely and effectively provide public safety in Indian country;
(4) to reduce the prevalence of violent crime in Indian country and to combat sexual and domestic violence against American Indian and Alaska Native women;
(5) to prevent drug trafficking and reduce rates of alcohol and drug addiction in Indian country; and
(6) to increase and standardize the collection of criminal data and the sharing of criminal history information among Federal, State, and tribal officials responsible for responding to and investigating crimes in Indian country.
Although authors of the OIG report note that the DOJ has taken some steps to carry out TLOA mandates, they point to glaring failures of the agency to meet some of the most basic elements of the act. Some of the worst examples include failure to collect reliable and complete crime data, develop coordinated oversight for its Indian Country related efforts, provide sufficient training to those working in Indian Country, and support tribal law enforcement and judiciaries.
For instance, although TLOA established the Office of Tribal Justice (OTJ) as a permanent entity within the DOJ, the OTJ has little actual authority beyond serving as liaison between the DOJ and tribes.
"One might have thought that one of the main duties of the OTJ would be ensuring that the mandates of TLOA are met," Deer noted. Author of The Beginning and End of Rape: Confronting Sexual Violence in Native America, and winner of a 2014 MacArthur "genius" award for her work, Deer is a professor of women, gender, and sexuality studies at the University of Kansas.
In fact, there is no office or authority within the DOJ that oversees implementation of TLOA requirements, according to information in the OIG report.
"There are some passionate people within the various entities of the DOJ, such as the Department of Tribal Justice, who are working to do the right thing in Indian Country," according to Deer.
But with no guarantee of accountability for the DOJ, there is little institution-wide incentive to meet TLOA mandates.
For instance, although TLOA requires the U.S. Attorney's Offices (USAO) with territory that includes Indian Country to assign at least one assistant U.S. attorney to fulfill duties as a tribal liaison, the attorneys are also expected to carry a full caseload with their respective USAO.
According to TLOA mandates, tribal liaisons are tasked with coordinating prosecution of crimes in Indian Country, developing multidisciplinary teams to combat child abuse and sexual violence, providing technical assistance and training to tribal prosecutors, developing working relationships, and maintaining communication with tribal leaders, community, and victims' advocates.
Tribal liaisons who were interviewed and cited anonymously in the OIG report complained that they didn't have enough time or resources to perform their duties effectively.
In a written response to the OIG report recommendations that liaisons be given more support, Scott Schools, associate deputy attorney general, wrote in December 2017, "TLOA … did not fund or authorize additional [full time employees] for the USAOs."
He added that the "primary responsibility [of Assistant U.S. Attorneys] is prosecuting crimes."
FBI special agents interviewed in the report complained that they hadn't received any training specific to Indian Country. Rather they relied on on-the-job training from colleagues.
One agent is quoted in the report saying that it's "crazy" to him that, given the high rates of violent crime on reservations, he has not received training relating to working in Indian Country.
Regarding the rate of case declinations by the USAO offices, the report's authors describe a child abuse and assault case that was not investigated for two years. When the FBI finally investigated, agents couldn't collect adequate evidence, so the USAO declined the case.
Deer describes the lack of DOJ support for TLOA as a "privilege of apathy" that is common among federal agencies dealings with Indian Country.
Recognizing that data drives law enforcement efforts, the authors of TLOA also included a mandate that the DOJ gather and share complete and accurate data about crime in Indian Country.
According to the OIG report, the Bureau of Justice Statistics, which is responsible for collecting and analyzing data, is still trying to develop a process to do so. Current investigation and prosecution data from Indian Country by the FBI and Executive Office for the U.S. Attorneys is limited and provides no detail about victims.
The Bureau of Justice Statistics created the last DOJ statistical profile of crime in Indian Country in 2004 with data from 1999 to 2002.
In September 2017, the DOJ came under fire publicly when leaders of the Office of Tribal Justice appeared before the Senate Committee on Indian Affairs in response to a General Accountability Office report examining sex trafficking in Indian Country.
Even though his office has no authority over data collection, OTJ Director Tracy Toulou was tasked with explaining to the committee that the DOJ doesn't collect data on sex trafficking victims in Indian Country.
Nicole Matthews, a member of the White Earth Band of Minnesota Ojibwe and executive director of the Minnesota Indian Women's Sexual Assault Coalition said, "We need a clearinghouse for data on sex trafficking and missing and murdered Indian women, but we don't have it. All we have is anecdotal information from different people and organizations."
Matthews, however, is optimistic about recent steps the DOJ is taking to support sex trafficking awareness in Indian Country. In January, the DOJ's Office on Violence Against Women supported the first national sex trafficking conference in Indian Country. The Minnesota coalition, a DOJ funding recipient, coordinated the conference bringing together tribal leaders; members of tribal, state and federal law enforcement; Indian gaming leaders; and advocates.
The Me Too movement has helped bring much needed public attention to violence against women, according to Matthews.
Indeed, Deer noted, "It's going to be up to the public and Congress to change the legislation to require more accountability from federal law enforcement agencies."
Perhaps heeding that call, the TLOA Reauthorization and Amendments Act of 2017 cleared the Senate Committee on Indian Affairs in February. The language of the reauthorization bill, introduced by committee chairman John Hoeven (R-ND), also notes the need for greater collaboration between federal and tribal law enforcement and importance for tribes to have access to federal crime databases, but doesn't provide any means to secure funding and lacks a specific means of accountability in most cases. According to the bill, however, the attorney general could withhold funding "used for the administration of services" from both the FBI and the USAO if the agencies fail to create a means to collect and share Indian Country related crime data.
The reauthorization bill also requires grantees under the offices of Violence Against Women, Victims of Crime, and Juvenile Justice and Delinquency Prevention to report the number of trafficking victims served as well as whether victims are members of tribes. And, thanks to the extension of the Bureau of Prisons Tribal Prisoner Program for two more years under the bill, the Bureau of Prisons can incarcerate some tribal prisoners at individual tribal request. Many tribes have limited jail space.
This comes on the heels of a DOJ press release in October 2017 announcing an award of more than $130 million to tribal governments and nonprofits that help respond to crimes of domestic violence, sexual assault, dating violence, stalking, and sex trafficking in Indian Country. This effort was likely the result of public attention brought by the September 2017 Senate Committee on Indian Affairs meeting.
Although U.S. Attorney General Jeff Sessions famously expressed disapproval of tribal sovereignty when he admitted his opposition to tribal jurisdiction over non-Indians as provided in the Violence Against Women Act, he announced the office's renewed support for the Tribal Access Program, which provides access for tribes to national crime data.
VAWA provides tribes with the authority to prosecute non-Natives in cases of domestic violence, dating violence, and violation of protection orders in Indian Country.
"The good news about TLOA is that tribal courts now have the ability to impose longer sentences for [tribal] criminals," Deer said.
Before TLOA, tribes were restricted to sentencing a maximum of one year in their courts. Now, tribal courts can impose prison sentences up to three years and a total of nine years for consecutive sentences.
Although she is disappointed in DOJ's limited support of TLOA, Deer remains hopeful about the future of both TLOA and VAWA, and the potential for these laws to help Native women.
"It took over 150 years for the federal government to screw this up. We're not going to solve the problem in five years," she said.
Matthews added, "Indian women have been yelling about sexual violence for years. With Me Too, our allies, and other sisters of color are helping to lift up our voices. It's time for Indian women to be heard."
Mary Annette Pember is an independent writer and photographer based in Cincinnati, Ohio.  She is a longtime contributor to Indian Country Today Media Network, where her work focuses on Native peoples with an emphasis on issues affecting Native women.